Bishop close to Mother Teresa says, 'Her life was a miracle'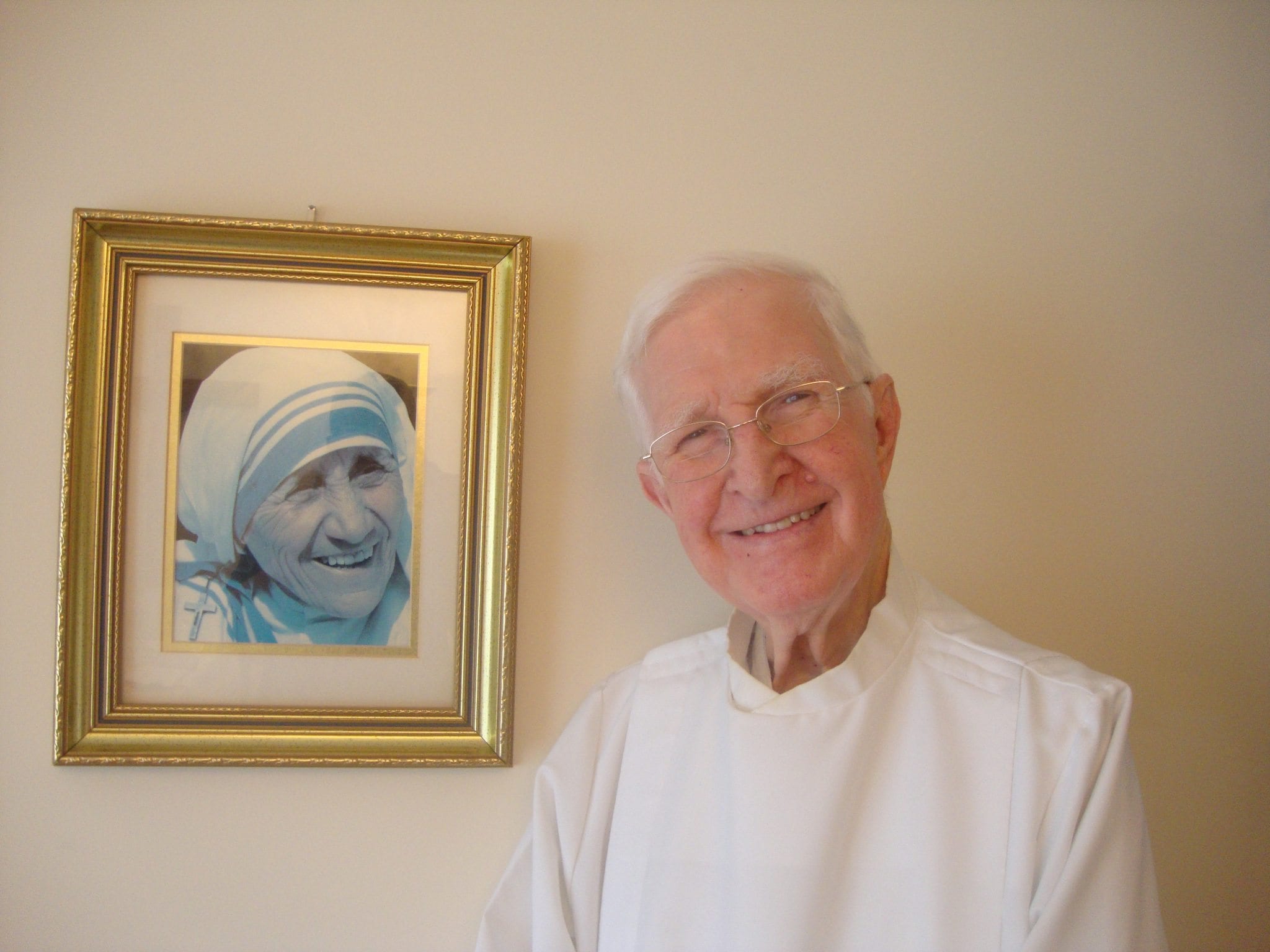 CHARLOTTE, N.C. – When retired Charlotte Bishop William G. Curlin returned home to the Washington, D.C., area to celebrate a Mass for his 50th anniversary as a priest in 2007, he jokingly pointed out the newspaper headlines that day, which reported that a horse named Curlin had won the Preakness, the second leg of horse racing's Triple Crown.
In a couple weeks, Curlin will have a different kind of triple crown to celebrate – a heavenly one – as his friend Mother Teresa of Calcutta is canonized a saint on Sept. 4, after the diminutive nun was earlier declared as "venerable" and "blessed" by the Catholic Church.
The bishop, who turns 89 on Aug. 30, won't be able to travel to Rome for the canonization, because of recent health issues, including treatments for cancer and heart and vision problems. But Curlin, a soft-spoken man with a gentle sense of humor, said he is doing well now and really can't complain.
In mid-August, he welcomed a Crux reporter to his home in a Charlotte neighborhood that has a wooded backyard frequented by deer, and where he has a private chapel in one room, several mementos of Mother Teresa displayed throughout the house, and where two Chihuahuas keep him company.
"I always considered her a saint. It's just official now. I'd love to be there (at the canonization)," said Curlin, who attended her Funeral Mass in India in 1997 and her beatification in Rome in 2003.
Commenting on the fact that Mother Teresa during her lifetime didn't like being called a "living saint," he added, "She just wanted to be a little nun doing God's work. She didn't want fame."
Curlin, a Virginia native, was ordained as a priest of the Archdiocese of Washington in 1957, and met Mother Teresa in the early 1970s, when he was pastor of St. Mary Mother of God Parish in Washington. She was in town for a Catholic group's conference, and visited the priest at his rectory, where they talked for hours and struck up a friendship.
"She was obviously a very holy woman, and dedicated to the poor. Her mission was to help the poorest of the poor," he said.
Mother Teresa asked the priest about the parish's outreach to the poor in its inner-city neighborhood. He told her how they gave coffee, soup and sandwiches to homeless people who came to the rectory door, and Mother Teresa asked him, "Do you give them your heart?"
He realized she was asking him, "Do you love them?"
In 1980, Catholic Charities opened Mount Carmel House, its first homeless women's shelter in Washington, at a former convent at the parish.
The priest and sister kept in touch over the years through letters and phone calls. Mother Teresa asked him to lead retreats for her and her Missionary of Charity sisters in New York and Rome.
"I always said she gave me a retreat," he said. "…I was not her spiritual director. I was a priest and a friend. She shared with me her spiritual journey with Christ."
Sometimes, when crowds surrounded her, she would step away with the priest, and say, "Come, let us talk of Jesus."
One day, she asked him to give a retreat for them in Calcutta, where her community was established in 1950 and where Mother Teresa and her sisters had gained renown for their service to the poor and dying in that city's streets.
During Curlin's first visit to Calcutta, Mother Teresa asked the priest to bless an old man dying of leprosy. Then she said, "Let's clean him," and filled a basin with water, got clean towels and encouraged Curlin to help her bathe the man.
"I hesitated. I didn't know what to do – washing a leper. She said, 'Father, don't fear. If you look with your eyes, you'll see a leper. If you look with your heart, you'll see Jesus lying there,'" Curlin remembered.
For the priest and future bishop, that insight changed everything.
He said as a seminarian, he had been taught how to serve God's people in a priestly way. But he said through Mother Teresa's words and example, he learned that external actions, even works of charity, were not enough, without an internal relationship with Jesus that inspired those actions. Then good deeds became acts of love, and you can see Jesus in the face of the poor, and they can see Jesus in you.
"That helped me enormously in my work. (Then) it wasn't just social action to help people. She said, 'When you're feeding a hungry person or washing a poor leper, your hands are the hands of Jesus'," the retired bishop said.
"For Christians, social action is the action of Jesus in us. That's it in a nutshell."
He said one of her sayings that he remembers most is, "We're called to see and serve Christ in one another."
The bishop said the poverty he had witnessed in Washington did not compare with the intense suffering he witnessed in Calcutta, where he saw people dying in the gutters.
"She really was the living presence of Jesus to them, no doubt about it," he said.
But in the nation's capital, Curlin would see what Mother Teresa had said was the world's worst kind of poverty, when people felt unloved or unwanted.
While pastor of Nativity Parish in Washington in the mid-1980s, Curlin ministered to a Vietnam veteran who had AIDS, and anointed the man and was with him when he died. Curlin, concerned that people with AIDS had no place to go, discussed the problem with Washington's then-Archbishop James A. Hickey, and the future cardinal agreed  to convert the building that served as the former headquarters of Catholic Charities to become a home for people dying of AIDS, and he invited Mother Teresa to have her Missionaries of Charity staff it.
Eventually, local government officials granted approval for the home, despite some early and intense neighborhood opposition, based on fears about the disease. Mother Teresa attended Hickey's dedication of the Gift of Peace home in 1986, and her sisters began their work there serving people dying of AIDS and other terminal illnesses, and also offering sanctuary there for sick and elderly homeless people.
Then-Monsignor Curlin was appointed as the home's first chaplain.
"Mother Teresa said people with AIDS were the lepers of the western world," said Curlin, who witnessed firsthand the loving outreach of the Missionaries of Charity to AIDS victims in New York and then in his home archdiocese of Washington.
And Mother Teresa's support of the Gift of Peace home helped foster community support for people with AIDS, Curlin said. "She showed such love and compassion to them, it won hearts to understanding what those men and women were going through."
One neighbor who had been very opposed to the home became a very generous volunteer helping to serve the people there, Curlin said. It was never called a hospice, he added – it was a loving home for people who were dying. Mother Teresa told Curlin that the home was "the work of Jesus."
The priest offered 7:30 a.m. morning Masses there, and would come back during the day or night to be with people as they were dying, and assure them that God loved them and he loved them, and they would be loved for all time in heaven. The Missionary of Charity sisters by their joyful, prayerful presence and loving service, did the same, he said.
"We didn't push religion on them. We thought our words and our deeds would speak of Jesus," he said, adding the Gift of Peace became just what its name described. "That home was filled with the peace of Jesus. It was a gift of God. It was a home where they would find peace, the peace of Jesus… I received many blessings from working there."
In 1988, Curlin was appointed as an auxiliary bishop of Washington, and six years later, he was named as bishop of Charlotte, where he retired in 2002. After he became Charlotte's bishop, Mother Teresa sent Missionaries of Charity there, where they continue to serve unwed mothers and the poor, and teach the faith to children.
Tucked inside the missal that Curlin uses to celebrate daily Mass in the small chapel in his home, is a holy card with a photo of Mother Teresa's wrinkled hands holding a rosary, inscribed with a personal note from her that reads, "Dear Bishop Curlin, Thank God for choosing you to be his bishop. Be holy. God bless you."
After Mother Teresa died in 1997, Curlin was invited to ride on Air Force One to attend her Funeral Mass in Calcutta. He said he will never forget the sight of her funeral procession, seeing people running alongside the caisson carrying her simple wooden coffin, the same caisson that bore Mahatma Gandhi's body after his death in 1948.
People in the crowd wept, some threw flowers, and others held signs with messages including, "We love you. You will always be our mother."
The bishop attended the service at the motherhouse of the Missionaries of Charity, where her body was interred. Almost two decades later, he remains moved by the memory of "the obvious love people had for her, how they revered her as a holy woman."
He remembers her human qualities, how she loved candy and ice cream. "She had a nice laugh… Joy was part of her life… She wanted to bring the joy of God to others," he said.
Curlin said Mother Teresa's own "dark night of the soul," which her letters revealed as periods over the years when she experienced spiritual emptiness, doubt and despair as she yearned for God's presence and approval, are not unlike feelings expressed by great saints like St. Teresa of Avila.
In a phone call shortly before she died, Mother Teresa told her friend, "My key to heaven is, I love Jesus in the night."
The retired bishop said her spiritual struggles don't diminish her legacy.
"That's the heroic proof of real love, to give and ask nothing in return," he said, comparing it to parents' sacrificial love for their children.
Mother Teresa was aware of the harsh criticism leveled toward her by the noted author and atheist Christopher Hitchens, and she once told Curlin, "I'll pray for him."
Today's Catholics can emulate Mother Teresa in many ways, in addition to her approach of bringing Christ's love to the poor, Curlin said.
"She made time throughout the day to speak to Jesus through prayer," he said, noting how she also had a deep reverence for the presence of Jesus in the Eucharist. "The Eucharist was the center of her world, her life," he added.
Every time Curlin saw her, Mother Teresa asked him to hear her Confession. She believed strongly in the power of that sacrament and how it could help her overcome her own human limitations and devote her life to Jesus, Curlin said, adding, "She had a deep humility of knowing all things are possible with God."
Today, the retired bishop continues to be inspired by his friend. His main ministry now is visiting the sick and dying.
"You're bringing Jesus' love to them. There's great joy in that," he said.
The keepsakes in his home include a small statue of her on a bookshelf and a pillow embroidered with her portrait and the words, "Give of your hands to serve, and your heart to love." On another shelf is a photo of Curlin and Mother Teresa, inscribed with a personal message encouraging him to be "all for Jesus through Mary."
"She believed what she was doing was totally for Jesus, and all things are possible if you believe that," Curlin said. "…She was passionately in love with Christ."
Reflecting on the new saint, Curlin said, "Canonization requires proven miracles. I think her life was a miracle. What she did for the poor, her life serving the poorest of the poor, was a miracle."