Report insists ISIS is guilty of 'genocide' against Christians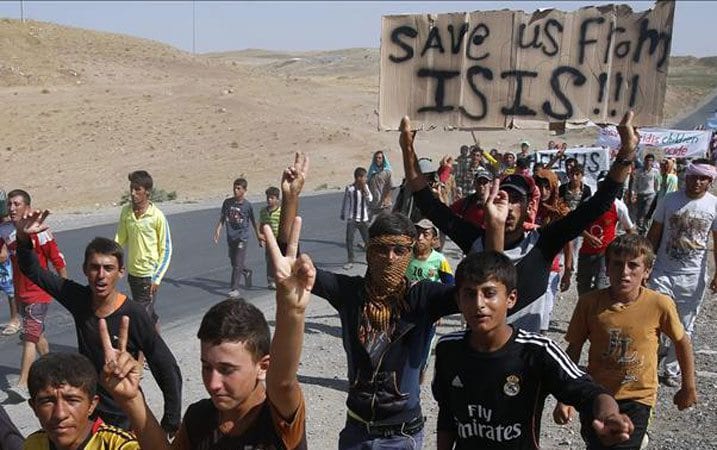 A major report released Thursday by two US-based Christian organizations argues for including Iraqi, Syrian, and Libyan Christians as victims of genocide perpetrated by ISIS, ahead of a March 17 deadline for the US State Department to make a finding about whether, and to which categories of ISIS victims, the term "genocide" applies.
Although experts say a finding of genocide would not immediately trigger changes in US foreign policy or the acceptance of refugees and asylum seekers, it's nevertheless important since both domestic and international law require that acts of genocide be investigated and those responsible indicted and prosecuted.
The 278-page report was released by the Knights of Columbus in partnership with "In Defense of Christians," a US-based research and advocacy organization devoted to protecting Christians in the Middle East.
Last October, State Department officials suggested that a designation of "genocide" would be forthcoming for ISIS, but indicated that it might apply only to the Yazidi minority and not to Christians, prompting protest from religious groups, human rights advocates, and various political forces.
As the controversy mounted, Congress voted to require the State Department to issue a finding by mid-March.
The new report issued this week lays out the case for including Christians in the "genocide" designation, including a legal brief and witness statements documenting anti-Christian atrocities.
Titled "Genocide Against Christians in the Middle East," the report notes that other global figures and bodies already have applied the term "genocide" with regard to ISIS attacks on Christians, including Pope Francis, the European Parliament, the Office of the United Nations High Commissioner on Human Rights, the United States Commission on International Religious Freedom, and both the Iraqi and Kurdish governments.
"ISIS is committing genocide — the 'crime of crimes' — against Christians and other religious groups in Syria, Iraq, and Libya," the report states. "It is time for the United States to join the rest of the world by naming it and by taking action against it as required by law."
Based on a review of international law, the report argues that a finding of "genocide" does not require the killing of an entire group, but rather a campaign aimed at destroying that group "in whole or in part," and also that forced deportation can be considered an act of genocide.
The report insists that the anti-Christian intent of ISIS forces is unmistakable, among other things quoting from an issue of Dabiq, the glossy magazine published by ISIS, that carried a picture of Pope Francis on the cover along with the headline "The Crusader Pope."
"We will conquer your Rome, break your crosses, and enslave your women, by the permission of Allah, the Exalted," the magazine boasted. "This is His promise to us; He is glorified and He does not fail in His promise. If we do not reach that time, then our children and grandchildren will reach it, and they will sell your sons as slaves at the slave market."
Arguing that's no idle threat, the report notes instances in which Christian and Yazidi women have been sold as sexual slaves, and that a now-infamous "menu" posted online even lists going prices for those women by age category.
The report also asserts that the murder of Christians is commonplace in ISIS-controlled territory, noting an estimate by Melkite Catholic Archbishop Jean-Clément Jeanbart of Aleppo in Syria that "thousands" have been killed across the country, including "hundreds" kidnapped and killed in his own city.
One main thrust of the report is to challenge the claim that Christians are less vulnerable to ISIS than other groups because they're allowed to pay a tax for toleration that historically has been part of Islamic law called the jizya.
Quoting experts such as Middle East scholar Alberto Fernandez, the report claims that in reality, the tax demanded by ISIS is more a "publicity stunt" than a genuine form of legal protection, and that collecting it is often a prelude to other forms of "extortion and violence."
The legal brief, addressed to Secretary of State John F. Kerry, demands that he apply the term "genocide" for such acts.
"Should Syria or other parts of Iraq fall to ISIS, future generations will wonder why you could have called these actions by their proper name — 'genocide' — but did not," it says.
Prepared by Colorado Springs-based attorney L. Martin Nussbaum, the brief is based on the Genocide Convention Implementation Act of 1987, which bound the United States to observe the provisions of the United Nations Convention on the Prevention and Punishment of the Crime of Genocide.
(The convention was adopted by the UN in 1948, but not ratified by the United States until 1986, in part because of the efforts of the late US Senator William Proxmire of Wisconsin, who in 1967 vowed to give a speech on the Senate floor every day until ratification happened. In the end he gave 3,211 speeches over 19 years.)
Arguing that the standards established for a finding of genocide against Christians clearly have been met, Nussbaum's brief insists that "delays influenced by either domestic political considerations or the geopolitics of the Middle East are unacceptable, both legally and morally."
Beyond collecting evidence and recommending prosecutions, experts say it's unclear what the consequences would be should the State Department conclude that ISIS is engaged in genocide.
Officially speaking, the United States has recognized only a handful of situations as a "genocide," a term that came into use after the Holocaust: Bosnia in 1995, Rwanda in 1994, Burundi in 1972 and 1993, and Darfur in 2003.
Greg Stanton, president of Genocide Watch and a past president of the International Association of Genocide Scholars, told The Washington Post in February that designating ISIS' actions as "genocide" could allow perpetrators to be prosecuted before the International Criminal Court.
"ISIS doesn't care, but they will if their people are starting to come back and get tried for war crimes," Stanton said.
Yet Cameron Hudson, director of the center for genocide prevention at the US Holocaust Memorial Museum, warned that the debate over nomenclature risks becoming a distraction.
"We spend time talking about whether it's a genocide or not and no time saying: What will we do about it?" Hudson said. "All the policy space is taken up with a debate that at the end of the day doesn't change anything."
Founded in New Haven, Connecticut, in 1882, the Knights of Columbus is the world's largest Catholic fraternal organization. Since 2014, it's raised more than $8 million for refugee relief in the Middle East, with support going to Yazidis and Muslims as well as Christians.