Ordinations suggest a tentative rebirth for Christianity in Iraq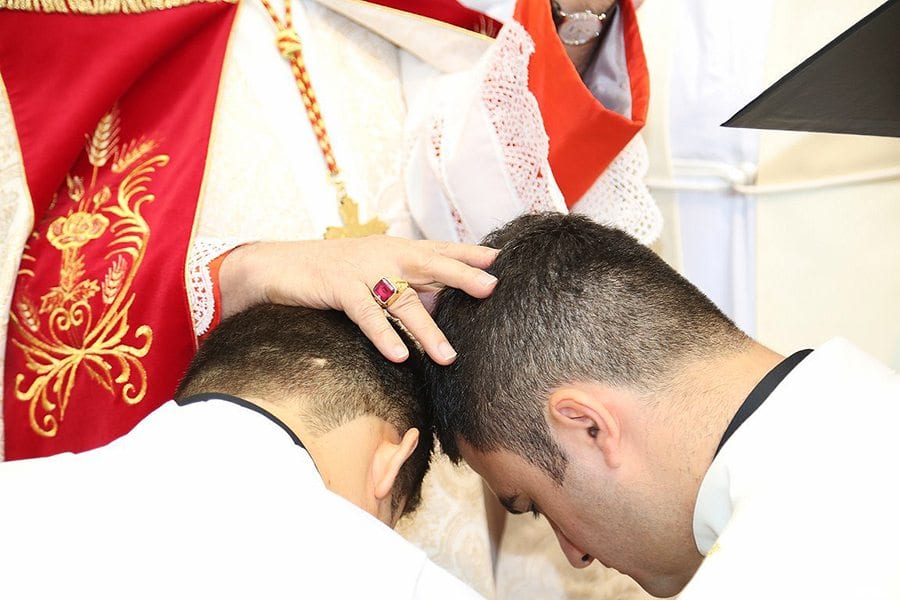 Two young men were ordained Catholic priests last Friday in Ankawa, Erbil, the capital of Iraqi Kurdistan, for the Chaldean Catholic Church. Louis Raphaël I Sako, Patriarch of Babylon, Archbishop of Baghdad, performed the rite and for his church called it "a great sign of hope in a time of great crisis."
The two are Joachim Sliwa and Martin Baani. Sliwa is in his late twenties, married with a young daughter, emigrated from Iraq to Germany ten years ago in his late teens, has served as a deacon in Munich, and is destined to serve dispersed Chaldean Catholics in Berlin.
Baani, 26, unmarried, became an internally displaced person when Karamles, his hometown several miles southeast of Mosul, fell to ISIS on August 6, 2014, escaping with only clothes, passport, and the Blessed Sacrament he rescued from his church.
Baani's family emigrated to San Diego, and Martin was invited to stay with them and be ordained in the Chaldean diocese there. But he returned to Iraq and has become the face of Christian internally displaced persons who want to stay, not emigrate, and recover and rebuild their Christian communities.
Baani will now spend time in Baghdad for further training with the Patriarch, and then expects to be assigned to Dohuk. He would wish to be pastor in a liberated Karamles.
The ordinations, conducted entirely in Aramaic, took place at 10 a.m. on Friday September 9 in the fresh, new, monumental, air-conditioned church of Our Lady of Perpetual Help in Ankawa. In attendance was a crowd of some 500, wearing clothing eastern and western. A youth choir of 20 in white sport shirts sang sacred songs to eastern melodies and rhythms, accompanied by synthesizer and oud.
A group of 20 permanent deacons and acolytes of the archdiocese chanted liturgically. As the Patriarch presided, ecclesiastical dignitaries, bishops, Orthodox and Catholic, Chaldean and Syriac, populated the sanctuary, including Ramzi Garmou, Chaldean archbishop of Tehran; Nicodemus Sharaf, Orthodox Syriac Metropolitan, whose cathedral is in Mosul, himself an internally displaced person; and, of course, the Chaldean Catholic archbishop of Ankawa, Bashar Warda.
(I was visiting the archdiocese and attended the services as a guest of the archbishop.)
The rite of ordination took place at the beginning of the service. Sako, smiling, anointed the ordinands' hands. They received new stoles and were vested. The two new priests kissed the altar, kissed the baptismal font, embraced each other and then their own and one another's families, who were weeping with both joy and sorrow.
The newly ordained Joachim kissed his wife, pregnant with another child, who, by Chaldean rite rule, had signed her assent to his ordination as part of the liturgy.
The Liturgy of the Word then began at a lectern from which hangs a banner of the Jubilee of Mercy logo in Aramaic script. A family member read from Isaiah 11, "The Spirit of the Lord will rest on him." Newly ordained Abouna Joachim chanted the Gospel from Luke 4, "Today this scripture is fulfilled in your hearing."
Sako preached, finding a sign of hope in these ordinations: we expect very soon, he said, the liberation of Mosul and the Nineveh plain. A priest gives up his life in service and these men are doing that, serving their church as their family. The bishop is a father and I offer the support of a father to you new priests.
Family members read petitions. The two new priests then concelebrated the Liturgy of the Eucharist with the patriarch and two other priests of the archdiocese and gave communion to the whole congregation.
Mass concluded, Abouna Martin spoke from the pulpit. He thanked God for the support of his family, the archdiocese of Mosul, and his spiritual mentor Abouna Thabet. We will return to a liberated Mosul, he said, and the church erupted in cheers and ululations.
As the new priests processed out, people threw candy and confetti, applauded, cheered, most everyone weeping.
The Christians of Karamles fled together as a town and live together as a town in an internally displaced person encampment in Ankawa, which is where that night they held the celebration for Abouna Martin's ordination. Food for hundreds was set on trestle tables in an open area; a band of young girls danced; a video slideshow of photographs of Martin's life was projected on a big white wall; childhood friends wore photo t-shirts of Martin's face.
A scale model was built and displayed of the Karamles church of St. Barbara, making somehow present what internally displaced persons had left behind. The Christians of Karamles expect soon to move as a town into permanent housing, a new apartment building, McGivney House, now being built in the outskirts of Ankawa by the Knights of Columbus.
The church building of Our Lady of Perpetual Help is itself a statement of hope for permanent survival, consecrated two months ago, big enough for more than 600, brilliant in marble and other stones, with a dazzling icon of its patron on one side of the sanctuary, paired with one of Christ pantokrator.
Its architect is Malik Kadifa, whose other recent projects for the Ankawa archdiocese are similarly gracious: the archdiocesan seminary St. Peter's and the buildings of the nascent Catholic University in Erbil.
A cycle of huge mural paintings in the church of scenes from the life of the Virgin Mary includes the visit of the Magi, legendarily Chaldeans, and the finding of Jesus of the temple. Among the religious authorities Jesus teaches in that scene is a Catholic archbishop suspiciously similar in appearance to that of Ankawa.
The same church on the next night, Saturday, with Blessed Sacrament and altar removed, became a packed concert hall for Lebanese soprano Abeer Nehme, who sang sacred songs in Aramaic and Arabic in several Middle eastern styles as well as covering "I Believe" by the Bachelors in Aramaic.
Ninety members of an archdiocesan young adult choir backed her for a few opening songs: "Our faith is strong, we stand firm," she sang again and again. The crowd loved it.
Warda was proud.
Attending the ordination and concert was among the activities of a British delegation of officials from UK Aid to the Church in Need, which has decisively supported Iraqi Christians from the earliest, desperate moments of 2014, and from British Parliament, including three MPs. Nehme turned to them from onstage and said in English, remember that Jesus was born in this part of the world and spoke Aramaic. He did not have green eyes and blond hair!
The signs of Christian life in Ankawa like the ordination, the concert, the 18 Chaldean Catholic seminarians at St. Peter's themselves on the path to ordination, the colored lights and illuminated crosses displayed everywhere in preparation for the festivity of the Holy Cross on September 14, are surprisingly vibrant and alive.
You would not immediately guess if you did not know that this community includes residents of internally displaced person camps, and is only a few miles away from war and genocide.
A member of the delegation, Mark Menzies, a Tory MP for Fylde, a Catholic, told me he was humbled by his experience of Ankawa's Christians and realized anew how much in the West we take for granted the freedom to practice religion.
Jim Shannon, Democratic Unionist MP from Strangford in Northern Ireland, who joined the delegation with the intention of supporting Iraqi Christians as Chair of the All Party Parliamentary Group for International Freedom of Religion or Belief also felt humbled. A Baptist, he told me he was encouraged at the Catholic ordination by seeing so many young Iraqis on fire in the love of the Lord.
An American is Counsel for the Ankawa archdiocese and Vice Chancellor for external affairs for the nascent Catholic University, Stephen Rasche, a multitasking aide to Archbishop Warda. He often confronts the notion that Iraqi Christians are a lost cause, dinosaurs on their way to extinction.
To him, in spite of many reasons for pessimism, ordination day in Ankawa was one among many vivid indications of their survival and rebirth.