What Pope Francis is up to in Armenia over the weekend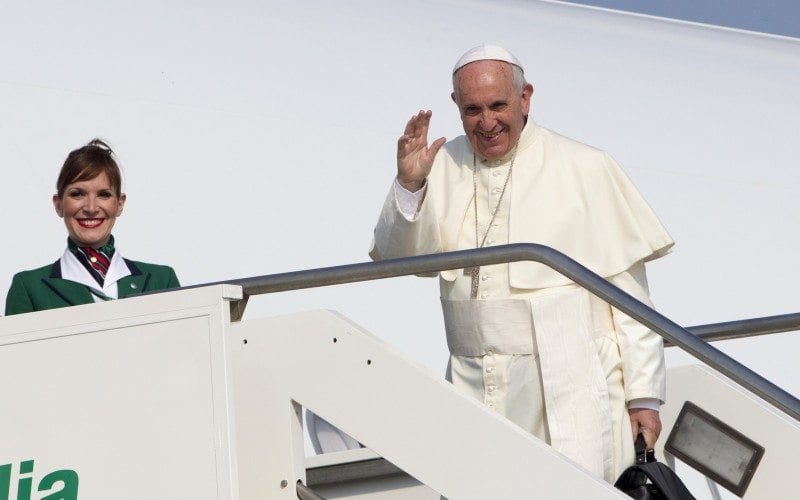 With every papal trip, the intended audiences and agenda items can usually be understood in terms of concentric circles, starting at the outer level and working one's way in. That's clearly the case with regard to Pope Francis's June 24-26 outing to Armenia, which makes a statement about this pontiff's priorities in at least four ways.
The Peripheries
This will be the 14th international trip of Francis's papacy, and if we include Armenia, here's a summary of his destinations so far.
Eastern Europe: 3 nations (Albania, Bosnia and Herzegovina, Armenia)
Latin America: 6 nations (Brazil, Ecuador, Bolivia, Paraguay, Cuba, Mexico)
Asia: 3 nations (South Korea, the Philippines, Sri Lanka)
Africa: 3 nations (Kenya, Uganda, the Central African Republic)
Middle East: 4 nations (Israel, the Palestinian Territories, Jordan, Turkey)
North America: 1 nation (United States)
Western Europe: 0
In other words, the score is "Western World 1, Everyone Else 19." If this were a prizefight, the referee would already have stopped it.
(A day trip to Strasbourg in November 2014 doesn't count as a Western European outing, because that was not styled as a state visit and the Vatican does not list it as a journey to France.)
As I've said before, to understand Francis's view of the world, you don't need a spin doctor – you just have to consult his travel agent. This is a pope who believes in lifting up traditionally forgotten and neglected places, particularly those suffering conflicts or some other form of trauma.
Obviously, the genocide Armenians experienced at the hands of the Turks in the early 20th century, suffering losses estimates at perhaps as many as 1.5 million people, qualifies as a trauma worthy of papal recognition.
The fact that Francis is also planning to head back to the Caucasus region in September to visit both Georgia and Azerbaijan is, therefore, another chapter in his identity as the "Pope of the Peripheries."
Ecumenism
Armenia, with a population of roughly 3 million, is overwhelmingly Christian, laying claim to having been the world's first officially Christian state in 301 A.D. Almost 93 percent of citizens officially belong to the Armenian Apostolic Church, part of the non-Chalcedonian family of Oriental Orthodox Churches.
Although there are only about 15,000 Catholics in the country, barely enough to populate a good-sized parish in many parts of the world, relations between Catholicism and the Armenian Orthodox are actually quite strong.
The Armenian Apostolic Church officially recognizes the validity of the sacraments and orders of the Catholic Church, and in 1996 St. John Paul II and Karekin I, the "Catholicos," or head of the Armenian church, signed a joint declaration laying out agreement on a wide variety of issues. John Paul issued another joint statement with Karekin II in 2001, the successor to Karekin I, who was also present for the inaugural Mass of Pope Francis in 2013.
In tandem with his predecessors, Francis is committed to the press for Christian unity, a cause that tends to begin with the Orthodox because the rupture between East and West more than a millennium ago is the primordial Christian schism. Francis has already engineered an historic meeting with Patriarch Kirill of Moscow, he and Ecumenical Patriarch Bartholomew of Constantinople have become inseparable, and Francis recently dispatched a high-level delegation to a "Holy and Great Council" of the Orthodox churches on Crete.
The outing to Armenia therefore gives Francis a further opportunity to extend his ecumenical push, this time with one of the Oriental Orthodox churches not invited to be a voting member at the council in Crete, and one already positively inclined to strong ties with Rome.
While in the country, Francis will take part in an ecumenical luncheon hosted by Karekin. As a spokesman put it this week, the pope generally doesn't care for these "solemn" affairs and skips them whenever possible, so the fact he's willing to go through it in Armenia is another sign that he wants to be "all in" for unity.
Geopolitics
History's first pope named Francis likes to play the part of peacemaker, and there's a nasty long-simmering conflict for him to engage in the Caucasus region between Armenia and Azerbaijan over the disputed province of Nagorno-Karabakh. Although the two sides are not presently shooting at one another, the tensions dating from the late 1980s and early 1990s have never really gone away, giving Francis a chance to promote reconciliation.
One obvious point of keen geopolitical interest will come on Saturday, when Francis visits the Tsitsernakaberd memorial to the victims of the Armenian genocide in 1915. Ears will be straining to hear whether Francis uses the magic word, "genocide," which almost always triggers immediate diplomatic and political protest from the Turks.
If a Tuesday Vatican briefing is any indication, the strategy on this outing will likely be to insist that the Vatican has already recognized the slaughter of Armenians and other minorities at the hands of the dying Ottoman Empire as a genocide – John Paul did it in 2001, and Francis himself did it last year during a special liturgy in Rome.
However, they probably won't go out of their way to drop the word on every occasion, choosing instead to use the preferred Armenian expression of Medz Yeghern, literally the "great calamity."
Though it happened a century ago, the wounds of that genocide are still, literally, just beneath the surface for Armenians. During that Vatican briefing on Tuesday, Monsignor Antranig Ayvazian, who teaches at the University of Yerevan, said there are still parts of the country where "if you dig two inches under the earth, you'll find human bones without end."
As a footnote, Francis will meet a small group of Armenians while in the country who are the descendants of refugees who were sheltered by Pope Benedict XV, who reigned during the First World War and defined that conflict as "useless slaughter," in the summer papal residence at Castel Gandolfo.
Because the killing of Armenians a century ago was largely fueled by anti-Christian hatred, the trip also gives Francis a platform to discuss contemporary anti-Christian persecution, what he's referred to as a great "ecumenism of blood."
Especially in light of what's happening in Iraq and Syria, and mounting pressures on the Western powers and the United Nations to step up their anti-ISIS efforts, that's a message with clear political resonance.
In addition, Pope Francis also will have Russia on his mind as he passes the weekend in Armenia.
In all honesty, many Armenians could probably make an argument that the country suffered even more at the hands of the Soviets than they did the Turks, especially in terms of impact on the Christian churches. Yet Russia today is also a major supporter of the Vatican in terms of the defense of persecuted Christians in the Middle East, and so the pope has to walk a fine line between acknowledging historical grievances without upsetting present-day alliances.
Local Catholics
At the inner core, every papal trip is also directed at the local Catholic flock; in the verbiage of the Vatican, a pope always travels in part to "confirm the sisters and brothers in the faith."
In the case of Armenia, of course, there's not much of a local flock to confirm, representing less than one-half of one percent of the national population. This, however, is a pope for whom size clearly does not matter, and in fact if often seems the more obscure and forgotten a particular group is, the more it excites his imagination.
During Tuesday's Vatican briefing, Father Federico Lombardi, the pope's spokesman, stressed that Francis knew many Armenians living in diaspora in Argentina, including an Evangelical pastor who's now back in the country and whom Francis will see on this trip.
On Sunday, Pope Francis will meet with the Catholic bishops of Armenia – a grand total of 14, which would barely be enough to staff a large committee of an episcopal conference in places such as Italy or the United States, and most of these prelates actually represent the Armenian diaspora. Only 12 priests will be on hand.
In such an environment, the role of the local Catholic obviously is to be a witness, a small presence, and a bridge to another culture – in this case, the majority Orthodox community in Armenia and the broader world of the Caucasus area.
That may not mean much numerically, but it's clear Francis takes it seriously, and his visit on Saturday to the Catholic Cathedral of the Holy Martyrs in Gyumri is intended to drive that home.