Supreme Court rejects appeal by parishioners occupying church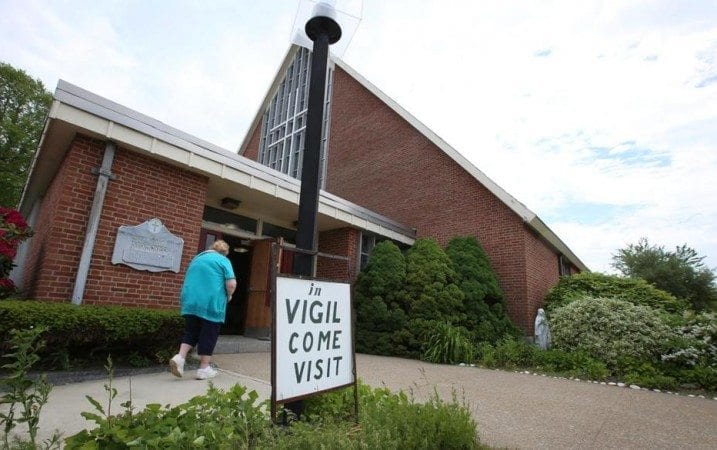 BOSTON — The U.S. Supreme Court has rejected an appeal from parishioners who are occupying a church that the Roman Catholic Archdiocese of Boston closed more than a decade ago.
The court declined to hear a case involving the St. Frances X. Cabrini church in Scituate.
The parishioners have said they would leave within 14 days of a high court order.
A spokesperson for the Friends of St. Frances X. Cabrini, said the group plans to consult with its attorney, but acknowledged, "it doesn't sound good."
They have occupied the church since the archdiocese closed it in 2004.
The Supreme Court order leaves in place a judge's decision to evict the parishioners in a trespass case brought by the archdiocese. A spokesman for the archdiocese did not immediately respond to a request for comment.
In June 2015, State Appeals Court Judge Judd Carhart heard arguments from the archdiocese and the protest group as it  sought to remain in the Scituate church while appealing a lower court ruling that had ordered them to vacate.
In a brief hearing packed with protesters and their supporters, the group's lawyer argued that the lower court judge made "several" and "consistent" legal errors in reaching his decision.
But the archdiocese opposed the request, asserting the organization's rights as property owners and citing the cost of maintaining the building while it's been illegally occupied.
"We have all the liability becoming of a property owner. We're carrying all the expenses," said William Dailey, the archdiocese lawyer.
The protesters have "no right to be there," he said. "They knew from the moment they stepped in there that they were trespassers and could be arrested at any time."
The group is the last of a number of church occupations that popped up when the Archdiocese decided to close dozens of Boston-area churches in 2004 in an attempt to stabilize its finances.
The protesters occupied St. Frances Cabrini Church around-the-clock ever since, with at least one person at all times holding vigil in the now-deconsecrated building.
The protesters said they want the archdiocese to either restore their parish's standing or purchase the building outright. The church sits on acres of prime, largely undeveloped real estate overlooking Massachusetts Bay near Cape Cod.
They say their fight is not only about protecting the rights of Catholics to worship in churches they've known their whole lives, but also a stand against the clergy sex abuse scandal that rocked the Boston area before expanding nationally and globally.