Priest assaulted by Hindu nationalists in India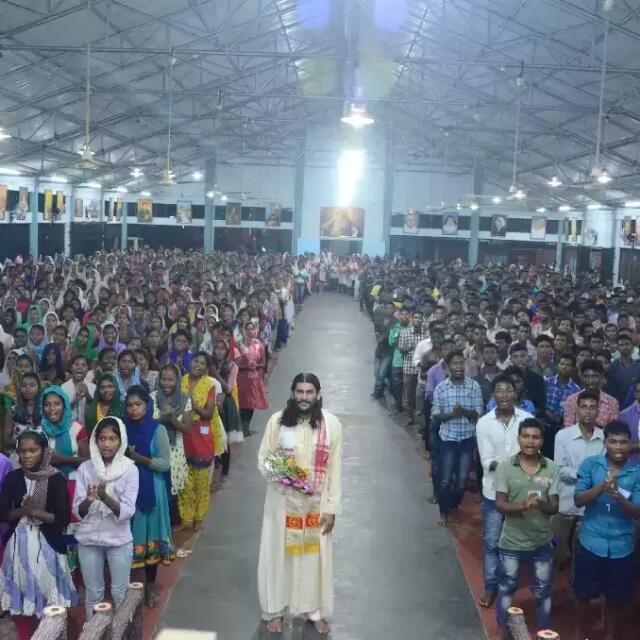 MUMBAI, India – A Catholic priest was attacked by a Hindu mob in northern India, and then arrested by police after Hindus accused him of causing the disturbance.
Father Vineet Vincent Pereira was conducting a prayer service in Ghohana town in the Indian state of Uttar Pradesh when right-wing Hindus attacked him on Nov. 14.
"Two local men barged into Ashwar Dham with the intention of causing tension, they were joined by two more people, and these four began beating up one of our inmates. I went to his rescue, and they hit me on the head, pulled my hair and hit me on my arm, making conversion allegations. Soon the number of attackers swelled.  The entire incident lasted around ten minutes," the priest told Crux.
Ishwar Dham is a four-room house rented by Pereira, where he lives with a few lay brothers and five additional residents who are ill. He holds prayer services every day, which are open to people of all faiths.
Right-wing Hindu groups have accused the priest of trying to convert the local Hindu population.
The mob that attacked the priest were allegedly members of Hindu Yuva Vahini, a radical Hindu youth group that tries to "re-convert" Hindus that have switched religions.
After the attack, Pereira said police took him into custody – allegedly for his own safety – but then charged him the next day for rioting and unlawful assembly.
"Father Pereira lives a hermit-like existence and regularly conducts prayers for around 1,500 of these people at his ashram. None of them have become Christians, but they follow Christian spiritual values," said Father John Abraham, the vicar general for the Diocese of Varanasi.
According to Daiji World, a local news portal, Abraham said the attack was just another in a series of incidents against Christians.
Pereira took the attack and later arrest in good spirits.
"This is a blessing, the Lord's plan. It has happened for His glory.  I am praying for them.  I have no anger towards them. My earnest desire is that they should come to know the Love of Christ.  They neither know me personally nor my works …They heard about me from others.  If they knew me or my work, they wouldn't have done it," Pereira said.
The priest is currently staying away from Ishwar Dham at the request of his superiors.
"Father Vineet is a young saintly and holy priest, he looks after the sick and regularly conducts prayers, people flock to him for healing," said Father Anand Mathew of the Indian Missionary Society (IMS) based in Varanasi.
Mathew is the founder-coordinator of Kashi Qaumi Ekta Manch (United Forum of Communal harmony of Varanasi).
On Nov. 18, he organized a conference in Varanasi, which is considered one of the holiest cities in Hinduism, bringing together leaders from a variety of faiths, including Christians, Hindus, Muslims, and Sikhs.
"This was in the context of atrocities on the Christian community, Muslims, Dalits and women," Mathew said.
The priest said the meeting was called before the assault on Pereira, but in the context of a series of anti-Christian assaults over the past two years.
He said during the meeting, the assault on Pereira was "strongly condemned" by leaders of every religion.
Uttar Pradesh is the most populous state in India, with over 225 million people. Despite this, it has one of the smallest Christian populations:  Only 350,000, or 0.18 percent. The national average is 2.3 percent.
Since 2017, Uttar Pradesh has been ruled by the Bharatiya Janata Party (BJP), which is associated with the Rashtriya Swayamsevak Sangh (RSS), a Hindu nationalist group. The party has controlled the national government since 2014.
Christian leaders in Uttar Pradesh have said attacks on the minority have increased since the BJP took control of the state government.
In July, about 40 members of Akhil Bharatiya Vidyarthi Parishad (ABVP), a Hindu-nationalist student organization, assaulted the proctorial board staff and teachers at St Andrew's College in Gorakhpur. The college is over 100 years old, and affiliated with the Church of North India, which is part of the Anglican communion.
Hindu nationalist student groups have also caused incidents at several Christian colleges in other states of India this year.
A chapel at a St. Stephen's College in Delhi was vandalized with Hindu nationalist slogans in May.
Hindu nationalists held a rally outside a Catholic school in the northern Indian state of Madhya Pradesh on Jan. 15, after the school suspended around 20 students for chanting Hindu nationalist slogans.
In July, clashes took place outside of another Catholic college in Madhya Pradesh, after members of ABVP tried to force the school to allow them to perform a Hindu religious ritual at the facility.