Vatican, Rome remember George Floyd with prayers and protests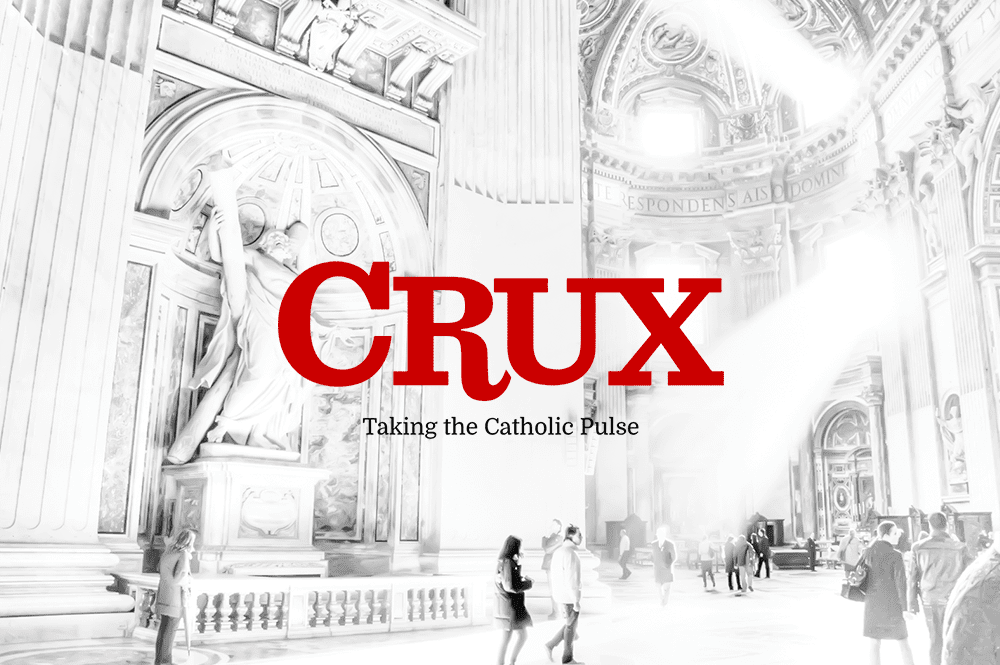 ROME – Rome has joined the growing number of cities throughout the world marking the death of George Floyd, who over the past few days was remembered in the Eternal City at prayer events and protests against racism and social exclusion.
At a prayer vigil Friday organized by the Sant'Egidio community for "peaceful coexistence" in the United States, Cardinal Kevin Farrell offered prayers for Floyd, calling him a "just man."
"We pray for him, for his family, but also, we pray this evening for the United States, for all people, so that they find peace, serenity and understanding among them," he said, assuring of the Catholic Church's closeness to all those who suffer violence and discrimination in the U.S.
Though born in Dublin, Farrell served as auxiliary bishop of the Archdiocese of Washington from 2002-2007 and bishop of Dallas from 2007-2016, when he was tapped for his Vatican post.
Referring to a number of protests that have ended in violence and vandalism, he asked that "every violence on the streets of the United States cease, that every racism is overcome and justice is affirmed and that the people in the United States can return to living in tranquility and peace, so needed in such a difficult time."
Friday's prayer vigil was organized following Floyd's death nearly two weeks ago, and the global protests that have ensued. An African American man, Floyd passed away in police custody after an officer knelt on his neck and back for nearly nine minutes, despite Floyd's pleas that he couldn't breathe.
Sant'Egidio, a lay group actively committed to the Church's doctrine of social justice, is a favorite of Pope Francis, who himself weighed in on the issue during his Wednesday general audience.
Live-streamed from the Basilica of Santa Maria in Trastevere, Friday's prayer vigil was among the first formal public gatherings to be organized after coronavirus restrictions were lifted in Italy. The basilica was full and the event was attended by several major Vatican personalities and ambassadors to the Holy See, who were socially distanced and wore masks.
In his remarks, Farrell recalled the United States civil rights movement of the 1960s and 70s, saying that while one might be inclined to think that "after long years of fighting for civil rights and racial equality," the injustices of the past would not repeat themselves.
"But we see with sorrow that this is not the case. Social peace and fraternal coexistence among all citizens can never be taken for granted," he said, insisting that the while the social movements fighting racial discrimination in the 1960s "undoubtedly left a deep mark" on the national conscience, "they have not definitively solved all the problems."
"Social fraternity must always be built anew, it is never reached in a stable and definitive way, because the human heart can always close itself in its selfishness and return to being polluted by sin, thus causing new injustices, new violence, new oppressions," he said, insisting that Christians can offer a valuable contribution.
Each person who is baptized, he said, must be come a "dwelling place" for God where there is no space for hatred or contempt.
Noting that the United States since its birth has been multicultural, multiethnic and multireligious, Farrell pointed to the founding principles of the nation, which include "the equality of all people, the inalienable rights to life and freedom granted by the Creator himself to all people, tolerance, peaceful coexistence, equal opportunities for prosperity and well-being for all."
"These ideals are inscribed in the DNA of the United States of America and are part of its founding documents," he said, insisting that when boiled down, they are "nothing more than the translation of Christianity into the language of civil law."
"That is why we Christians, every time we make Jesus' teaching known, are helping all our fellow citizens to return to the authentic ideals of our nation, its constitution and its laws," he said, noting how Jesus in the Gospels ministered to everyone, regardless of race, political affiliation or social or economic status.
However, Farrell lamented the fact that even among Christians, "a distorted way of thinking can infiltrate, which leads us to identify with only one side, distancing ourselves from those who belong to the other side: wealthy people against poor people, intellectuals against uncultured people, progressives against conservatives, whites against blacks."
By making these distinctions, he said, "we completely lose sight of the universal dimension of Christ's message or even end up identifying our Christian faith with the ideological vision of the side we have embraced."
He urged Christians to adhere to the Gospel concept that "all of you are one in Christ Jesus" in order to better promote the social good, "avoiding partial and ideological visions."
In addition to the prayer vigil, Floyd's death has also been marked with numerous protests throughout Italy, a nation which also has problems with racial prejudice and where black professional soccer players are at times still booed or called monkeys when they come onto the field.
In Rome, as Friday's prayer vigil was taking place, a sit-in was also held in the city's Piazza Barberini, an upscale neighborhood close to a popular movie theater and a compound housing the United States embassies to Italy, to the United Nations and to the Holy See.
Further protests are expected to take place throughout the weekend in Naples and in Florence near the U.S. Consulate General offices, and in Milan in front of the city's main train station.
On Saturday, another sit-in protesting racism is scheduled to be held near the U.S. embassy building, and, according to an alert sent out by the U.S. Embassy a third protest in honor of George Floyd is planned for Sunday and is being organized by the "Women of Color United" group, who will march from Rome's Piazza Venezia to Piazza Santi Apostoli, at the other end of a large shopping street connecting the two squares.
Given Italy's continuing recovery from the coronavirus and continued social distancing norms, it is unclear how many are expected to participate in these protests, however, Friday's protest in Piazza Barberini was well attended, with a large crowd holding up signs saying "no justice no peace" and urging solidarity with the American "revolt."
In his homily Friday, Farrell spoke out against the violence of some protests in the United States, saying "one cannot hope to promote social peace through violence, one cannot overcome injustice by committing injustices and crimes even more serious than those one wishes to denounce."
Urging people not "blindly vent" their feelings of anger and frustration, he stressed the need to build "something that remains as a lasting good for all," and which is built on the principles of brotherhood, just laws and "worthy" living conditions.
"Offensive words and gestures of contempt, looting and violence lead to nothing good for the future. For this reason we Christians must not hide and fear, on the contrary, precisely in these delicate moments of social tension we must be present to address to the true and lasting good the just desire for equality, respect and justice," he said.
Farrell closed asking that God "look upon all innocent victims who have died because of injustice and racial discrimination," and praying that "their spilled blood help our beloved nation to build a truly peaceful and fraternal society."
Follow Elise Ann Allen on Twitter: @eliseannallen