Italian cardinal discharged from hospital after battle with COVID-19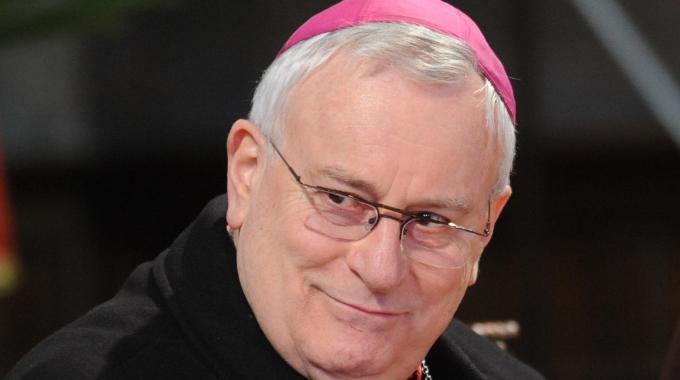 ROME – On Thursday, Italian Cardinal Gualtiero Bassetti was discharged from the Saint Mary of Mercy hospital in Perugia, where he serves as archbishop, after spending roughly 20 days there fighting the COVID coronavirus.
The president of the Italian Bishops' Conference, Bassetti is among the most senior officials in the Catholic Church to contract the coronavirus and recover, including the pope's Vicar of Rome, Cardinal Angelo De Donatis, and Cardinal Philippe Ouédraogo, Archbishop of Ouagadougou, Burkina Faso and president of the Symposium of Episcopal Conferences of Africa and Madagascar (SECAM).
Filipino Cardinal Luis Tagle, head of the Vatican's department for the Evangelization of Peoples, also tested positive, but was asymptomatic.
In a message issued upon his release from the hospital, Bassetti thanked the Saint Mary of Mercy hospital for their care, saying, "In these days which have seen me pass through the suffering of contagion with COVID-19, I was able to touch with my hand the humanity, competence, and care provided every day, with tireless concern, by all the personnel, healthcare and otherwise."
"Doctors, nurses, administrators: each one of them is committed in their own area to ensure the best welcome, care, and accompaniment for every patient, recognized in the vulnerability of the sick person and never abandoned to anguish and pain," he said.
Bassetti said he will continue to pray for the hospital personnel and will "carry them in my heart," and thanked them for their "tireless work" to save as many lives as possible.
He also offered prayers for all patients who are still sick and fighting for their lives, saying he leaves them with a message of comfort and a request to "stay united in hope and in love of God, the Lord never abandons us, but holds us in his arms."
"I continue to recommend to all to persevere in prayer for those who are suffering and living in situations of pain," he said.
Bassetti was admitted to hospital in late October after testing positive for COVID-19, where he was diagnosed with bilateral pneumonia and resulting respiratory failure. On Nov. 3 he was transferred to the ICU, where there was a brief scare when his condition began to worsen. However, after a few days he began to show improvement and was transferred out of the ICU Nov. 10.
Before returning to his home in the archbishop's residence in Perugia, Bassetti, sometime in the next few days, will transfer to the Gemelli hospital in Rome for a period of rest and recovery. How long he is expected to stay has not yet been specified.
Bishop Stefano Russi, secretary general of CEI, in a statement also voiced his gratitude for Bassetti's recovery, voicing "joy for the constant progress in his health conditions. The Italian bishops and faithful are close to him in his convalescence at Gemelli, where he is awaited with great affection."
On Nov. 18, the day before Bassetti's discharge, Pope Francis for the second time called the auxiliary bishop of Perugia, Marco Salvi, who has just come out of quarantine after testing asymptomatically positive for COVID-19, to check in on Bassetti's condition.
According to Salvi, during the call, which was the second from the pope in less than 10 days, the pope first asked about his own health "after the undesired 'guest', the coronavirus, left my body."
"Then he asked for an update on the health status of our pastor Gualtiero and I reassured him of the fact that everything is proceeding for the better with the help of God and the sanitary workers who are caring for him," Salvi said, noting that he also told the pope of Bassetti's plans to come to Gemelli for his recovery.
"I told the Holy Father that at Gemelli our cardinal will feel like he is at home, heartened by the closeness of His Holiness," Salvi said, adding that he conveyed the pope's personal greeting to Bassetti, who was "moved a lot by the constant attention and thoughtfulness of the Holy Father's concern for him."
According to diocesan weekly La Voce, Bassetti had originally hoped to return to his home at the archbishop's residence after being discharged, but decided to go to Gemelli for caution's sake.
In comments to a collaborator about his decision, La Voce reports, Bassetti said that he "shared 15 days of this difficult trial with the sick in Umbria, comforting each other, without ever losing hope in healing with the help of the Lord and the Blessed Virgin Mary."
"In suffering I shared in the atmosphere of a family, that of the hospital of our city, that family which God gave me to help me live this serious illness with serenity. In this family I received appropriate care and I thank all those who have helped me."
Speaking of his diocesan community, Bassetti said that while he will be away from the archdiocese for some time, he holds the certainty "of always having it in my heart as she has always had me in hers."
As of Nov. 19, Italy recorded 34,283 new cases of the coronavirus, and 753 deaths in 24 hours – the second day in a row that coronavirus-related deaths have numbered in the 700s. So far, some 1,272,352 people have tested positive for COVID-19 since Italy's outbreak began, with a total of 743,168 currently infected.
Follow Elise Ann Allen on Twitter: @eliseannallen