Chile bishop subpoenaed by prosecutors denies covering up abuse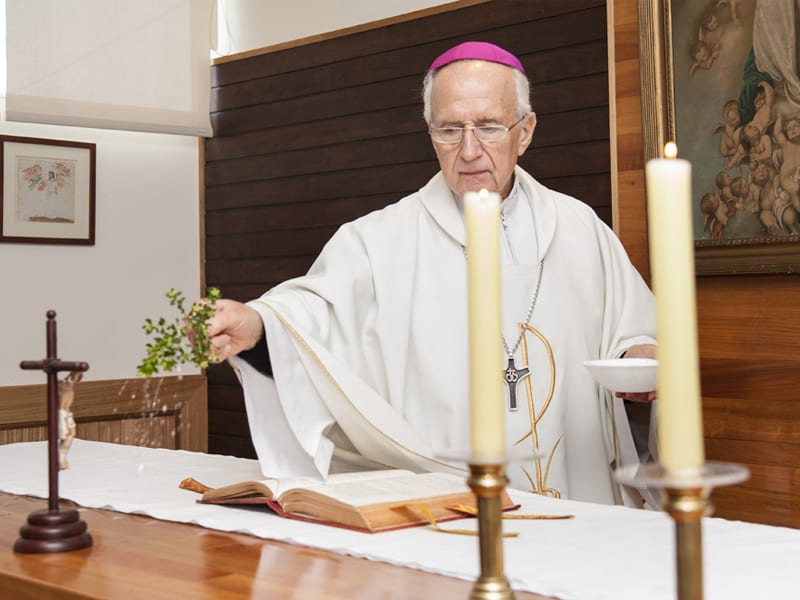 A retired Chilean bishop accused of not only cover-up but of sexually harassing seminarians testified to local authorities on Wednesday. He was interrogated for over seven hours, and even though the content of the questioning remains under seal, he spoke to media afterwards to defend his actions and deny having covered up abuse.
Bishop Gonzalo Duarte of Valparaiso is one of seven Chilean bishops currently being investigated by civil authorities, though others might soon be added to the list.
Duarte had his resignation accepted by Pope Francis earlier this year, on the same day as Bishop Juan Barros, long accused of covering up for the country's most notorious pedophile.
Duarte said he was questioned for his actions on six cases of abusive priests in Valparaiso, telling reporters: "We didn't destroy any files […] I did everything I was supposed to do, meaning investigate and not cover up."
"It's important for things to be clarified; people trust civil justice more than canonical justice, [and] the most important thing is the victims," he said. "Many of the questions were regarding the concern we've had with the victims, there are people who are marked for life [by the abuse] and that is very grave."
Former seminarians have accused Duarte of sexual harassment, but it's unclear if he was questioned about this too.
Barros testified last week, as the former military ordinariate, accused of covering up for a military chaplain. He's also been accused by the victims of former priest Fernando Karadima of having covered up for his mentor. He's one of four Chilean bishops formed by Karadima, and so far the only one called to testify.
Removed from the priesthood by Francis in October after Pope emeritus Benedict XVI sentenced Karadima to a life of penitence and prayer in 2011, Karadima continues to come up, as he sexually abused minors for decades and exerted psychological abuse on dozens of seminarians.
Three of his victims, Juan Carlos Cruz, James Hamilton and Jose Murillo, who are suing the archdiocese of Santiago for almost $700,000, recently announced that a conciliation attempt with the church authorities had failed.
The lawyer of the three survivors, Juan Pablo Hermosilla, said on Tuesday that in his opinion, evidence has surfaced proving that retired Cardinal Francisco Javier Errazuriz also covered up for Karadima.
"But the [diocese] refuses to acknowledge that there was a cover-up," he said.
Through Twitter, Cruz, who visited Francis earlier this year and who helped force the pope to review his appointment of Barros to the southern diocese of Osorno, shared some additional information.
The document stating that there was no agreement between survivors and the archdiocese says Errazuriz not only hid and covered up for abuses, but that he "lied under oath and hid things from the archdiocese and its lawyers."
The document also says that during the investigation a new confidential document was presented, written in 2009 by the then-Archbishop of Santiago, Errazuriz, for Cardinal Giovanni Battista Re in 2008, at the time head of Vatican's Congregation for Bishops, and also to the papal representative in Chile.
"This document was completely unknown to the current authorities of the Archdiocese of Santiago and its lawyers, and it reveals that during a part of the process, between 2006 and 2009, abuses denounced by Jose Andres Murillo and James Hamilton weren't duly investigated," the document says.
According to the courts, there will be "developments" in the case before the year is over. Errazuriz hasn't yet been charged by the local prosecutor's office, but last week one of them said he hasn't yet ruled out that possibility.
Duarte is one of seven bishops who is being investigated by the prosecutor Emiliano Arias, who's been given a green light to investigate allegations against the Catholic Church at a national level.
The other bishops under review are Cardinal Ricardo Ezzati of Santiago; Barros; Carlos Pellegrin of Chillan, who had his resignation accepted after charges not just of cover-up but sexual abuse; Bishop Santiago Silva, currently military ordinariate and president of the bishops' conference; Bishop Cristian Contreras, of San Felipe; and Luis Infanti de la Mora of Aysen.
"There are many people charged, I am among them," Infati said last week, talking to media at the general assembly of the bishops' conference. "And this is the result of the allegations of a crazy person."
As president of the bishops' conference, Silva is expected to attend a Feb. 21-24 meeting in the Vatican, convened by Francis, to address the abuse crisis rocking not only Chile but the institution globally.
Silva offered to resign from the presidency during the general assembly, but it was refused by the other bishops. Local sources have told Crux there's discomfort among some of the Chilean bishops over the way Francis has treated them in the past six months.
After siding with the bishops for over three years, the pontiff made a 180-degree shift after sending two trusted emissaries to investigate the situation.
Since then, he's acknowledged he was wrong, publicly asked for the forgiveness of the victims and accepted seven resignations. However, victims still want to see accountability, as the Vatican never gave a formal reason why the resignations of prelates like Duarte or Pellegrin were accepted.
Every president of the world's bishops' conferences as well as the heads of the 23 Oriental churches in communion with Rome are expected to attend the February summit. Survivors of abuse and lay experts will also take part, but their names have not been disclosed.
Despite having been subpoenaed to testify on charges of cover-up, Silva at this point is allowed to leave the country and is expected to be on hand in Rome.