Nun and sister of original 'Ghostbusters' star says acting is preaching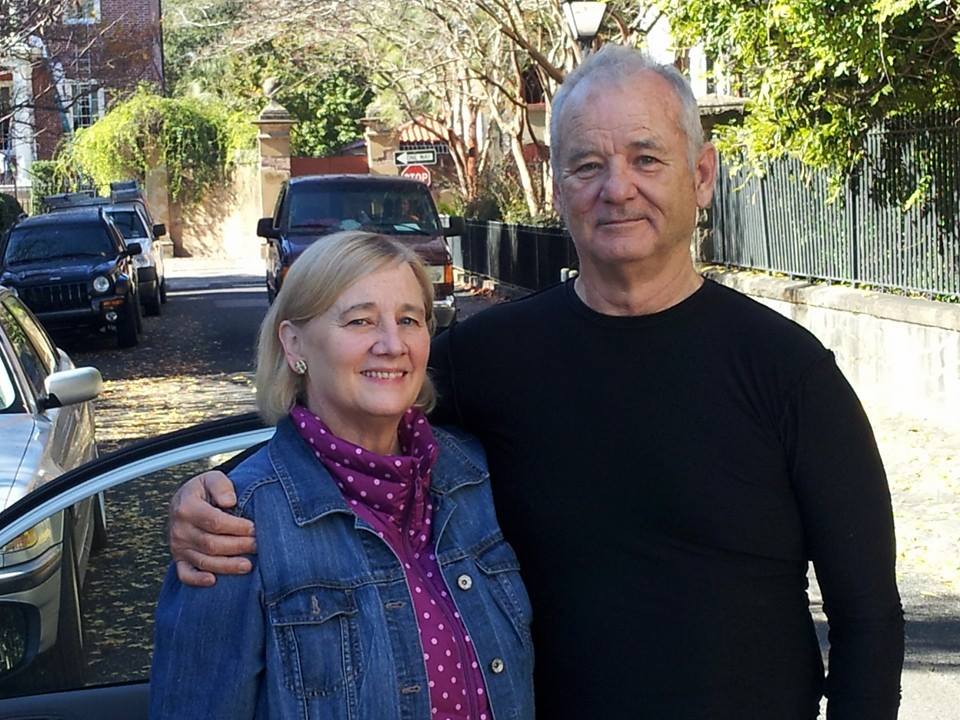 When she goes to the new Ghostbusters movie, Dominican Sister Nancy Murray plans on wearing a Ghostbusters jacket.
But this is no typical fan or jacket, because Murray is the older sister of Bill Murray, the actor who portrayed one of the original Ghostbusters in the 1984 comedy classic, and she plans on wearing a jacket given to cast and crew members, which her brother in turn gave to her.
Interviewed by Crux just before the film's July 15 release, Sister Murray said she was looking forward to seeing the cast of four funny women taking on the lead roles this time, and she reflected on the original.
"I loved the song, and the story was just crazy," she said, joking that she sometimes gets a little nervous at the beginning of her famous brother's comedies. That first movie about four fast-talking, wisecracking paranormal investigators hit home, not because the Murrays had spirits inhabiting their suburban Chicago home growing up, but because of the spirit of their household.
"(I thought), this sounds like the dinner table," she said.
Murray described the verbal jousting and joking among those first Ghostbusters as bringing back memories of family dinners, with their dad, Edward Murray, a lumber salesman, cutting the meat and passing the mashed potatoes and other side dishes to the nine Murray kids seated around the table, and then presiding over what turned out to be a nightly round of improvisational comedy and commentary.
She said her mom, Lucille Collins Murray, the house disciplinarian, made sure that the more introverted kids had their say, along with the extroverts.
"That (dinner table) was our first stage," said Murray, one of five siblings whose life's work has revolved around acting.
The third oldest child in the family and oldest daughter, she entered the Adrian Dominican Sisters 50 years ago and is herself an accomplished actress who has traveled the United States and the world staging a one-woman show based on the life of St. Catherine of Siena.
Her younger brother Bill and older brother Brian Doyle-Murray starred in Chicago's famous Second City comedy club, then gained fame as featured players on "Saturday Night Live" and co-starring in film comedies like Caddyshack, Scrooged and Groundhog Day.
Their younger brothers, John and Joel Murray, have also acted in a variety of films and TV shows.
The Murray dinner table proved to be a laboratory for the family's future comedians and actors, she said, noting that their dad "didn't tell jokes. He was more a situation comedy person. He would imitate your pouting, imitate your whining."
Her brother Brian was also a great storyteller, she said.
Those family meals always lasted at least an hour, between eating and talking, and she said neighbor kids sometimes looked in the windows, wondering when the Murray kids would come out to play.
The Murrays had a practical reason for stretching out the meals, she said, noting that, "If you wanted to be the first one up from the dinner table, you had to start the dishes!"
The fact that St. Catherine of Siena, came from a big family helped draw Murray to telling her story on stage. St. Catherine, a fellow Dominican but a lay member of that order, was the 24th child in her family in 14th century Italy.
The saint didn't have a formal education, but the depth of her spiritual writings have led to her being named a Doctor of the Church, and she was also known for serving terminally ill patients and prisoners on death row. She convinced the pope to move the papacy back to Rome after decades of it being headquartered in France.
Murray's stage play is called "Catherine of Siena: A Woman for Our Times," and she said the saint's life demonstrates that "God has the power to transform people."
"St. Catherine's life also offers an important lesson for today's families," Murray said, noting that growing up in a family offered the future saint "a boot camp for life. It is for all of us… Every saint started with a family, and there was no perfect one."
She hopes the play gives people hope for finding the goodness in their own families.
The woman religious said the way the saint challenged church leaders of her time offers an example of leadership that Pope Francis, in her view, has demonstrated.
"Don't let ego get in the way of service," she said. "If you're called to be a leader, it's to be in service, not (exercising) power over people, but for people, to enable them to be their best selves."
She's a big fan of Pope Francis, who in his recent apostolic exhortation on marriage and family life, Amoris Laetitia, extolled the importance of family meals, a value the Murrays clearly share.
"He has been so affirming of all God's children… He really has wanted to walk with people," she said, noting that the pope "is really adapting to 21st century culture," through his use of social media to spread Jesus' Gospel in today's world.
Murray has tried to do the same in her life as a woman religious, by utilizing drama in her ministries. She has staged nearly 800 performances of St. Catherine of Siena, in parish and school auditoriums, universities, churches and other venues across the United States, and in four other continents, including in Spanish for 1,500 people at a theater in Madrid during the 2011 World Youth Day gathering there.
She tries to make each performance different, researching something about the audience so she can note how their lives are like St. Catherine's.
"I'm of the Order of Preachers. I look at this ministry as a new form of preaching," the Dominican sister said.
As Murray was earning a degree in theater, speech and drama at her order's Barry University in Miami Shores, Florida, the sister performed in "Fiddler on the Roof." After graduating, "I thought I was going to be a drama teacher and speech coach the rest of my life," she said.
Later she earned a master's degree in pastoral studies from Loyola University in Chicago, and she has incorporated drama and theology in her ministries as a Dominican sister, including when she served 15 years as a pastoral associate and youth minister at an inner city Latino parish, St. Sylvester's in Chicago, where she started the VIVA El Teatro performing acts program for the youth there, and had actors from Second City work with the teens and young adults.
In recent years, Murray has also staged about 50 performances on the life of Sister Dorothy Stang, the Sister of Notre Dame de Namur who was murdered in 2005 in the Amazon rainforest of Brazil, where she had fought for the rights of the poor and for preventing the destruction of that fragile ecosystem. Those two themes were central to Pope Francis' 2015 encyclical Laudato Sí ("On Care for Our Common Home").
"We are all connected," Murray said of that sister's work in protecting the environment and serving the poor. She also relates to Stang because she too came from a family of nine children.
Regarding the new Ghostbusters movie, Murray said she agrees with her brother, the original Ghostbuster, that the four women taking on those roles –Melissa McCarthy, Kristen Wiig, Kate McKinnon and Leslie Jones – are good comediennes worthy of reprising that classic movie.
Plus, Murray is all for strong women coming to the fore, just as with the pioneering churchwomen she portrays on stage. In that regard, the famous refrain from the Ghostbusters theme song hits home: "Who ya gonna call…?"
(For information on Sister Nancy Murray's upcoming performances, go to nancymurrayop.org .)