Marchers for life in Washington link abortion, immigration as pro-life causes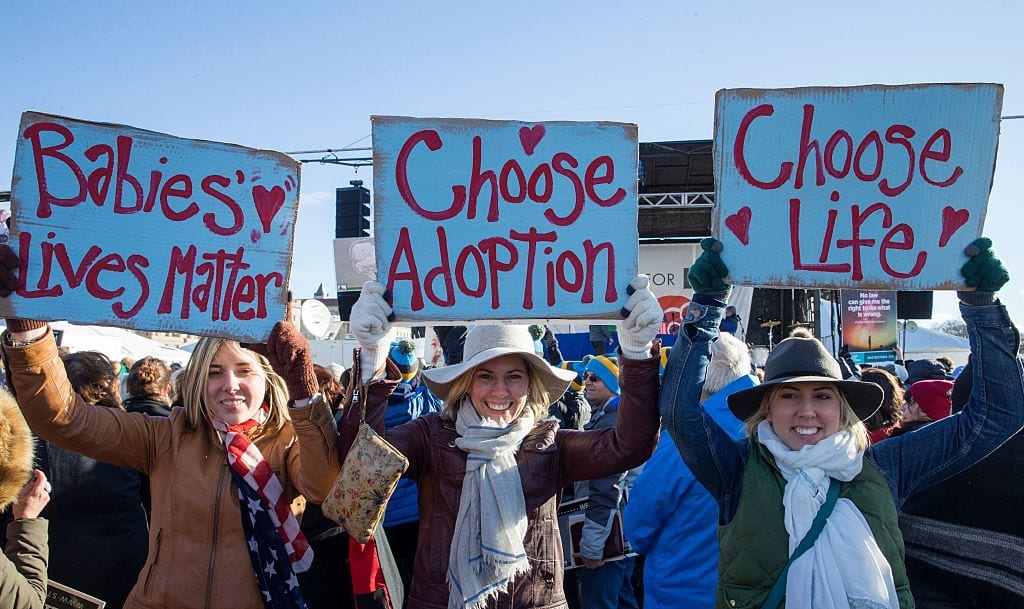 Participants at the 44th annual March for Life in Washington on Jan. 27, estimated in the hundreds of thousands, reflected a patchwork quilt of Americans young and old, but appearing to be mostly college and high school students, from different racial and ethnic backgrounds and seemingly every state of the union.
They came on coast-to-coast to flights and cross-country bus trips, and some in the Washington metropolitan area just hopped on a train. But they came to stand and march together for life, and each one had a story.
For some participants, the annual march against abortion offered an opportunity to link that issue with what they regard as another pro-life issue – the plight of immigrants in the United States.
Those two questions came to the fore in President Donald Trump's first week in office, as he signed an executive order prohibiting U.S. funding of abortion services in overseas health programs, and two days later signed executive orders to begin the construction of a border wall with Mexico and to increase immigrant detention and deportation actions.
In the area near the Washington Monument grounds where the pre-march rally was held, an undocumented immigrant woman from Texas named Lisette stood holding a poster that on one side read, "#Catholic, #Undocumented, #Pro-life" and on the other noted that she was a "Dreamer," the nickname for young undocumented immigrants seeking a college education.
"We must defend life from beginning to end… I'm here because pro-life is not just being anti-abortion, and I'm an example of that," she said.
She had come to the United States from Mexico as a 5-year-old, and she said her parents ended up staying in the country and had three more children born here.
Lisette, 33, graduated from college after studying international business and fashion design and textiles. In Dallas, she attends Mass at the Cathedral Shrine of the Virgin of Guadalupe and participates in its social justice programs.
"We have to defend the unborn, and also the refugees and immigrants, the poor and the elderly, and the incarcerated," she said.
Lisette noted that she and her family volunteer with the Missionaries of Charity, the order founded by St. Teresa of Calcutta. "I grew up with them. Anytime they need a ride, they call me," she said.
When asked about the proposed border wall, she said, "The wall doesn't scare me… My faith is stronger," and she added, "I pray. I leave tomorrow to God."
That day, Lisette said she had come to join the March for Life, to let people know, "A great number of Catholics are immigrants like myself, and we are pro-life… I know a lot (of people) see us as criminals, as outsiders and unaccepted. I want them to see I'm here. I'm pro-life."
Lisette said one day she hopes to have a family of her own, and perhaps own a business. For the near future, she said her dream is to live with dignity, and "to be able to have a stable life, where we don't have to fear one day we'll be kicked out of the country."
Nearby in the crowd of march participants stood Margaret Black from St. Catherine of Siena Parish in Addison, New York, who had come with three of her children. She held a sign reading, "Save babies with Down syndrome." The poster displayed the photo of a little boy with Down syndrome – her 3-year-old son, Sebastian, who is the eighth of her nine children.
In the neonatal intensive care unit after his birth, she learned that nine out of 10 babies with Down syndrome are aborted. "I was so upset. I realized all the good he was going to bring," said Black, who added that she had come to understand that her newborn son "was an intentional gift from God to me."
Black said one of the first words that Sebastian learned in sign language was the sign for "Jesus," and she said that at Mass, "when he goes to the altar, he knows to bow his head."
"His love is so pure and so innocent," said Black, who said she missed him that day, being apart from him while she participated in the March for Life.
"I want people to realize children with Down syndrome are a gift. We need more of them. Their love will teach us how to love other people. They're the perfect example of selfless love," she said, adding that her little boy's love reminds her of Jesus' love.
The people joining the march's pre-rally had to wait in line to go through metal detectors at security stations because Vice President Mike Pence would be speaking.
Among the marchers in those lines snaking along Constitution Avenue was Bishop Edward Weisenburger of Salina, Kansas, who walked along with more than 180 young people from his diocese who had ridden on four buses for 29 and one-half hours to join the march.
"We come every year," he said, adding that he was inspired by the teens and young adults in his group and by their peers who seemed to form the majority of the marchers.
"It's a witness, not only for the public, but equally for people like me," he said. "It reminds even bishops that the faith of young people is a profound, prophetic witness to our entire nation."
Like many other march participants, Weisenburger expressed hope that the new president and new Congress would pass pro-life legislation, and he said he shared the U.S. Catholic bishops' concerns that they have expressed about the plight of the nation's immigrants.
"All bishops are deeply concerned for the lives and well-being of immigrants," he said. "We are hoping for good, common-sense legislation that respects families and the human rights of people…" He  added, "Whenever we qualify some lives as more valuable or having greater human rights than others, we erode the value of all life."
Carson Klaus, a senior at Thomas More Prep-Marian High School in Hays, Kansas, said the long bus ride was worth it, "to defend those who can't defend themselves."
His classmate, Alison Schibi, added that when she returns home after the march, she hopes to "bring back what we learn here, and when we go to college, keep the same values."
The crowd gathering at the National Mall included 600 students from the University of Mary in Bismarck, North Dakota, who had taken a 34-hour bus ride to join the march.
Luke Huber, a theology student at that university, grew up on a farm, where he said he learned the importance of standing up "for what is right" and he said he hoped that their witness that day in Washington would show "Congress and the rest of the United States that life is precious, and we need to protect it."
Elizabeth Morris, a freshman majoring in English education at the University of Mary, said that after the march she hopes to be "a greater witness for the pro-life movement in my everyday life, especially when I go into my career in teaching, that I advocate for life in every stage."
About 50 members of the Catholic Student Union from Florida State University had joined a 14-hour bus ride to the March for Life. Vivi Huynh, a freshman studying pre-engineering there, said she first came to the march two years earlier.
"It changed my life…I came here and saw how many people were here to stand for what they believe in. It's amazing," she said.
Eden Gorden, a Florida State junior majoring in Spanish and minoring in biology, joined the march for the first time.
"I believe in true feminism…We have to make our voices heard and participate in our political system," she said, adding,  "…Studying biology, I know for a fact this is a human person, and we need to protect these people."
Eden, who hopes to work in the field of Spanish-language medical translation, expressed empathy for immigrants. "I am pro-immigration," she said, adding she disagrees with the new president's stance on that issue.
"…We're a nation of immigrants," she said, adding, "I think we should be more open to the refugee population. I understand the risks." She noted that through different periods of the nation's history, people have tended to be fearful of immigrants, "but it (immigration) tends to bring great things" to the country, she said.
Later, after the pre-march rally, the massive crowd poured down Constitution Avenue, past the Smithsonian Museums and National Gallery of Art, toward the U.S. Capitol and Supreme Court.
Valerie Bachand carried her 3-month-old son Charles, after flying into town with her mother, two sisters and a young niece from Seattle Washington. They had decided to become involved in the pro-life movement after supporting a local branch of a nationwide network of women's health centers.
Her mother, Leslie Tucker, said their family had come to show "the babies matter, and the mothers matter."
Seeing the large crowd, and walking with them, gave her hope, Bachand said. "I'm just trying to set a tone for my family, to show my son, the future generation, that all lives matter."
"It's empowering to be here with other people who support life," she said.