SNAP denies ex-employee's claim of kickback scheme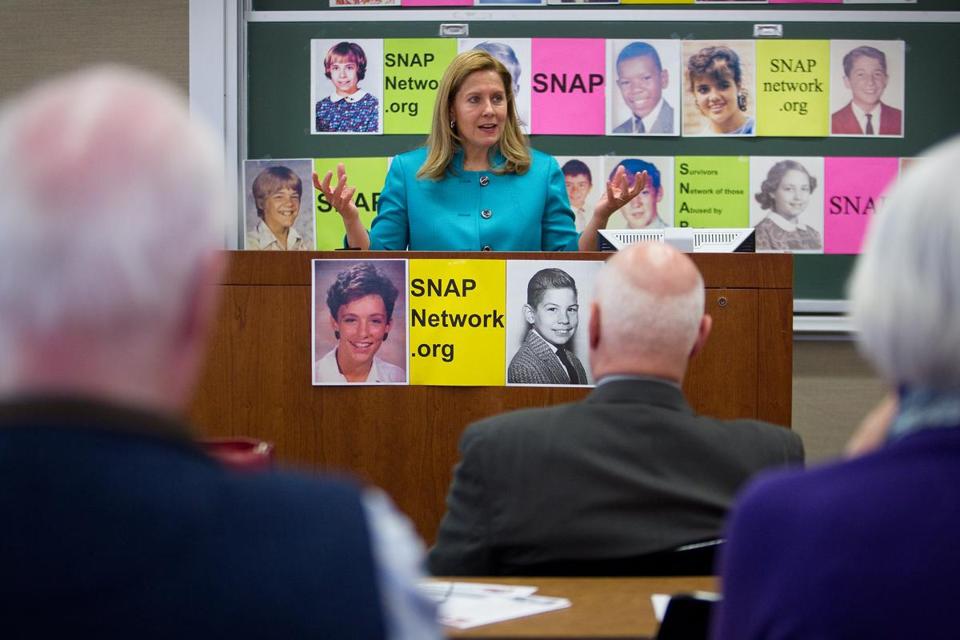 [Editor's note: This story has been updated to include comments by the SNAP ex-employee who filed the lawsuit.]
A lawsuit by an ex-employee charges that the Survivors Network Of Those Abused By Priests (SNAP), a highly visible advocacy group for survivors of clerical abuse, is actually "a commercial operation motivated by … personal and ideological animus against the Catholic Church," and that it routinely engages in kickback schemes with lawyers suing the Church.
"SNAP does not focus on protecting or helping survivors – it exploits them," says the lawsuit, filed Jan. 17 in the Circuit Court of Cook County, Illinois.
"SNAP routinely accepts financial kickbacks from attorneys in the form of 'donations.' In exchange for the kickbacks, SNAP refers survivors as potential clients to attorneys, who then file lawsuits on behalf of the survivors against the Catholic Church," the suit alleges.
"These cases often settle, to the financial benefit of the attorneys and, at times, to the financial benefit of SNAP, which has received direct payments from survivors' settlements."
News of the lawsuit was first reported on Wednesday by National Catholic Reporter editor Dennis Coday.
On Thursday, a SNAP official denied the claims in a brief written statement to Crux.
"The allegations are not true," said Barbara Blaine, the group's president.
"This will be proven in court. SNAP leaders are now, and always have been, devoted to following the SNAP mission: To help victims heal and to prevent further sexual abuse," she said.
The lawsuit was filed by a Chicago attorney on behalf of Gretchen Hammond, who worked for SNAP as director of development from July 2011 to February 2013. In a conference call with reporters on Thursday, Hammond said she has no backing from the Catholic Church for the lawsuit, noting that she's an LGBT person who was raised in the Church of England.
Hammond says she was initially successful in the role, among other things generating more than $1 million for SNAP during and after a European trip to support a SNAP effort to persuade the International Criminal Court to file charges against then-Pope Benedict XVI.
Hammond claims that when she began to have doubts, she was subject to reprisals that led to health difficulties, including liver problems, blood pressure issues and weight gain, which required four hospital visits between November 2012 and January 2013.
During that time, Hammond's lawsuit says, she began gathering "incriminating documents" and storing them on a hard drive, with a view to exposing SNAP's operations.
Eventually, Hammond claims, she was fired in February 2013, and has since had to take a job with a local newspaper in Chicago that implied a pay cut in excess of $40,000. She also asserts that her experience with SNAP robbed her "of the joy she once held for her chosen profession in non-profit fundraising."
Founded in 1989, SNAP has become the world's largest and most visible advocacy organization on behalf of clerical abuse survivors. In 2002, at the peak of the abuse crisis in the American church, Clohessy was invited to address the U.S. bishops.
Hammond, however, alleges that activity is largely a smokescreen for SNAP's real aim, which is raising money.
SNAP is premised, Hammond charges, on "farming out abuse survivors as clients for attorneys," and in return, "attorneys reward SNAP with financial kickbacks." She claims the organization "callously disregards the real interests of survivors, using them instead as tools and props in furtherance of SNAP's own commercial fundraising goals."
As evidence of that disregard, Hammond says that during her period of employment SNAP did not have a single grief counselor or rape counselor on staff, and that she was actually instructed to disregard abuse victims who called seeking that type of support.
In support of Hammond's allegation of a kickback scheme, the lawsuit cites the following data.
In 2007, SNAP raised $437,407 in donations, 81 percent of which came from lawyers.
In 2008, donations totaled $753,596, 65 percent of which came from lawyers.
In 2011, lawyers contributed 56 percent of $676,923 in donations.
In terms of an ideological bias against the Church, the lawsuit cites an April 26, 2011, email from Clohessy to an abuse survivor encouraging the survivor to pursues a lawsuit against the Archdiocese of Milwaukee.
With shorthand and misspellings removed, the email read: "I sure hope you do pursue the Wisconsin bankruptcy … every nickel they don't have is a nickel that they can't spend on defense lawyers, PR staff, gay-bashing, women-hating, contraceptive-battling, etc."
The lawsuit does not request a specific sum in damages, but "further relief as this Court deems just and proper."
"Lot of grassroots nonprofits start out with good intentions, and I have no doubt SNAP started out with the best of intentions. What eventually happened was that those intentions got lost in a very competitive philanthropic market," Hammond said in the conference call.
As an example, she cited a a one-time, $100,000 donation given to SNAP in 2011 by a celebrity, the majority of which, she said, went toward paying for a full-page advertisement in the New York Times intended to raise more money.
"I thought, how many survivor meetings could you fund with that, how many ways could you grow the network?" she said.
"The goal became raising dollars as quickly as possible, and the whole idea of what we were supposed to be doing got lost."
She said the main goal of her lawsuit is to prod SNAP "to go back to what it was supposed to be doing, a group survivors could rely upon for counseling and help."