Neocatechumenal Way priests removed from Guam advisory board for insubordination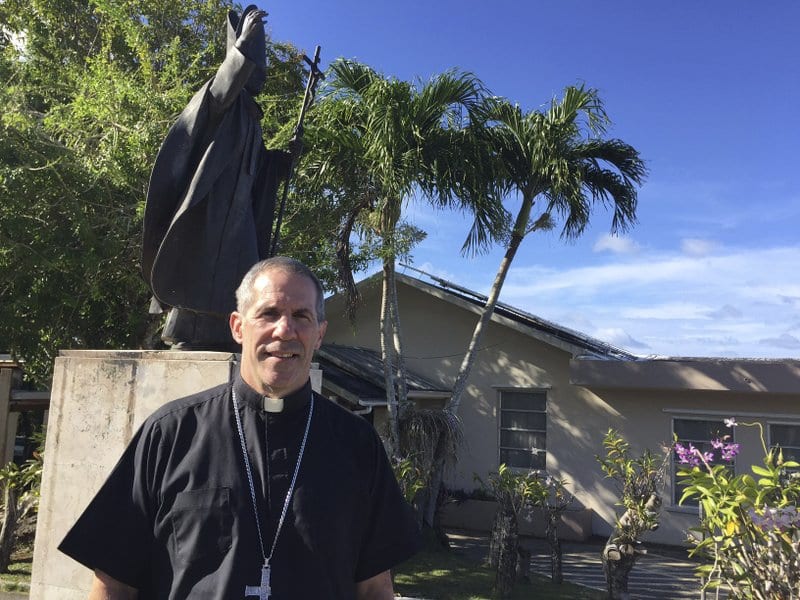 Four priests belonging to the Neocatechumenal Way have been removed from the presbyteral council of the Archdiocese of Agaña in Guam for "insubordination."
The move by Archbishop Michael Jude Byrnes was made last month, and revealed in a letter obtained by Pacific Daily News last week.
"As discussed, your membership on the presbyteral council is terminated because of insubordination," Byrnes writes in the July 24 letter. "Specifically, by writing directly to his Eminence Fernando Cardinal Filoni on June 27, 2017, instead of properly directing your concerns to me, you have defied my leadership and betrayed my trust."
RELATED: Guam Catholic Church sees a "perfect storm" of controversy
Filoni is prefect of the Vatican's Congregation for the Evangelization of Peoples, and considered a supporter of the Neocatechumenal Way.
The Neocatechumenal Way is a new ecclesial movement started in Spain in 1964 that focuses on post-baptismal adult formation in small parish-based groups. It is estimated that the movement contains about 1 million members, in some 40,000 parish-based communities around the world.
Concerns have been raised in numerous places about the movement's liturgical practices, and it has been accused of dividing parish and diocesan communities.
Over the years, they've been banned for periods of time in various places, including Japan, the Philippines, Nepal, as well as a number of individual dioceses in both Europe and North America.
Byrnes was appointed as Coadjutor Archbishop of Agaña in October 2016, after Archbishop Anthony Apuron, a member of the Neocatechumenal Way, was accused of sexually abusing minors. Apuron's Vatican trial is ongoing, and he also faces several civil lawsuits.
RELATED: Guam bishop aims to resolve 'distress' on Neocatechumenal Way
The new archbishop has often been at odds with the movement ever since. Earlier this year, Byrnes appointed a priest delegate to review the group's catechetical directory, as well as issuing instructions to regulate their liturgies.
"The sooner we have unity and universal adherence as an archdiocese to the norms established by the Church in celebrating the body of Christ during the sacred celebration of the Mass, the sooner we shall be on the path to reconciling with one another, and bring healing to our divided diocese," Byrnes said at the time.
The four priests removed by Byrnes in July were Monsignor David C. Quitugua, Father Jose Alberto Rodriguez-Salamanca, Father Julio Cesar Sanchez, and Father Rodolfo Arejola. The contents of their letter to Filoni are unknown.
A presbyteral council is a group of priest-advisors who assist a bishop in governing his diocese.
Byrnes recently sent three seminarians to study in California, rather than at the archdiocese's own seminary, which is controlled by the Neocatechumenal Way.
The seminary has been in the news over the past few days, after a lay group started a round-the-clock stakeout, accusing the lay movement of allowing members to live on the property – owned by the archdiocese – rent-free.
Guam is a U.S. Pacific territory of 162,000 people, 85 percent of whom are Catholic. In addition to the accusations lodged against Apuron, nearly 100 other lawsuits have accused Catholic clergy in the territory of sex abuse over a 50 year time span, alleging assault, manipulation and intimidation of the alleged victims.