Spokesperson 'unsure' if Trump knows about mandate complaints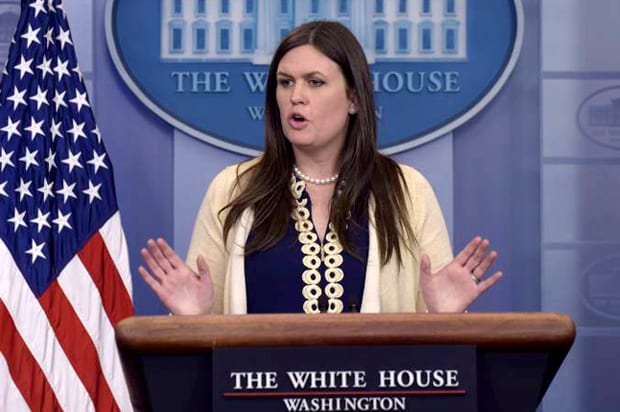 At a White House press conference Thursday, Press Secretary Sarah Huckabee Sanders said she's unsure whether President Donald Trump is aware of complaints that his executive order on religious liberty is being ignored, including on a controversial contraception mandate.
Sanders' response was a reply to a question about a mandate imposed by the Department of Health and Human Services during the Obama administration requiring faith-based non-profits such as the Little Sisters of the Poor to cover contraception in their health care plans, which is still in place, and recent criticism from the Becket firm, a religious liberty law practice.
In May 2016, the Supreme Court ruled that the government could not fine the Little Sisters of the Poor for refusing to comply with the Obamacare contraceptive mandate.
On May 4, after a year of waiting for clarity on a new rule, President Trump signed an executive order on religious freedom, meant to end the standoff between religious groups over the Obama Administration's HHS contraception mandate.
"We will not allow people of faith to be targeted, bullied or silenced anymore," said the president.
Cardinal Donald Wuerl of Washington, D.C. offered the opening prayer at a White House Rose Garden ceremony, and the president spontaneously invited members of the Little Sisters of the Poor to join him on stage for the occasion, vowing that their "long ordeal" would soon be over.
Three months later, however, Cardinal Daniel DiNardo, President of the U.S. Conference of Catholic Bishops, publicly questioned why the mandate was still in force, despite that assurance.
Today's press conference question came in response to a recent request from the Department of Justice asking for a delay in devising a new rule for exemptions on the contraceptive mandate.
On August 16, Douglas Wilson, head of the Catholic Benefits Association which represents over 1,000 Catholic employers, sent a letter to the White House in which he charged the administration with failing to live up to its promises on the president's Executive Order.
"Your Department of Justice is now opposing those of us trying to overturn Obama's mandate in Court," wrote Wilson.
In response to today's press conference, Montse Alvarado, head of the Becket Fund, told Crux "I don't know the details of what the president knows and doesn't know.
"It is heartening to think that he was not aware," she said, "because that would explain why his Department of Justice is not matching his words in the Rose Garden."