Judge appointed to help diocese deal with sex abuse claims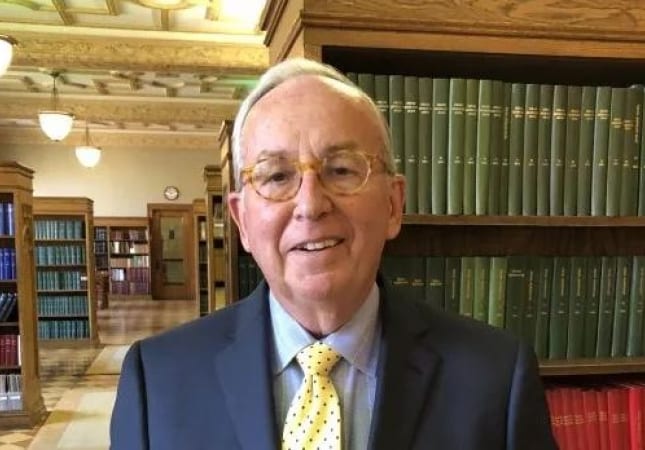 SAGINAW, Michigan — A prominent judge who is retiring soon will help the Saginaw Roman Catholic Diocese deal with allegations of sexual abuse by priests.
Michael Talbot was introduced Friday by the Saginaw bishop. Talbot publicly urged victims to step forward and also pledged to share information with police whenever necessary.
Sixteen years ago — in 2002 — the judge was named chair of the newly constituted Board of Review on clerical sexual abuse complaints in the Archdiocese of Detroit.
Separately, the diocese plans to post the names of five priests accused of sexual abuse, some decades ago. One has died and four no longer are priests.
Father Robert DeLand was charged in February with sex crimes against two males. He was pastor at St. Agnes Church in Freeland. Another priest was suspended in March.
Bishop Joseph Cistone says he appointed Talbot because the 11-county diocese needs a "fresh start" during a "very distressing" time.
"It is my sincere hope that this step will bring renewed courage to victims — and their families — to come forward with a fuller expectation of fairness, justice, and healing," the bishop said.
Police investigating sexual abuse in the diocese said people who believe they're victims should contact law enforcement agencies — not church representatives.
The task force released a statement Friday after church officials announced the appointment of Talbot. Investigators say hiring the judge appears to be a "positive thing." But they also say the diocese "cannot and should not be used as a clearinghouse for the reporting of crimes."
Talbot, chief judge at the Michigan appeals court, says he won't be paid.
"I intend to get to work right away," he said.
"I'm confident I can help the Diocese of Saginaw work towards the 'fresh start' needed. In the Archdiocese of Detroit, we open our Review Board meetings with a prayer from the Archbishop of Dublin," Talbot added.
Archbishop Diarmuid Martin introduced the prayer at the 50th International Eucharistic Congress in 2012, which took place in Dublin.
The prayer expresses sorrow "for what some of us did to your children: Treated them so cruelly, especially in their hour of need."
"It keeps us focused first and foremost on the victims," Talbot said. "That will be my compass going forward — fairness, justice, and healing for victims, encouragement to come forward to civil authorities or the diocese."
Crux staff contributed to this report.