Chicago Public Schools urged to take lesson from Catholic action on abuse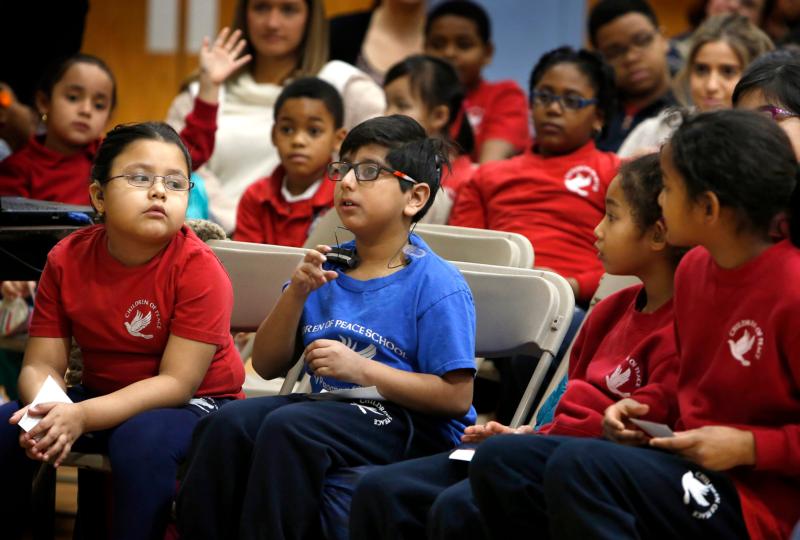 WASHINGTON, D.C. — The Chicago Public Schools system should take some lessons from the Catholic Church in dealing with child sexual abuse allegations, according to an op-ed in the Chicago Tribune.
The Catholic Church is by no means alone in its current battle against child abuse, nor is it ineffective in its preventative measures, said the author, Kristen McQueary.
The Chicago Public Schools, outed for rampant child abuse in the Chicago Tribune's 2018 "Betrayed" series, has been both uncooperative and unresponsive to the crisis in their classrooms. During the Chicago Tribune's investigative process, school officials and former Mayor Rahm Emanuel fought to keep information out of the hands of journalists, until compelled by a lawsuit, McQueary noted.
Even then, CPS only provided what McQueary termed "heavily, ridiculously, redacted" documents to reporters. In response to CPS behavior, lawmakers passed a bill requiring more reporting and information-sharing in and about schools.
CPS currently faces 523 reports that child sexual abuse occurred within public schools from 2008 to 2017. That equates to one report per week, according to McQueary. She compared CPS' response to the scandal to that of the Catholic Church.
"As despicable as the Catholic Church sex abuse scandal has been, the archdiocese here implemented a protocol for dealing with it, and strengthened that protocol repeatedly, beginning in the early 1990s," she wrote June 24.
To combat abuse, the Church publishes updated lists of all priests with allegations surrounding them, it has outed all priests with substantial allegations, and it requires in-depth background checks for any priest or church worker who might come in contact with children.
The Church's protocol also requires anyone whose work in the Church involves children to participate in a training course. Straight from the mouths of convicted child sex abusers, the course presents video interviews explaining how sex offenders lured, groomed, and eventually abused their targets. A separate program also warns kids about what kind of behavior to be aware of and how to report inappropriate conduct.
"It is an ongoing, annual, expensive — but necessary — component of the Chicago Archdiocese's response to the global child abuse scandal," McQueary wrote.
CPS, on the other hand, has only just begun to require comprehensive background checks for its employees. Further, it has yet to publicly identify most of the accused teachers and faculty, and a new, pending law, requiring more comprehensive reporting, does not require that their names be released.
"Perhaps a trailer bill in the fall veto session could address that part of the legislation that got dropped. CPS CEO Janice Jackson and CTU (Chicago Teachers Union) officials should be calling for it, if protecting kids is their top priority," McQueary wrote.
McQueary added that the union is equally as uncooperative in dealing with the allegations. Union President Jesse Sharkey reportedly did not support the institution of widespread and comprehensive background checks for teachers, and he refused to comment about an inspector general report finding that CPS failed to "identify, address, investigate, or even acknowledge the extent of the problem."
"Union leaders always say they're motivated by pursuing the best interests of kids," McQueary wrote. "They should have been outraged and cooperative from the start in rooting out abusers at CPS. They were not."
Ultimately, McQueary suggested that CPS could learn from the Catholic Church's example, particularly the Archdiocese of Chicago, in being transparent, honest and acting affirmatively to address and confront the problem.
McQueary is a columnist and member of the Tribune editorial board. Her areas of focus include government, politics and education.
---
Crux is dedicated to smart, wired and independent reporting on the Vatican and worldwide Catholic Church. That kind of reporting doesn't come cheap, and we need your support. You can help Crux by giving a small amount monthly, or with a onetime gift. Please remember, Crux is a for-profit organization, so contributions are not tax-deductible.