In South Bend, Buttigieg's relationship with Notre Dame is complex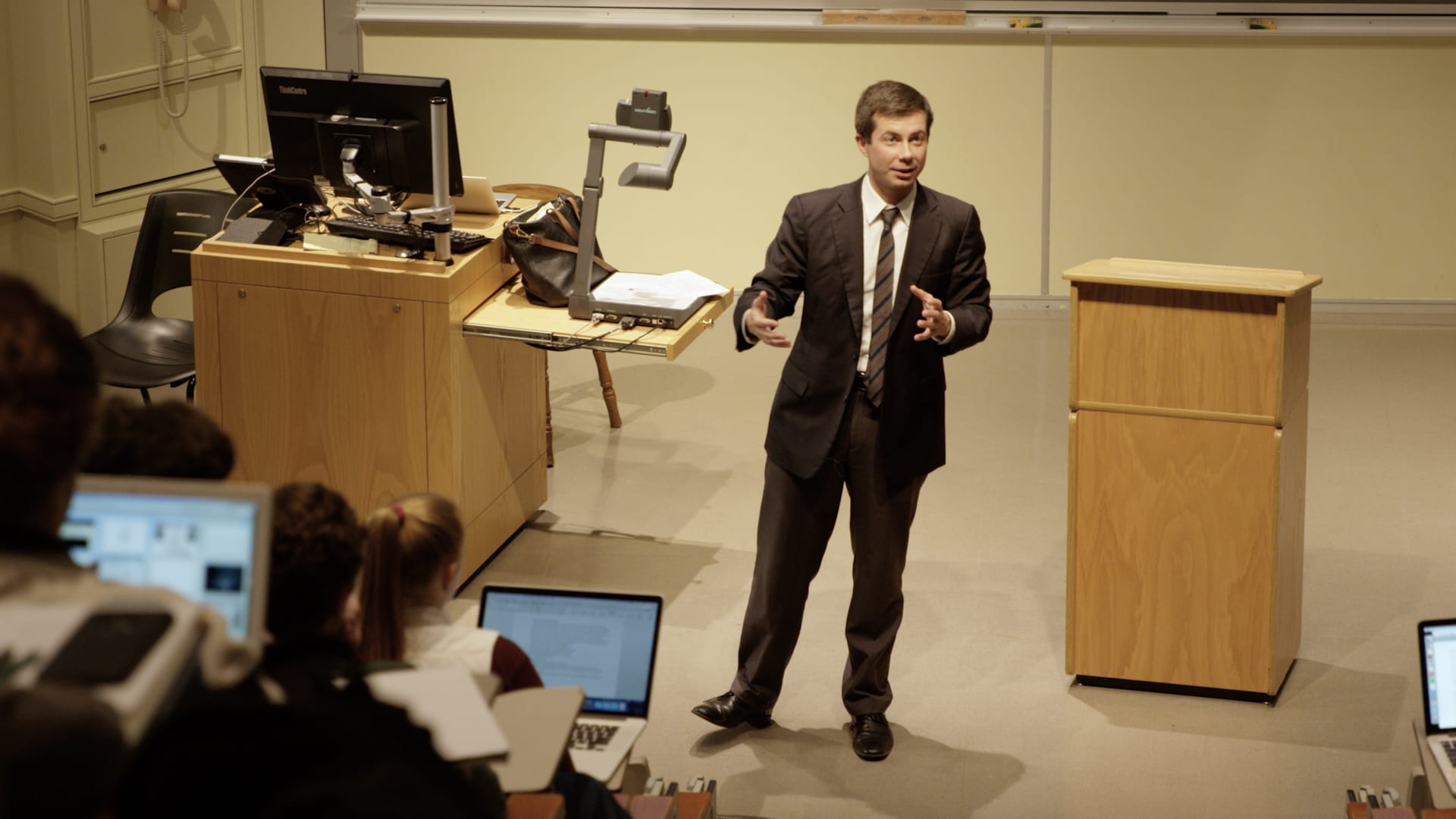 SOUTH BEND, Indiana — When a largely unknown politician first decided to make a bid for President of the United States, one question loomed large for pundits, pollsters, and potential voters alike: how do you pronounce Buttigieg?
Except at the University of Notre Dame.
For three decades, Pete Buttigieg's parents had both worked there as professors, joining the faculty in 1980. His mother, Anne Montgomery, is a retired linguist, and his father, Joseph Buttigieg, a Maltese born literary scholar who died last January, is remembered as an outsized personality who was a widely accessible, sought after professor — making Buttigieg a household name in the Notre Dame community long before their son entered politics.
Today, at age 37, Pete Buttigieg is a Democratic presidential contender. Most politically informed Americans can now easily tick off a few facts about his resume, which includes a Rhodes Scholarship, a tour of military service in Afghanistan, a polyglot who speaks 7 languages, and the two-term mayor of South Bend.
Helping to reinvigorate the mid-size city of 100,000 residents still struggling to adapt to a post-industrial economy has been one of "Mayor Pete's" — as he's known about town — major selling points.
At the center of that city sits Notre Dame, the nation's flagship Catholic institution of higher education, where Buttigieg has been a regular presence since first being elected mayor in 2011. Both Buttigieg and university officials tout their relationship as one that made the other stronger, although it has not been without some challenges in both directions.
Examining that relationship at a place like Notre Dame — where it's harder to find someone who hasn't had a direct experience with the mayor than one who has — offers insights into the complexities of faith and public life for college and candidate alike.
The Perils of Democracy
On November 7, 2016 — the day before the 2016 presidential election — Buttigieg was on campus guest lecturing in philosophy Professor Meghan Sullivan's "God and the Good Life" course, a wildly popular undergraduate program probing "big philosophical questions concerning happiness, morality and meaning."
The topic: The perils of democracy, where book eight of Plato's Republic was the text for the day.
In an almost theatrical debate, the mayor represented the view that despite the messiness of democracy, it's the highest form of government achievable. Sullivan, for the sake of argument, championed Plato's view that it could ultimately lead to tyranny.
Little did they know that the following day's election outcome would spark a national conversation about democratic institutions and their frailties, but also help pave the way for Buttigieg to make his own bid for the White House four years later.
Sullivan met Pete (or "Peter," as she still calls him) when the two were in the same Rhodes Scholarship cohort in 2005 and studied together at Oxford. In 2010, Buttigieg was looking to move back to South Bend right at the same time Sullivan was considering a job offer at the university and the two reconnected.
"Peter partly talked me into taking the job," she told Crux, speaking in her capacity as an individual, not as a representative of the university.  
Once the two were both living in South Bend, they would regularly socialize together, and a year later when he was elected mayor, she didn't hesitate to reach out so that he could inject some real-world perspective into her philosophy courses.
"Peter isn't a philosopher," says Sullivan, "but he reads a lot of philosophy."
In addition to inviting him to address several hundred students at a time in large lecture halls, she also invited him to smaller settings, such as an honors program seminar where they'd read an essay and discuss its merits.
On one such occasion, she recalls Buttigieg joining for a lively discussion of political theorist Michael Walzer's "problem of dirty hands" in which he argues that political leaders, in some circumstances, must dirty their hands and engage in unsavory activities for the greater good of the community. Given his military background, combined with his political experience, Sullivan said that Buttigieg was the perfect fit for such a discussion.
"The students loved it," she recalled, noting that he was a natural, both as a lecturer, but also as an interlocutor with students.
After speaking in her classes, Sullivan says she'd always gather a group of students for a lunch with the mayor. During the recent Christmas holiday, she saw one of those students who is now in graduate school, who recalled the experience as one of the standout moments of her time at Notre Dame.
"It used to be easy," Sullivan said of Buttigieg's availability to pop over from his office downtown and into the classroom. "I could just promise him a beer, and he'd show up. Now, that's all a bit more complicated."
"A Two-Way Test"
With its 12,607 undergraduate and professional students and a payroll of 5,000 employees, South Bend city leaders have no choice but to take Notre Dame seriously — whether they're fans of the Fighting Irish or not.
In his memoir published last year, Buttigieg writes that "almost any week school is in session, there is an occasion to visit and speak."
"I almost always try to accept when invited there," he continues, "partly because I just enjoy engaging with students, who tend to ask the most urgent and penetrating questions but also because they represent the key to transformation now under way in what it means to be a college town."
From his office underneath Notre Dame's iconic golden dome, Tim Sexton, the associate Vice President for Public Affairs for the university, concurs with that sentiment, noting that while the university has had "very positive" relationships with Buttigieg's most recent predecessors, "I think the difference with Mayor Pete," is "his accessibility to our students, our faculty, and staff on campus."
At a place where an estimated 80 percent of students live on campus, Sexton said that Buttigieg's natural reflex has always been to say yes when invited to campus events. These events, he notes, aren't always keynote addresses that attract much attention, often just informal gatherings.
"'Mayor Pete, would you like to come to speak to one of our students over early morning coffee and bagels?' the students will ask" says Sexton. "'I'll be there' is his reply."
"'What about pizza and pops at 11 pm at night?' Again, he says yes," says Sexton of the mayor's willingness to show up.
"That type of accessibility and his willingness to engage with our students and encourage our students to engage with the community was different than with his predecessors," Sexton says of Buttigieg, adding that age was a huge factor, given that he was only 29 years old when first elected.
By Sexton's estimation, he says that Buttigieg has been on campus an average of "half a dozen to ten times" each month during his 8 years as mayor.
Sexton went on to describe Buttigieg as "extremely articulate" and "brilliant" — common descriptors of the now presidential primary candidate, but what matters for Sexton is that Buttigieg has "encouraged students to look at the city in a different way."
He asks them to consider "are there problems that you could help find solutions to?" says Sexton of the mayor's approach to city governance.
Last spring, the Gay and Lesbian Alumni of Notre Dame and Saint Mary's (GALA-ND/SMC), an independent organization that is not officially recognized by the university, awarded Buttigieg — who, in a 2015 article in the South Bend Tribune came out as gay and is now married to his husband Chasten — with one of its biannual leadership prizes.
Jack Bergen, the former president and now board member of GALA, told Crux that the decision to honor Buttigieg was made before his presidential ambitions were known and they were unaware that the event would put them in the national spotlight, but it was made because of the example Buttigieg has been for many LGBT students at Notre Dame.
At the awards dinner last March, Buttigieg used the occasion to speak about his vision for greater collaboration between the city and the university.
Reflecting on his undergraduate days at Harvard University, he said that individuals living around the Cambridge, Massachusetts area, believed the university was "systematically devouring land around it."
"And it was true," Buttigieg added — noting that the relationship between South Bend and Notre Dame has never been contentious, but historically thought of as two separate entities doing their own thing.
Under his administration, Buttigieg said he wants South Bend to be a place where students practice "service and learning" and that spending time volunteering on the west side of the city, a mere two miles away from campus, could be as "exotic and as fulfilling" as half a world away.
"I think we're helping people reimagine what it means to be a good college town," he went on to say, outlining what he has come to term a "two-way test" that he uses to consider the relationship between the two.
"Is the college better off that it's in this town than any other place else and is the town better off that its major institutions are colleges rather than corporations or a hospital or something else?" is his way of gauging perspective on things.
Meeting that two-way test, he argued, would require engaging students and faculty at a substantive level — one that promotes collaboration in obvious areas such as the sciences, but also "non-obvious ones such as philosophy and art."
Prathm Juneja, an undergraduate student who introduced Buttigieg at the GALA event, spoke of his own involvement, first volunteering on the Buttigieg mayoral campaign and then working in his office at City Hall as "one of the best decisions I've ever made."
Sexton, for his part, also hailed the collaboration saying that the university and the city have embarked on a number of joint initiatives, from renovating a downtown park where the Notre Dame crew team practices to the building of a turbo laboratory for airplane engines, specifically to give the university a presence in the heart of downtown, to the involvement of faculty and staff members on the mayor's Group Violence Intervention team.
In summary, says Sexton of their approach, is "how can we make this a win-win for one another?"
"Deeply disappointed"
Should Buttigieg clinch the Democratic nomination — at present he remains a top contender, but is trailing behind Senator Bernie Sanders and former Vice President Joe Biden in Iowa polls — he would become the first openly gay man to vie for the highest office in the land.
In over a dozen interviews with university officials, students, and alumni at the Catholic institution, that was never raised as a matter of concern, with multiple individuals speaking about their delight at seeing Buttigieg and his husband on campus and at football games.
On the campaign trail, Buttigieg has been quick to talk about his own Christian faith — repeating language that he used at the GALA dinner last March to talk about how God does not belong to a particular political party — and he's encouraged the Democratic party not to shy away from having a more robust conversation about faith in public life.
Yet when it comes to the issue that is often seen as the third rail in politics and religion — abortion — the result is his biggest clash with the Notre Dame administration to date.
In 2018, the Women's Care Center (WCC) in South Bend — a well-regarded crisis pregnancy center — was caught up in what became a national drama over its efforts to open up a second location next to a newly planned abortion clinic in the city, Whole Women's Health. Historically, WCC has always operated in close proximity to abortion clinics as a part of its business model, and the organization liked to boast that in South Bend, abortion rates had dropped over 70 percent since they first started operating.
Opening a new location next to the planned abortion clinic would require a rezoning measure to be passed by the city council and opponents of the measure enlisted Buttigieg's support.
Ultimately, he vetoed the rezoning measure, writing at the time that "In my judgment, the neighborhood would not benefit from having the zoning law changed in order to place next door to each other two organizations with deep and opposite commitments on the most divisive social issue of our time."
That decision prompted an immediate uproar at Notre Dame — including from the very top.
Notre Dame's President, Father John Jenkins, specifically issued a press statement calling out the mayor for his decision.
"The Women's Care Center, on whose board I serve, gives women in crisis the support they need for themselves and their babies before and after birth. It doesn't engage in political advocacy, but provides compassionate, non-judgmental loving care to women most in need," he wrote after the decision on April 27, 2018.
"I am saddened by Mayor Buttigieg's decision to veto a bill that would have allowed the Women's Care Center to build a facility near one that seeks to provide abortions. The mayor's decision excludes an important presence from that neighborhood and thwarts plans that had met the criteria for rezoning and had been approved by the Common Council," wrote Jenkins.
"Far from enhancing the harmony of the neighborhood, it divides our community and diminishes opportunities for vulnerable women to have a real choice. The mayor is a talented and dedicated public servant with whom I have worked closely to serve our community, but I am deeply disappointed by his decision."
For Jenkins — who has gone out of his way to try to facilitate dialogue on the topic of abortion, even awarding President Barack Obama an honorary doctorate in 2008 — the move was an overreach for the mayor.
Carter Snead, a professor at Notre Dame's law school and the director of the university's de Nicola Center for Ethics and Culture, concurred, adding that he believed Buttigieg made the decision with an eye to his national political ambitions rather than for the good of the community.
"Many of us at Notre Dame — faculty, students, and staff — were deeply disappointed by Mayor Pete's cynical veto of the Women's Care Center zoning variance, by which he tried to block construction of a proven source of support and care for South Bend's poorest mothers, fathers, and children, born and unborn," Snead told Crux.  
"That disappointment," Snead continued, "has only been compounded by his embrace as a presidential candidate of the most extreme and uncompromising position on abortion — refusing to support any protections for the unborn at any stage of pregnancy, and promising to compel taxpayers to support abortion."
Alyson Cox, who is now a second year law student at Notre Dame and president of the law school's pro-life organization, said that the Women's Care Center had a "stellar reputation for their non-judgmental and peaceful style" and does not support picketing tactics that often provoke supporters of abortion rights.
She said that the group has long been considered a "win-win" for South Bend and that the mayor's handling of that incident forever shifted her opinion of him.
Cox, who completed her undergraduate from Notre Dame, said that when she arrived on campus, she looked to Buttigieg as someone "young and energetic" and she "appreciated the model of collaboration with the university to improve the city."
At the city council meeting in April 2018 where Buttigieg vetoed the rezoning measure, she approached him after the vote saying "I always looked up to you," she recalled to Crux, describing his decision that day as "heartbreaking" and bluntly telling him that he failed to take into account the real experience of the community.
Cox recalls that Buttigieg told her that that was not his intention, but for her it marked a turning point.
Before then, she says, "I thought he had great ideas and cared about his hometown." Now, Cox believes his political ambitions have gotten the better of him, which she believes can't be undone.
"Fluent in Notre Dame"
As the nation continues to wrap its mind around how a young, small town mayor has rapidly ascended the polls, at Notre Dame, most folks tend to just shrug and respond that "everyone here knows Pete."
Some are reluctant to speak directly about him — not wanting to appear as if they are offering a university endorsement, or in some cases, not wanting to question the common consensus that he's a hometown hero.
On the campaign trail, Buttigieg has struggled to attract the support of black voters, something his critics say is reflective of the fact that at home, his efforts have made the city better for whites and wealthy individuals but that he's largely neglected the minority populations.
"We may have more bike lanes, but we also have more aggravated assaults," one Notre Dame staff member who asked not to be identified told Crux.
Others say that his focus on improving the city — through those bike lanes and a focus on revitalizing downtown — has made the city and the university a more attractive place to live and that, in time, those changes will have an extended reach.
"He made me want to move back here after graduate school and start a family here," said another Notre Dame employee.
For Sexton, Buttigieg along with his team has helped "the feeling of our community to be elevated."
"There's much of being proud and that helps us," he says of Notre Dame's experience of collaborating with the mayor.
To make his point of Buttigieg's availability to the university, Sexton likes to tell the story of Pete's father, Joe, whom Sexton recalls as "one of those people in life you walk away with a smile just because of who they are."
Sexton's campus parking space was next to Joe and on one occasion they were both walking out to the parking lot at the same time and Pete's father had a book he wanted to pass along to his son.
"Can you do me a favor," Joe asked Sexton. "Can you give this to my son? You'll see him before I do."
"Sure enough, twenty-four or thirty-six hours later, he was back on campus," says Sexton.
On the campaign trail, Buttigieg has been criticized by some as lacking passion or almost being too well-spoken and put together.
"He doesn't really code-switch," says Sullivan, who has known him for 15 years, adding that he's really the same on the campaign trail as he is on campus. That crisply ironed white dress shirt and solid tie that he constantly wears, that's nothing new either.
"I think he sleeps in that," she jokes.
Sullivan says that Buttigieg has been "super generous" with his time with the university, and that in response, the university has rallied around him.
As for his biggest hiccup — that of the Women's Care Center saga — she admits that it was a big deal on campus that stopped some people in their tracks.
"We're a pro-life campus," she says, adding that while there's a diversity of views among students and faculty and that the university tries to be a place where those debates can surface in a free and fair way, "we have a moral stake" in it.
South Bend, she went on to note, is a university town, and people are used to talking about these matters — even when there's sharp disagreement.
And for her, that's something that Pete, who she notes, grew up in and around the university, knows well.
"He's fluent in Notre Dame," she says, praising Buttigieg's ability to modulate between his professor-like disposition and that of a national politician who understands both realms.
"We're here trying to teach undergraduates how to translate the ideas we're discussing on campus into the real world," says Sullivan. "And he's really comfortable in this environment."
Follow Christopher White on Twitter: @cwwhite212 
---
Crux is dedicated to smart, wired and independent reporting on the Vatican and worldwide Catholic Church. That kind of reporting doesn't come cheap, and we need your support. You can help Crux by giving a small amount monthly, or with a onetime gift. Please remember, Crux is a for-profit organization, so contributions are not tax-deductible.