Why a criminal trial for leaks could boomerang on the Vatican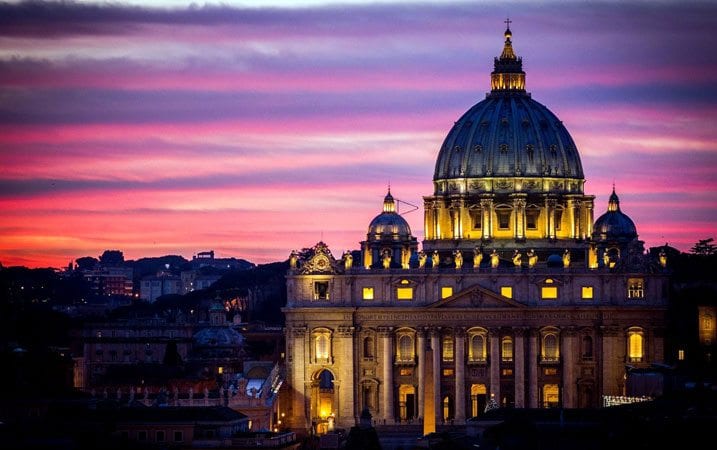 Although it may be overshadowed both by Pope Francis' trip to Africa this week and, in the United States, the Thanksgiving holiday, a Vatican trial that got started on Tuesday runs the risk of boomeranging in its effort to claim the moral high ground amid a recent cycle of embarrassing leaks.
In brief, five people are facing a three-judge Vatican court on allegations of publishing secret internal documents pertaining to finances. Three were part of a papal study commission created in 2013 to lay the groundwork for a financial reform: Spanish Monsignor Lucio Vallejo Balda, his aide Nicola Maio, and Italian laywoman Francesca Chaouqui.
The other two defendants are journalists who published new books based on the leaked documents: Gianluigi Nuzzi, author of Via Crucis (released in English as "Merchants in the Temple") and Emiliano Fittipaldi, author of Avarizia ("Avarice.")
The journalists are being tried for allegedly using illicit means to obtain secret documents. The three former Vatican insiders are charged with having formed an "organized criminal association" for purposes of violating confidentiality.
In theory, the defendants could face four to eight years behind bars, although it's not clear the Vatican could enforce such a sentence on people who aren't its citizens.
Chaouqui, for instance, has indicated via social media that she will "fight like a lion" to prove her innocence, and added that "in the end I'm an Italian citizen on whom nothing can be imposed by the Vatican as long as I'm on Italian soil." Nuzzi and Fittipaldi have insisted that Italian law affords them protection as journalists.
At least with regard to its own personnel, the Vatican obviously has the authority to hold them accountable if they violate its rules. That said, there are at least three possible implications of this trial that could be damaging for the Vatican, both immediately and over the long haul.
It could have a chilling effect on its relationship with the media. To state the obvious, acquiring information that institutions don't want you to have and then making it public is a fairly good working definition of what reporters do for a living, and trying to criminalize that activity isn't exactly a prescription for détente.
On Tuesday, the Vatican's Promoter of Justice insisted the charges aren't about publishing confidential material, but the way the journalists obtained those materials, including whether untoward pressure was applied. But most observers will likely still see the process as payback for spilling the Vatican's secrets.
For the moment, perhaps, the Vatican doesn't need to be overly concerned about media sensitivities, since the popularity of Pope Francis affords insulation against blowback. Over time, however, a perception of trying to punish journalists for legitimate professional activity could have negative consequences for how both the pope and the Vatican are covered.
The trial risks exacerbating the impression that the Vatican must have something to hide. In reality, the information contained in these leaks is basically positive.
The commission to which Vallejo and Chaouqui belonged, known by its Italian acronym COSEA, was created by Pope Francis shortly after his election with the mandate of establishing exactly what the financial situation of the Vatican was, and making recommendations on what it would take to get things in order.
Fittipaldi has said that rather than charging him, the Vatican should be investigating the financial crimes he revealed. Aside from the fact that very little of the behavior described in either his book or Nuzzi's actually rises to the level of crime — it's more akin to questionable use of resources, such as Vatican apartments provided to people at below-market rates — these aren't really "his" revelations. They came to light because a commission empaneled by Francis documented them.
In other words, the books largely show an institution committed to reform. The trial, however, shifts the focus away from the content of the leaks and toward the legitimacy of trying to punish those who made them public.
There's a striking juxtaposition between the trial and the opening of the Jubilee Year of Mercy Dec. 8. While Francis wants to present Catholicism as a vehicle of mercy for the world, the trial risks reviving stereotypes of the Church as vindictive and inquisitorial.
That's how those involved are likely to spin things; Nuzzi, for instance, announced his participation in the trial on Twitter, appending a hashtag that translates as "no inquisition."
To repeat, Vatican officials are well within their rights to expect personnel to abide by the regulations of employment, and to take action when they don't. Given the avalanche of leaks in recent years, it's also understandable why officials aren't in a forgiving mood.
That said, it's worth asking whether a criminal trial seemingly destined to accomplish little other than making folk heroes out of the people responsible for leaks is the most effective response.
That's a question Pope Francis may find himself pondering when he returns from Africa next Monday — the same day, coincidentally, when the trial is supposed to get underway in earnest, with the aim of being wrapped up before Dec. 8.