Love, not legal briefs, makes best case for religious freedom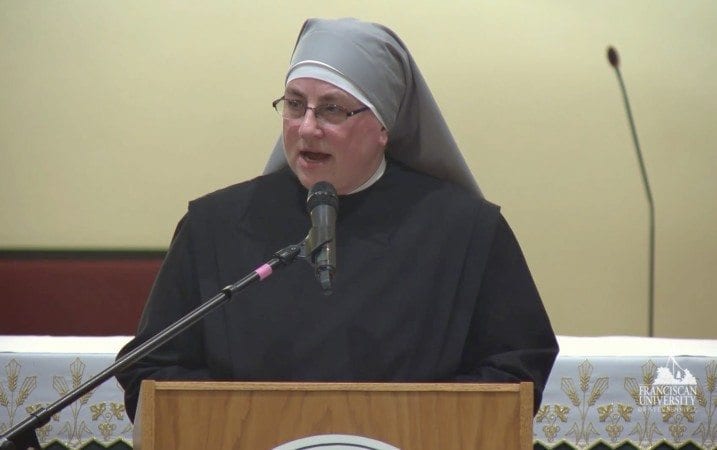 "We have to bring genuine Christian hope," Baltimore Archbishop William E. Lori says during a video on religious liberty released by the United States Conference of Catholic Bishops earlier this spring.
How to do that when many are tempted to despair on matters foreign and domestic, external and internal? Sr. Constance Veit provides a model.
She's the communications director for the Little Sisters of the Poor, a position that took on whole new horizons when her community of women religious now famously wound up in court over a health-care regulation.
A Supreme Court case has brought Veit to what Pope Francis might describe as the peripheries — places such as Megyn Kelly's show on the Fox News Channel during Holy Week this year. The notoriety hasn't exactly been according to her vocational plan, but, as she sees it, it's all His.
And in the midst of a religious liberty fight, you do see great graces.
They come in a national window onto the work and the kinds of lives of these women, who are the reason that the United States needs religious people living boldly and fearlessly.
It's the work of the Little Sisters of the Poor, who serve the elderly poor – people who might otherwise be forgotten by those throwaway-society tendencies we've been known to fall into, as a person's productivity becomes a poisonous worldly standard that guides and isolates.
We need these kinds of self-sacrificial people of virtue, men and women living the Beatitudes. This is why everyone should care about religious liberty. These are not simply nice people doing good things. These are people who can lift us out of dark places because serving God and His creation is the reason they exist and get out of bed in the morning.
Speaking at the National Prayer Breakfast in Washington, D.C., on Tuesday, Veit shared her lessons of the last few years. You could consider it a primer on Christian communications 101:
Dare to be of good cheer.
See Christ in each person, whether friend or foe.
Believe that nothing is impossible with God.
"These are the convictions I would like to share with you today," Veit said.
Echoing Pope Francis, she said: "Jesus rose, so let us not be Christians who communicate Lent without Easter, but believers who know how to speak the truth in joy and love! Amen?"
It's something, too, believe it or not, Speaker of the House Paul Ryan spoke to, just before Veit, at the same breakfast.
Ryan said that religious liberty should not just be defended only "on material grounds—that is, because people of faith do good things, like give to charity or volunteer." Defend it on spiritual grounds, too, he said: "because living out our faith gives us joy."
He pointed to an unmistakable spiritual void in the country, and said:
"We all are sinners. We all need God. So it is not enough to create more jobs or raise people's wages—though we should do that too. There is a spiritual void that we need to fill. Perhaps poverty is God's way of leading us to contemplate something higher. The way I see it, the fight against poverty and the need for religious liberty go hand in hand."
In that video from the U.S. bishops, the Rev. Eugene Rivers, a Pentecostal pastor from Boston, seemed to drive home a point that many people had on their minds Tuesday at that gathering in the nation's capital, especially as the third speaker, Cardinal Robert Sarah of the Congregation of Divine Worship at the Vatican, referenced transgender bathroom policy and how basic such questions should be rather than matters for presidential-level guidelines.
"Reason divorced from faith – rationality – is simply an instrument to manipulate nature, and other human beings, and reality," Rivers says in the video. "Which is why we've got to have faith, which gives us the ability to see beyond more limited conceptions of reason."
Speaking at a summit organized later Tuesday by Catholic Vote at the Catholic Information Center in Washington, D.C., Father Paul Scalia of the Archdiocese of Arlington seemed to elaborate when he said: "People of faith who see the supernatural, can see the natural – they know we are created beings, with some order to it all."
While an appreciation of gifts bestowed and a sense of duty about stewardship are not exclusive to the faithful, some of these people overflowing with joy and urgency about it precisely because of their prayerful encounters with the Creator can come in handy, making for a more tender society.
Ultimately their presence can be a leaven and even, when you think about some of the situations in the world today, can be a buffer against "engaging nihilistic forms of political violence we see around the world," as Rivers puts it.
During that same video, Helen Alvare, law professor at George Mason University and founder of "Women Speak for Themselves", makes the case that if you don't have religious liberty, people won't see models of life lived by religious precepts, the kind of examples that can inspire and lift lives and communities up through the gratuitous nature of that kind of love of the likes of the Little Sisters of the Poor.
She further warns:
"Religious freedom means the state is not overarching and in your face at all times. When religious freedom goes away, and there is no transcendent authority, there is only majority will. The law is the only norm, and the people in power now are always the only power."
The religious-freedom talk of the last few years hasn't quite always resonated, as many are stuck in the burdens of daily life, and our public square is bereft of a common vocabulary with which to discuss such things or shared experiences and common beliefs to fall back on. This is critically clear.
Yet hitting people over the head with facts and figures, talking points, and well-reasoned arguments and legal briefs, won't make the difference.
Love will, which is why Veit has the right idea.