Bishops mourn victims of deadly truck detour on Berlin Christmas market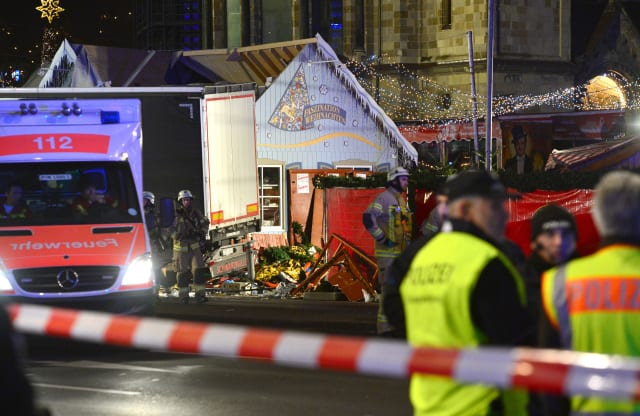 ROME – After 12 people were killed when a truck rammed into crowds at a Berlin Christmas market, the German bishops have voiced their sorrow, and have invited people to join them in praying for the victims and their families.
"The news from Berlin has deeply shaken me," Cardinal Reinhard Marx, president of the German Bishops Conference, said in a December 20 statement following the incident.
"The violence on the Christmas market is the opposite of what the visitors wanted, and my sympathy goes to the relatives of the dead and the injured, for whom I will pray," he said, adding that in this "difficult time for the city of Berlin and our country, we must stand together as a society."
According to CNN, the truck barreled into crowds of Christmas shoppers at a Christmas market near the Kaiser Wilhelm Memorial Church in Berlin's western Breitscheidplatz neighborhood around 8p.m. local time on December 19, going roughly 40 mph.
Berlin police have confirmed that so far 12 people have died and 48 others were injured.
The driver of the truck fled the scene on foot, but was later arrested about a mile and a half from the crash site. Initial reports say the man is either an Afghan of Pakistani asylum seeker, however, whether or not he entered Berlin as a refugee earlier this year remains unclear.
A passenger was found dead inside the truck, and a tweet by the Berlin police confirm that the man was a Polish citizen.
The owner of the truck company, Ariel Zurawski, told media that he believes the truck was hijacked, since his cousin, the usual driver, would never have done something like that intentionally, CNN reports.
Although it has yet to be officially confirmed, Berlin police have said they believe the truck was driven into the crowd intentionally, and are treating the incident as a terrorist attack.
He sent another tweet inviting faithful to gather at St. Hedwig's Cathedral in Berlin for a 12 p.m., December 20 prayer service for the victims and their families.
"LKW fährt in Weihnachtsmarkt". Herzliche Einladung zum Gebet für Angehörige und Opfer, morgen, Dienstag, 12.00 Uhr, St. Hedwigs-Kathedrale

— Heiner Koch (@ErzbischofKoch) December 19, 2016
The attack in Berlin comes at a time when fears are heightened regarding the threat of terrorism in Europe.
Just in July an eerily similar attack took place in Nice, France when a truck plowed into crowds celebrating Bastille Day at the city's Promenade des Anglais, killing 86.
Germany itself has throughout 2016 been the site of other terrorist threats and activities, including several knife attacks on trains as well as shootings and bombings.