ISTANBUL, Turkey – At 10 a.m., Franciscan Father Dominic Ko walked to the altar to begin Mass in Korean, his native tongue.
"Amen," replied the 30 people in attendance, all of them also Korean.
The Church of St. Mary Draperis is in the heart of Istanbul, where Ko landed 10 years ago to tend to the country's Korean community. He is the only Korean priest in Turkey but, as a religious from a foreign country, he is not alone. He is one of the 125 Latin-rite Catholic religious from more than 20 nations. It is a tiny yet very diverse community for a country with very few Latin Catholics. Accurate numbers are not available, although the Istanbul Vicariate estimates they number about 5,000; Eastern Catholics number about 20,000.
"This place is very important in Christianity, a Christian treasure; therefore, we have to maintain this place," said Ko, who comes to Istanbul every week to celebrate Mass. He lives south of Istanbul, near the ancient city of Ephesus.
Turkey is a storied area in the history of Christianity. Early church communities began here and later expanded to the rest of the world. St. Paul traversed the region during his missionary journeys.
Much has changed since then. Today, the majority of Turkey's 80 million inhabitants are Muslim. The number of Christians is estimated at about 100,000.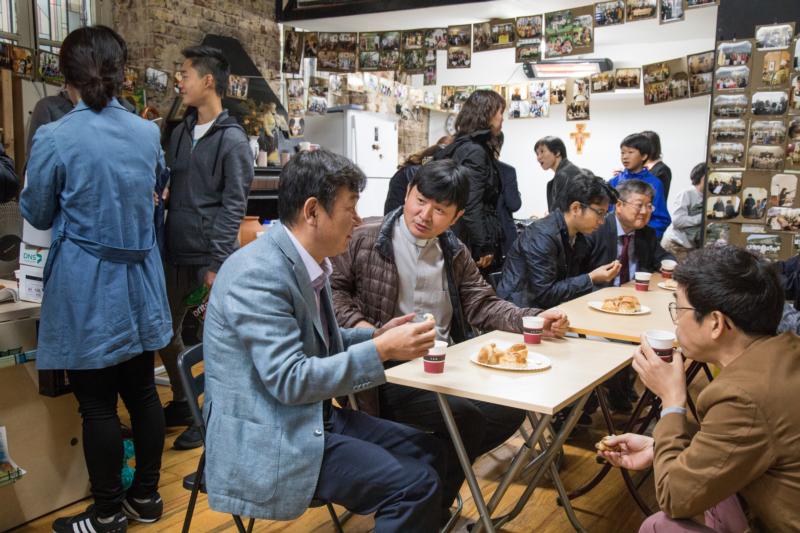 "Because there are Catholics present, we (the religious orders) are present," said Bishop Ruben Tierrablanca Gonzalez, apostolic vicar of Istanbul. Tierrablanca, who is originally from Mexico, is a Franciscan friar; his order has been in Turkey since the 13th century.
Tierrablanca said some of the Latin Catholic religious orders currently active in Turkey put down roots many years ago. Today, despite the modest number of Catholics, they continue their mission.
Less than three miles from the church of St. Mary Draperis is the oldest psychiatric hospital in Turkey, Hospital La Paix (Peace Hospital), owned by the French Daughters of Charity of St. Vincent of Paul.
During the Crimean War, France and the Ottoman Empire asked the Daughters of Charity to help treat wounded troops. The order responded by sending a contingent of 255 sisters. About 100 of them died during their service.
After the war ended in 1856, Ottoman Sultan Abdulmejid wanted to thank the sisters for their contribution and offered them titles and medals of honor. The sisters refused and requested land instead to build a place where they could continue their charism of serving the poor. The sultan accepted and, two years later, Hospital La Paix opened its doors.
The Daughters of Charity no longer run the day-to-day operations, although they are still present at the hospital. The five sisters come from Italy, France, Greece, Slovenia and Vietnam.
"When I arrived here five years ago, I had never seen such a diversity to express the love of Christ," said French Sister Catherine, head of the community of sisters at the hospital. Turkey is her first experience living in a country other than her own.
"It is important to show this diversity, which proves that we can live together, like brothers and sisters, doing well to each other," she said.
Latin-rite Catholics in Turkey can attend Mass in English, Italian, French, Turkish, Korean, German and Spanish. Sometimes the Mass is only in one of these languages; sometimes it is a combination.
Back at St. Mary Draperis, as the Korean Mass ended and Ko and the Korean community moved to another room to mingle, a new crowd took its place. Father Eleuthere Makuta of Congo arrived to celebrate Mass in English, French and Italian.
The Mass began and the choir, made up of Congolese, sang in French, accompanied by musicians on a keyboard and two drums.
Among the about 40 people attending Mass was Bing Giducos, who has been living in Turkey for nine years.
"It is beautiful, the joy of praying in my own language. It is as if I am one with God," she said.