Islamophobia deserves to be a religious freedom issue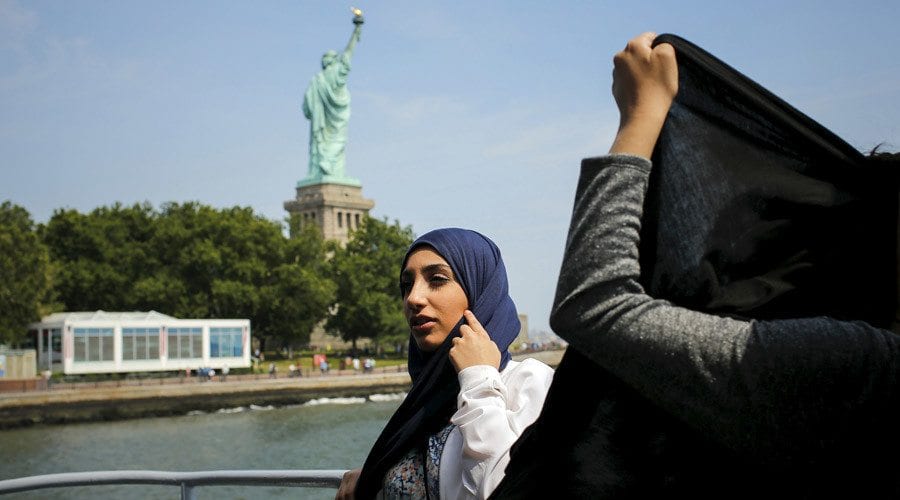 Today marks the conclusion of the Fortnight for Freedom, the two-week period of prayer and action to defend religious freedom organized by the U.S. Conference of Catholic Bishops. Each year since 2012, the events of the fortnight have focused on conscience exemptions for religious institutions on issues such as contraception and same-sex marriage.
But there's another issue that also deserves the attention of Catholics who are concerned about religious freedom in America: Islamophobia.
The day before the opening Mass of the Fortnight for Freedom this year, Muslims in Plainfield, Indiana woke up to find bullet holes in a sign for the Islamic Society of North America (ISNA), the country's largest Islamic organization. It was the second time that the group's Midwestern headquarters had been targeted this year. In February, vandals spray painted vulgar images and curse words on the side of the building.
Anti-Muslim incidents like this have occurred across the country in recent months.
Muslim congregations have received threatening voicemails and Facebook messages, and mosques have been vandalized, shot at, and firebombed. Men who are perceived to be Muslim have been beaten up, and women wearing headscarves have been harassed and assaulted.
In several instances, some of which occurred in the last week, American Muslims have even been shot or murdered in what many believe were bias crimes.
The Bridge Initiative, a Georgetown University-based Islamophobia research project where I work, found that in 2015, there were 174 anti-Muslim attacks, nearly a third of them taking place in December alone.
That spike occurred in the aftermath of the terrorist attacks in Paris and San Bernardino, when presumptive Republican nominee Donald Trump first promoted his plan to ban Muslims from the United States — a policy that has garnered support from a majority of GOP voters.
Dehumanizing political rhetoric about refugees and discriminatory policy proposals by presidential candidates also have a very real impact on the daily lives of American Muslims.
Young Muslim students have been bullied and called "ISIS" or "terrorist" at school. Some women have considered taking off their headscarves so they don't appear Muslim. And even children have approached their parents with the heartbreaking question: "If Donald Trump is president, will we have to leave?"
In the wake of the gay nightclub shooting in Orlando, some Muslims decided to stay away from their mosques for fear of being targeted.
The comedian and actor, Aziz Ansari, told his parents not to go to services, even though it was the festive and holy season of Ramadan. In a recent op-ed in the New York Times, he wrote, "I realized how awful it was to tell an American citizen to be careful about how she worshiped."
At its most basic level, Islamophobia is a religious freedom issue. American families can't go to their houses of worship without fear of them being sprayed with bullets or graffiti. Men and women feel they must change the way they dress to receive fewer stares and the threat of assaults. Children are bullied at school because they are Muslim.
This is a reality that should alarm all Americans, especially Catholics concerned about issues of religious liberty.
But Islamophobia is not an issue at the forefront of the USCCB's agenda or the Fortnight for Freedom campaign. The only reference to Muslims in the materials on the USCCB's Fortnight webpage was in an article reposted from National Catholic Register, which spoke about "militant factions of Islam" that "kill Christian believers" in the Middle East.
Responding to Islamophobia doesn't appear to be a priority for the USCCB's religious freedom campaigners, but other Catholic leaders and groups have been raising their voices. A coalition of Catholic advocacy groups, including Franciscan Action Network, Pax Christie and Ignatian Solidarity Network, released a joint statement on Islamophobia earlier this year.
In Chicago last week, the annual Catholic-Muslim iftar, a fast-breaking meal for Ramadan, tackled the question of how Catholics and Muslims can work together to combat Islamophobia. Archbishop Blase Cupich opened the event.
The fear and hostility felt by American Muslims today should be familiar to American Catholics. In previous decades, Catholics were viewed with suspicion and treated with hostility. Newspaper cartoons dehumanized Catholics as animals wanting to take over America. Churches and convents were even set on fire.
If the reality of today's prejudice doesn't compel Catholics to stand up to Islamophobia, at least the history of anti-Catholic prejudice in this country should.
The Fortnight for Freedom and the Islamic month of Ramadan are ending this week, but American Catholics should still act with urgency to protect our Muslim compatriots' religious freedom. Expressions of solidarity with Muslims don't have to be elaborate or complicated.
A parish could host a local Muslim congregation for dinner, or schedule a service opportunity for Catholics and Muslims to grow in friendship while helping the community.
Meals and conversations with Muslim neighbors may seem like small endeavors. But these are concrete ways that Catholics can respond to one of our country's most pressing religious freedom issues.
American Catholics and their bishops are right to be concerned about their own religious freedom. But their campaign would be stronger if it placed a greater emphasis on other faiths at risk too, including America's Muslim community.
It's time for more Catholics to work toward religious freedom for all.
Jordan Denari Duffner is a research fellow for the Bridge Initiative, a Georgetown University research project on Islamophobia. She is also writing a forthcoming book with Liturgical Press on Catholic-Muslim dialogue.