Pope Francis deplores 'absurd violence' following killing of 86-year-old priest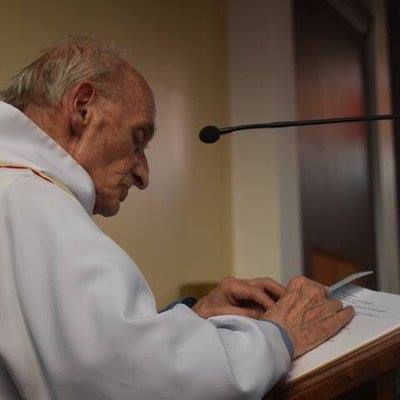 As news emerged of an elderly priest killed after being kidnapped in a church near Rouen in northern France while he was saying Mass, Pope Francis said he shared the pain and horror of what he called the "absurd violence" of the act.
According to various sources, two men armed with knives broke into the church, and held 86-year-old Father Jacques Hamel and several others — including two nuns – hostage for 40 minutes.
During that time, according to police sources quoted by Reuters, they slit Hamel's throat, and left three others wounded.
Soon after the news of the attack broke, a Vatican spokesman defined it as a "terrible news, which unfortunately adds to a series of [recent] violent acts" creating "immense pain and worry."
A third nun escaped and alerted the police, who shot the two assailants dead as they tried to leave the church.
Vatican spokesman Father Federico Lombardi told journalists that Pope Francis, who has been informed, and shares the pain and horror of this "absurd violence," and condemns "all forms of hatred."
The Vatican is particularly affected by the fact that the "horrific" violence occurred place in a church, a "sacred place in which the love of God is announced," he added.
Archbishop Dominique Lebrun of Rouen, who is currently in Kraków, Poland, for World Youth Day, said he deplored the attacks, adding that "the Catholic Church can't embrace other weapons than prayer and fraternity among men."
The archbishop, who is on his way back to Rouen, said he was leaving behind in Kraków "hundreds of young people who are the future of humanity" and he said he asked them "not to give in to the violence and become apostles of the civilization of love."
AFP reports that France's interior minister, Bernard Cazenevue has declared that one of the hostages is "between life and death."
Both the minister and French president François Hollande travelled to the city.
Speaking to journalists, Hollande said that the attack was a "cowardly assassination" carried out by "two terrorists in the name of Daesh," also known as the Islamic terrorist organization ISIS.
The parish is in Saint Etienne du Rouvray, a rural area close to Rouen, the capital of Normandy.
Hamel is not the only Catholic priest who was brutally murdered this year. At least five others lost their lives in violent situations, and Father Tom Uznunnalil, an Indian Salesian priest kidnapped by extremists in Yemen this March, is still missing, his situation unknown.
In the last seven months, at least five nuns and two workers of the Catholic Charity Caritas were also killed, with Asia the most dangerous continent. One layman was killed in Syria, four religious sisters in Yemen – in the attack where Uznunnalil was kidnapped – and one in the Philippines.
Hamel is the first priest or religious to be killed in Europe in 2016.