Another Catholic priest in Mexico kidnapped, remains missing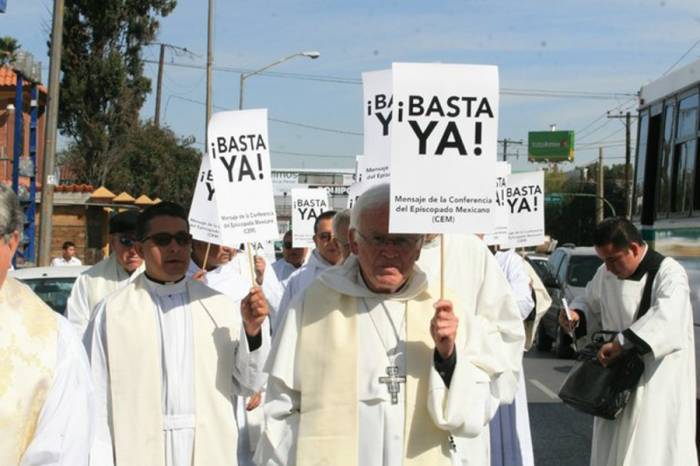 Coming on the heels of the kidnapping and murder of two Catholic priests in Mexico over the weekend, a third one was reportedly taken from his church on Monday and remains missing.
Father José Alfredo López Guillen of the state of Michoacán, one of the most violent zones in the country, reportedly was taken on Monday by people who remain unknown. Items from the parochial house and his car are also missing.
The news about the kidnapping was shared by Cardinal Alberto Suárez Inda of the diocese of Morelia, the capital of Michoacán. His diocese published a video through YouTube and Twitter, where the cardinal says: "We ask God that his integrity, his life, are respected, so that he can soon go back to his ministry."
Suárez Inda, created cardinal by Pope Francis in 2015, also prayed for peace, respect for life and the conversion of those who spend their lives doing wrong to others.
"This barbarity is in no way justified," he said.
Michoacán has long suffered the consequences of organized crime and drug trade, and the disappearance of López Guillen is far from being an isolated case.
Fathers Alejo Nabor Jimenez Juarez and Jose Alfredo Suarez de la Cruz had been kidnapped last week in Veracruz, a region also marred by drug trade and organized crime, and found murdered on Monday, the same day the priest from Michoacán went missing.
Mexico is the second-largest Catholic country in the world: 83 percent of its more than 120 million citizens identify as Catholics.
Yet it's also long been among the most dangerous countries in the world for Catholic priests. As in Colombia, they're often the target of mobsters and drug dealers, since the Church is often the loudest voice against the illegal trade.
The country's Catholic Multimedia Center's 2015 annual report said that 30 priests had been killed in the last decade, without including the two assassinated this week.
A report from the United States Secretary of State on religious freedom in the country includes the gruesome murder of two priests last year, Father Erasto Pliego de Jesus from Puebla and Francisco Javier Gutierrez Diaz from Guanajuato.
The CMC also said in 2015 there was a decrease in the number of priests killed, from six in the year before to two. However, it also said that some 520 priests had been victims of extortion during the year. The fate of Father Carlos Ornelos Puga, who disappeared in November 2013 from La Victoria, Tamaulipas, and Father Santiago Alvarez Figueroa, who disappeared in December 2012 in Zamora, Michoacan, remained unknown.
But priests are not the only targets. Last June three nuns were tied up, gagged, and assaulted by unknown attackers in their parish home in the state of Oaxaca.