Mother Teresa prize goes to Bangladeshi Muslim hero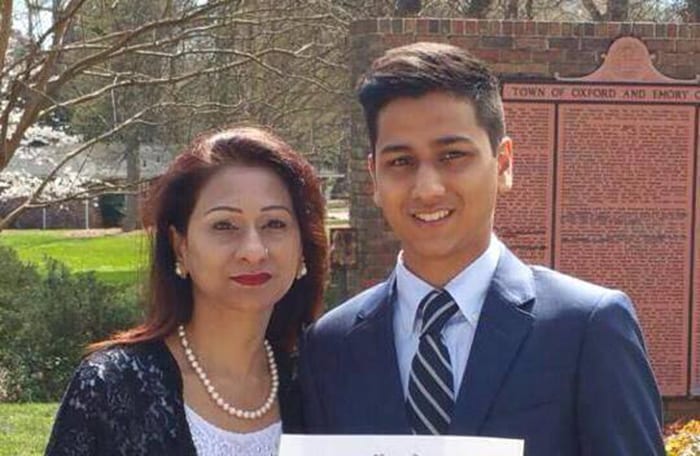 MUMBAI, India – Mother Teresa, now St. Teresa of Calcutta, always was a figure admired across religious divides, so it seems only fitting that an international prize named in her honor went this year to a Muslim who died in Dhaka, Bangladesh, trying to save two friends from a terrorist attack.
On Nov. 20, the family of 20-year-old Faraaz Hossain was presented with the 2016 Mother Teresa International Award for Social Justice during a Mumbai ceremony.
Former Afghanistan president Hamid Karzai, and Sister Priscilla of the Missionaries of Charity, handed over the award to Faraaz's mother Simeen Hossain and elder brother Zaraif Ayaat Hossain. The honor is bestowed by an Indian NGO dedicated to preserving Mother Teresa's legacy, and this marks the first time it's been awarded to a non-Indian posthumously.
In the wake of the July terrorist attacks in Dhaka by Islamic militants, which targeted an upscale neighborhood in Bangladesh's capital city, Hossain's story spread quickly around the world, hailed as a model of bravery and selflessness.
Hossain, a student at Emory University in Atlanta, Georgia, was visiting family back home in Bangladesh when he was caught up in the 10-hour hostage crisis on the evening of July 1. When gunmen professing loyalty to the Islamic State insisted on separating Bangladeshis from foreigners, Hossain refused to desert two female friends.
Those friends were Abinta Kabir, a Bangladesh-born U.S. citizen and a fellow student at Emory University, and Tarishi Jain, an Indian student at the University of California, Berkeley — with whom he had gone to the café on that fateful night.
The gunmen were looking for "infidels," offering a test as to who could recite verses from the holy Quran and who couldn't. Hossain passed and was given a chance to leave but refused, and his body was later discovered with wounds suggesting he had tried to fight back against his assailants.
He has since become a symbol of Bangladesh's resistance to extremism, with posters around the country insisting, "Faraaz is Bangladesh!"
Receiving the award, Simeen said, "I wanted to raise my son as a good human being, and this was the darkest moment of my life. Yet it was the proudest moment of my life.  Faraaz was a practicing Muslim, and looking evil in the eyes he said, 'No I will not leave my sisters behind'."
"Faraaz did not leave his friends whom he loved like sisters, and he was their host, and he did not act like a coward.  His love for his sisters transcended all religious and national boundaries."
"For you, Faraaz, I am the proudest mother in this world," she said.
Speaking to Crux Simeen said, "The Mother Teresa Award is a prestigious honor for our family and for Bangladesh, and for all those who are uniting in their revulsion against the perverted and demented thirst for violence and terrorism, this prestigious Mother Teresa Award is for each of us who serve and seek to selflessly transcend nationalities, religions and ethnicities."
The award ceremony, organized by the "Harmony Foundation," was also attended by noted writer Dr. Ravi Zacharias, director/producer Mukesh Bhatt, and Member of Parliament from Sri Lanka Eran Wickramaratne.
Speaking to Crux, Harmony Foundation President Dr Abraham Mathai said, "Faraaz is a hero and we feel privileged to honor him."
Asked about the awardees – many of whom were serving selflessly against terrorism he replied, "This Year we celebrated the Sainthood of Mother Teresa, and we choose to honor all those who have sacrificed and selflessly served humanity in the spirit of Mother Teresa."