Commission finds 'pyramid of hate' in Italy targeting immigrants, others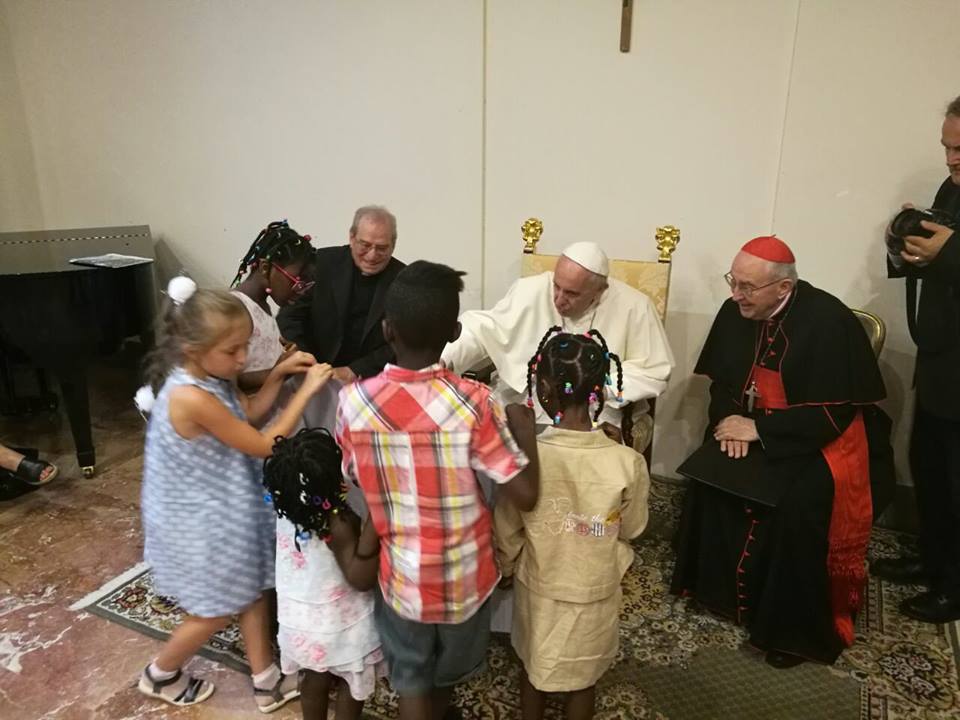 Is Italy suffering from a "pyramid of hate", directed in part, though not exclusively, at the very immigrants Pope Francis lifts up as victims of a "throw-away culture"?
That's the conclusion of a report issued last week by the Italian Parliament's "Jo Cox" Commission, which was investigating various forms of hate in Italy – including intolerance, xenophobia, and racism.
The commission was named for the member of the British Parliament murdered by an anti-immigration zealot on June 16, 2016, in Birstall, England.
According to Laura Boldrini – the speaker of Italy's lower house of parliament, and chairperson of the commission – a pyramid of hatred exists in Italy, built from prejudice against refugees and other foreigners, women, LGBT people, and those with disabilities.
"We must react before the force of those bearing hate overwhelms us," Boldrini said when presenting the commission's findings on June 20.
RELATED: Pope's man in Italian Bishops' Conference wrestles with political right, left over migrants
At the top of the pyramid were migrants, with over 60 percent of Italians considering "non-EU" immigrants a "burden" on the country, and even a larger number — 70 percent — not wanting non-EU nationals as neighbors.
(These opinions must be understood in the context of the Italian term extracomunitario, which strictly means "outside the [European] Community", but nevertheless is sometimes also used colloquially by ordinary Italians for Eastern Europeans who are EU citizens. At the same time, it is not often used in everyday speech for immigrants from more developed countries outside the EU, such as the United States, Australia, and Norway. It can have a racial connotation.)
The report noted these negative attitudes mean many Italians have difficulties recognizing the rights of naturalized citizens, or even their children. Just under half the population say Italians should be given preference over non-Italians in employment decisions by law.
The report found that over half the population think too many immigrants make a neighborhood worse, and that a large number of immigrants also fosters the spread of terrorism.
Over a quarter of the population is opposed to the building of a non-Catholic worship space in their neighborhood, and that rises to over 40 percent if it is a mosque.
RELATED: Vatican official to UN: Migrants must be treated as human beings
Italy has been a popular destination for those fleeing violence and poverty in Syria, Iraq, Libya, and other parts of Africa and the Middle East.
Over 180,000 migrants and refugees arrived in Italy in 2016 alone.
The commission's report noted general ignorance about the facts surrounding immigration, and most Italians greatly overestimate both the percentage of the population made up of immigrants (it is only eight percent), and Muslims (only four percent).
Meanwhile, nearly a third of immigrants in the country say they have experienced discrimination in both the housing and job markets.
Pope Francis has been one of the strongest advocates of the rights of immigrants in Italy, and just last month said that by sharing their stories, refugees can "dissipate distorted fears and ideologies, and help humanity to grow, and help give space to feelings of openness and the building of bridges."
At the beginning of July, he wrote the Italian news service ANSA, thanking them for launching a new website dedicated entirely to the plight of migrants.
"The presence of so many brothers and sisters who experience the tragedy of immigration is an opportunity for human growth, encounter and dialogue between cultures in view of the promotion of peace and fraternity among peoples," the pope wrote.
"May these migrants meet brothers and sisters under every sky, may they share with them the bread and hope of our common journey."