Cardinal of Dhaka visits Rohingya refugee camps in Bangladesh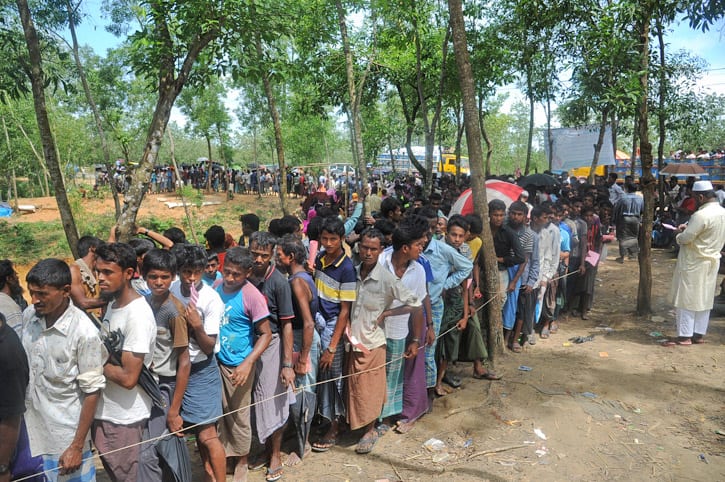 MUMBAI, India – Rohingya Muslims have faced persecution in Myanmar for generations, and Bangladesh is where they have usually fled during the waves of violence visited upon the community since they were declared non-citizens in 1982.
But never before have so many arrived so quickly – nearly 450,000 Rohingya have arrived in poverty-stricken Bangladesh since the latest wave of violence began on August 25, when Rohingya insurgents attacked a police outpost.
The Bangladesh government is struggling to house and feed the impoverished refugees, and the country's small Catholic community is doing what it can to help.
Cardinal Patrick D'Rozario, the Archbishop of Dhaka – Bangladesh's capital – visited several Rohingya refugee camps in Cox's Bazar on September 24-25.
RELATED: Bangladesh cardinal praises government response to Rohingya crisis
Cox's Bazar houses over 600,000 Rohingya refugees, coming from different waves of persecution in Myanmar, the largest being in 1978, 1991, 2012, and the current crisis which began in 2016.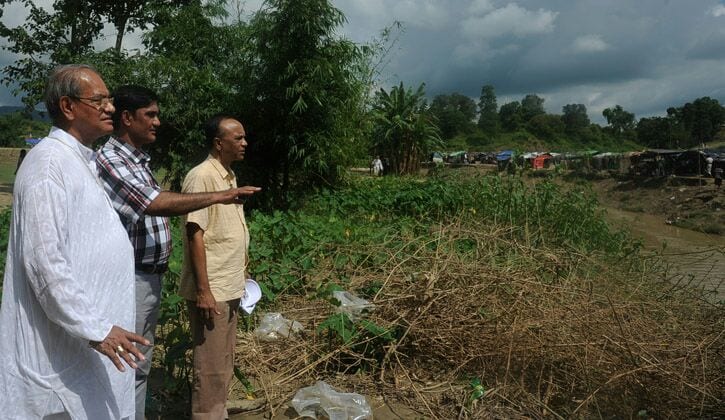 "[On Sunday] I visited four camps, the biggest one has one hundred thousand refugees. This is an old camp but there are new and recent arrivals," the cardinal said on Monday.
"I touched the wounds of Jesus in the camps," D'Rozario told Crux. "This is a humanitarian suffering, we suffer with these people, my heart weeps for our people, so much suffering."
The Rohingya live mostly in Myanmar's Rakhine State, which borders Bangladesh, and claim to be native to the area. There was also immigration from the neighboring areas of India, and what is now Bangladesh, during the precolonial and colonial era, but most families have been in the area for generations.
Rohingya have faced persecution for decades, and are officially considered "Bengali interlopers" by the Myanmar government.
In November 2016, Myanmar's army swept through parts of Rakhine State, forcing at least 75,000 people to flee to Bangladesh.
The United Nations accused Myanmar's security forces of committing crimes against humanity, including gang rapes, torture, arson and extra-judicial killings.
RELATED: Myanmar cardinal calls for independent investigation of war crime allegations
The situation became much worse after the August 25 attack on the police outpost. The military then began what it called "clearance operations," and Rohingya refugees claim this involved indiscriminate murder and forced removals. In addition, Buddhist mobs have been accused of attacking Rohingya across Rakhine state.
It is now estimated that in the last month, nearly half the Rohingya population has fled Myanmar for Bangladesh.
"[On Monday] morning I visited a refugee camp, where there are around thirty thousand refugees, most of them live in makeshift sites without proper shelter and have only a plastic sheet for a roof, without clean drinking water and sanitation. They have limited food supplies but nothing else," D'Rozario said.
"There is such suffering. I see – in the faces of young children, of young women with babies in their arms, of the elderly, the sick – so much suffering," the cardinal said. "I wanted to be with them, to be together with them, to share, in my own way, their pain; and importantly, to prepare a way for Caritas to go to serve them."
Bangladesh is struggling to deal with the surge of refugees. It has trouble providing enough food for its own 162 million people, and the country's infamous bureaucracy is hampering the efforts of several NGOs trying to help. But things are beginning to improve.
"I am encouraged by the steps being taken by the NGOs and the government," D'Rozario said. "After the shock of seeing the conditions of the refugees, things in the camps seem to be getting organized, but there is so much to do."
RELATED: Bishop calls on U.S. to provide aid, act to resolve Rohingya crisis
Caritas Bangladesh is one of those NGOs, although the country's Catholic population only numbers around 350,000 people, about 0.2 percent of the total population.
"The Church is not present here at all. People here have never seen a church or a priest," the cardinal said.
However, he added, "we suffer with these people."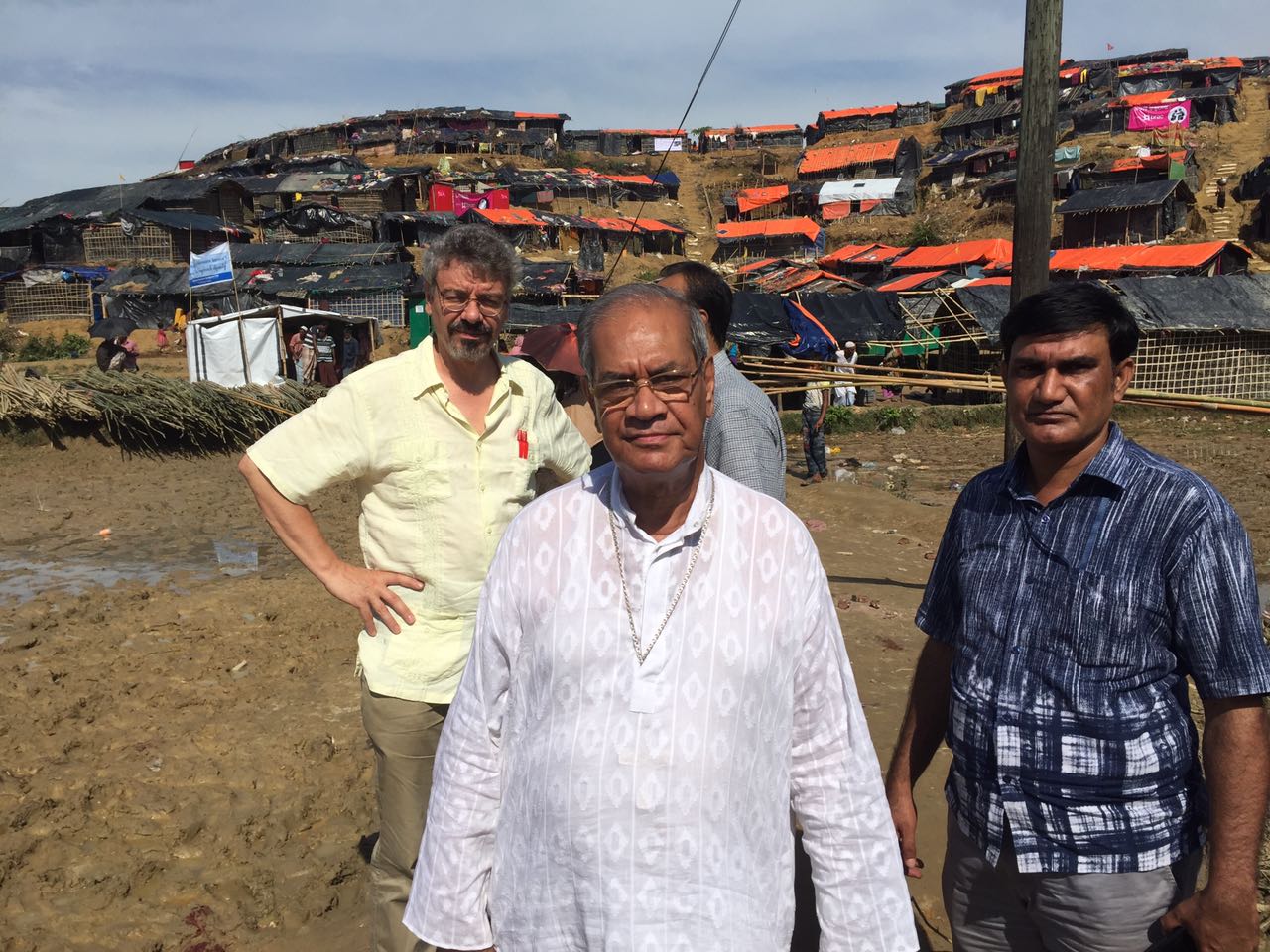 The influence of the Church can be felt in other ways. Although small, the Catholic Church in the country runs several schools and medical facilities.
D'Rozario said a Muslim military officer has been giving his own money and supplies to help the refugees, and notes that he is a product of a Catholic school.
He said other members of the Muslim community are pitching in to help, and the Rohingya are also doing what they can to help each other.
"In spite of their dire straits, I admire the peacefulness that exists. There is no violence. There is a kind of solidarity among the refugees, an understanding between them, and they are reaching out to each other in their poverty," noted the cardinal.  "This is very moving."
RELATED: Pope in Myanmar won't be judged by crowds or speeches, but results
D'Rozario is due to welcome Pope Francis to Bangladesh from November 30 – December 2, immediately after the pontiff concludes a three-day visit to Myanmar.
Francis has been an advocate for the Rohingya, making his latest appeal for them during his Angelus on August 27, when he urged for them to be given "full rights."
Francis has consistently spoken about the Rohingya during interviews, his daily morning Masses, Angelus addresses and his Wednesday general audiences.
On February 8, the pontiff asked the pilgrims gathered for his general audience to pray with him "for our brother and sister Rohingya."