Australian archbishop charged with abuse cover-up diagnosed with Alzheimer's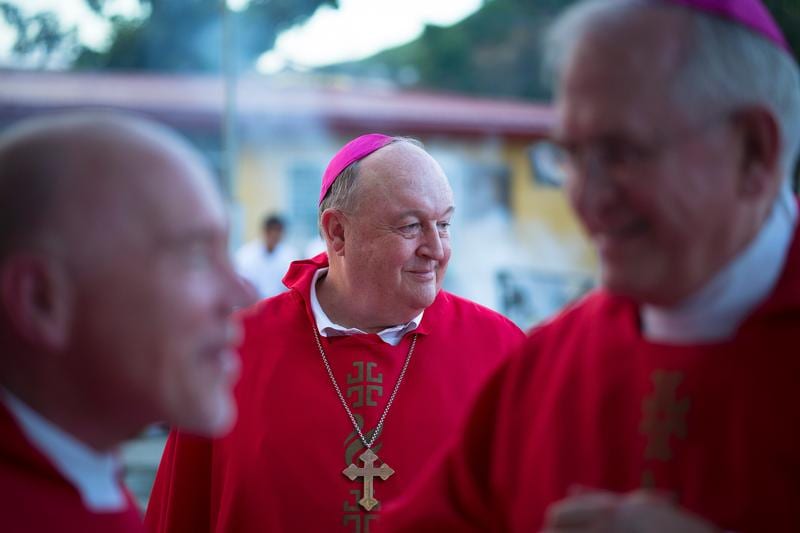 An Australian archbishop facing charges over allegedly covering up a case of clerical sexual abuse has been diagnosed with Alzheimer's disease.
The trial of Archbishop Philip Wilson of Adelaide was due to begin on Tuesday in Newcastle. He is charged with concealing information about an abuse case from the 1970s.
The court accepted a defense motion to adjourn the case, until a neuropsychologist could assess the archbishop.
Information given to the judge said the "memory part of the brain" was not working properly, and Wilson had suffered a "loss of brain matter."
In addition, the archbishop suffers from type-2 diabetes, hypertension, and ischemic heart disease.
In a letter issued to his archdiocese, Wilson said he underwent a number of medical tests after colleagues noticed a change in him after he was injured in a fall in October.
RELATED: Australian archbishops to ask Vatican for clarity on confession issues
"As a result of those tests, it was determined that I needed a pacemaker attached to my heart, and the neurological tests have diagnosed that I have Alzheimer's disease," the archbishop wrote.
"With the grace of God, I am at peace with the situation in which I now find myself. I am in God's hands and I trust in the love and care of the Lord on the journey of life I have before me," Wilson said.
The archbishop said he has been prescribed medication to slow the progress of the disease, and will continue to receive regular medical support.
"An initial reaction by many people is to think that life is all but over, and that a person with such a diagnosis cannot continue to live a productive life and contribute to society. I am fully aware that some people will now judge me in this light," Wilson wrote, "But I hope to prove them wrong!"
However, the neurologist who gave the preliminary diagnosis of Alzheimer's disease was less optimistic in his testimony to the Newcastle court, stating there was only a 33 percent chance the medication would improve Wilson's cognitive abilities.
"There are parts of the archbishop's brain that are not working properly, abnormally so," Dr. Andrew Lee told the court.
He also said it would take three to six months for the medication to take effect, even if it were to work.
The 67-year-old Wilson said he would not step down from office unless he is "advised by my doctors that the effects of Alzheimer's disease might be beginning to impair my ability to function properly as archbishop." All bishops are required to submit a resignation to the pope when they reach the age of 75.
The magistrate in the case said it was "a completely unsatisfactory state of affairs" for the matter to have been left to the last minute, but added, "if he's not fit to stand trial then I can't force the matter to proceed."
Wilson was charged in 2015 with concealing information about the sexual assault of a 10-year-old boy by the now-dead pedophile priest James Fletcher in the New South Wales town of Maitland, north of Sydney, in 1971.
Prosecutors claim that information could have been used to convict Fletcher between 2004 and 2006. He was jailed in a separate case of child sexual abuse which took place between 1989 and 1991.
The court will determine on Friday if the case against Wilson can begin on December 4.
When Wilson was charged, he was the highest-ranking Catholic cleric to have been criminally charged with covering up sex abuse.
Earlier this year, Australian Cardinal George Pell, the head of the Vatican's Secretariat of the Economy, returned to Victoria to face several charges of historical sexual abuse.
The ongoing revelations in Australia about the sexual abuse of children by clergy has caused a crisis in the Church.
RELATED: Commission in Australia says priests should report abuse heard in confession
The Royal Commission into Institutional Responses to Child Sexual Abuse – established in 2013 to investigate how institutions like schools, churches, sports clubs and government organizations have responded to allegations and instances of child sexual abuse – in August issued its report on criminal justice, including 85 recommendations for new legal standards.
Among the recommendations, the commission said Catholic priests should be required to violate the seal of confession if they hear about the sexual abuse of children.
In October, Australian Church leaders traveled to Rome to meet with Vatican authorities "for a wide-ranging discussion concerning the situation of the Catholic Church in Australia at this time."