When Justin Skeesuck felt called to make the popular Christian pilgrimage the Camino de Santiago, his lifelong friend Patrick Gray's response was immediate:
"I'll push you."
Skeesuck, who has a degenerative neuromuscular disease called multifocal acquired motor axonopathy, uses a wheelchair.
Even on two legs, it is no easy hike.
The Camino's main route, the Camino Frances, winds through about 500 miles of mountains, forests and fields in northern Spain, starting just over the Pyrenees in St. Jean Pied-de-Port in France and ending at the Catedral de Santiago de Compostela in Spain.
"This whole thing has changed the future of our lives forever," Gray said.
Skeesuck, who lives in Eagle, Idaho, with his wife and three children, felt the call after watching travel guide Rick Steves' special about the pilgrimage on public television in the spring of 2012. Christians have traced the route to the supposed burial site of St. James, one of Jesus' apostles, since the ninth century, and in recent years, it has gained popularity with people of all faiths and no faith.
Skeesuck and Gray grew up in the Nazarene church, though their faith didn't motivate them to make the pilgrimage.
"I just knew — from the core of my being — that I need to do it. I've had people tell me that the Camino calls you, and so I'd probably say that is true in my case," Skeesuck said.
He and Gray, who lives nearby in Meridian, Idaho, had been planning to take a trip together — something they hadn't done, just the two of them, since high school — so he showed the special to his friend. Gray didn't have the same reaction.
"The Camino didn't call me, but my friend did," he said. "There's no other response — for me, anyway — than, 'Yeah, I'll push you. Let's figure this out. Let's do this.'"
The first thing to figure out was getting six weeks off from his job in health care, Gray said.
His boss wasn't excited about the long vacation, he said, until he explained what he and Skeesuck were planning to do. Then his boss told him he needed to film the journey, saying: "If you don't, you're selfish and you're irresponsible. There's too much hope not to share it."
So Skeesuck, an artist, reached out to college friend Terry Parish, who worked at a video agency.
After a year of physical training and figuring out the logistics of making the trip with a wheelchair and a small film crew, they finally set out.
The challenges they faced were physical. There was the endurance, the getting up every morning and slogging 20 kilometers (about 12.5 miles) in every kind of weather on every kind of terrain, Skeesuck said.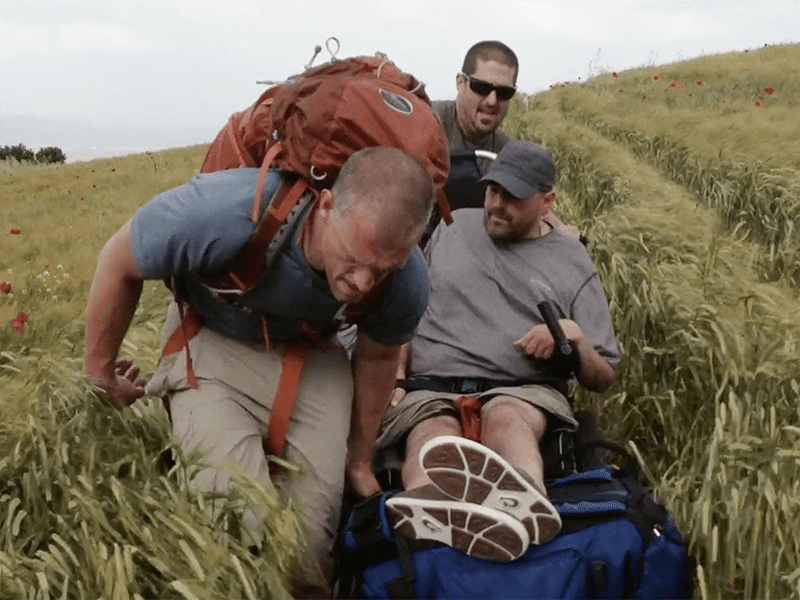 The challenges were also mental. Across the meseta, the flat, desert stretch at the middle of the journey, "you're forced inward because the landscape doesn't change for days on end," Gray said.
"Your mind starts to screw with you in weird ways. There's no escape. There's no distraction, so all the stuff, all the junk that's in your head, it comes to the forefront, and you cannot escape it. No matter what you do, it's there."
For Gray, it forced him to see that the person he was and the person he hoped to be weren't the same, and that he'd given his family reason to question how much he valued them. He apologized to his wife and children from Spain one night on a Skype call, he said, and now "they are first and foremost in every decision that I make."
For Skeesuck, he said, it restored his faith in humanity.
"My realization after coming through this pilgrimage and meeting the people we've met beyond our journey is that there are so many good people in this world doing amazing things and good things.
"I'm so blessed to witness it — to be at the front end of the roller coaster and to have people step in and help me."
Making the Camino is really "several Caminos," according to Chris Karcher, who co-directed with Parish the resulting documentary about the journey.
There was the journey of preparing for the pilgrimage, then of making it, Karcher said. There was the journey that began when they returned home: Skeesuck and Gray now work together, founding Push Inc., writing a book titled "I'll Push You: A Journey of 500 Miles, Two Best Friends and a Wheelchair" and speaking at TEDxBoise and other events.
"Now there's the Camino that we're currently in, which is finishing the film and putting it out for the public to see," Karcher said.
The documentary, also titled "I'll Push You," will screen one night only on Thursday (Nov. 2) in theaters across the country.
"We're really excited about being able to share the past couple of years of immense hard work on all of our parts," Skeesuck said. "It's yet another journey we're on, and once the film comes out, it's not the end. It's the close of one chapter and the beginning of another."