Nigerian bishops plan demonstration against killing of Christians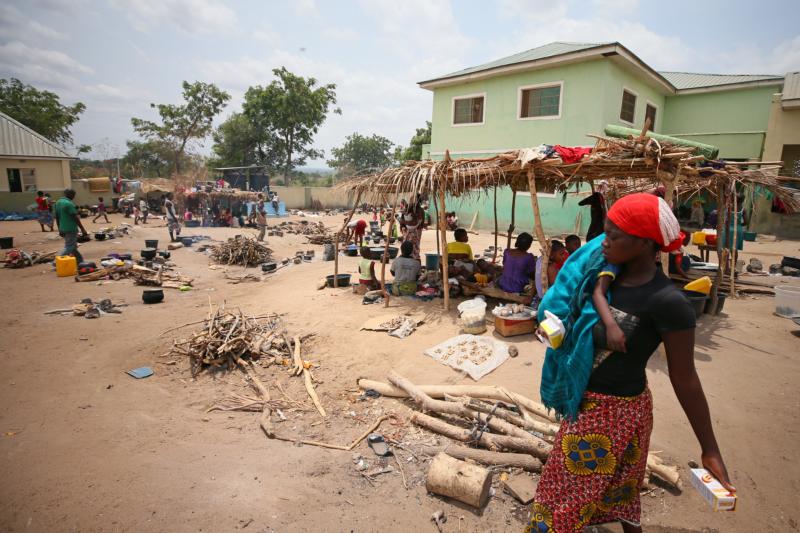 YAOUNDÉ, Cameroon – A mass demonstration in Nigeria is being organized for May 22 by the nation's Catholic bishops in Nigeria to protest the continued killing of Christians by Muslim Fulani herdsmen.
Two Catholic priests – Father Joseph Gor and Father Felix Tyolaha – were murdered in a recent attack, which took place on April 24. At least 17 others were also killed in the incident.
Nigeria is Africa's most populous country, with nearly 186 million people – nearly equally divided between Christians and Muslims.
The attack took place in Benue state, located in Nigeria's "Middle Belt" where the Muslim north meets the Christian south. Over the past few years, Muslim Fulani herdsmen have attacked mostly-Christian farmers in the region in violence that has both religious and ethnic undertones.
RELATED: Two priests among those killed in attack on Catholic Mass in Nigeria
The attacks are becoming more frequent, and over 100 people have been killed so far this year.
In a May 10 statement, the bishops' conference said the May 22 protest would take place in Makurdi, the capital of Benue state. The two murdered priests will be buried the same day.
Father Ralph Madu of the Secretariat of the Bishops' Conference called on every diocese in Nigeria to "organize a peaceful rally or rosary procession or any other appropriate demonstration of solidarity" while the protest is happening.
However, Madu encouraged as many people as possible to travel to Makurdi for the national demonstration.
"Bishops who can make it to Makurdi for the funeral Mass are encouraged to do so, as we pray that this directive be communicated to the clergy, religious and the faithful in the most effective way possible," the statement said.
On Saturday, May 12, another protest was scheduled in Edo state to be led by the Archbishop of Benin, Augustine Akubeze.
At the end of April, while they were in Rome for their ad limina visit with Pope Francis, the Nigerian bishops issued a statement urging the government to "encourage and empower" citizens to protect themselves, and also calling for President Muhammadu Buhari to resign over his failures to deter violence.
RELATED: Nigeria bishops back self-defense, call on president to step aside
"He should no longer continue to preside over the killing fields and mass graveyard that our nation has become…it is time for him to choose the path of honor and consider stepping aside to save the nation from total collapse."
The bishops accused Buhari of not heeding their call to "rethink the configuration of his security apparatus and strategy," and that has led to fading confidence in the country's security agencies not only by the Nigerian people.
U.S. President Donald Trump, meeting with Buhari at the White House on April 30, also expressed his concern with the security of Christians in the country.
"We've had very serious problems with Christians who have been murdered, killed in Nigeria," Trump told Buhari at a White House press conference. "We're going to be working on that problem and working on that problem very, very hard because we can't allow that to happen."
According to a report issued in April by the U.S. Commission for International Religious Freedom, Nigeria is now listed as a "Country of Particular Concern" (CPC). Such a designation indicates "systemic, ongoing, and egregious" religious freedom violations.
RELATED: Trump presses Nigerian president on anti-Christian killings
Bishop Wilfred Chikpa Anagbe of Makurdi said he hopes the murder of his priests and their parishioners will not be in vain.
"Every unjust killing is a verse to the dirge which is the pitiable state of the human soul that has lost a sense of the sacred. Every endorsement of the banal is an attack to the heart that causes spiritual cardiac arrest," the bishop said.
"But the mystery of Divine Providence is that the darkest evil often reveals the profound power of light, a light that shines in the darkness and which cannot be confounded by it (Jn 1:5). If we mourn the shedding of blood, it is not because we are sad over the dead," Anagbe continued.
"Those who die with and in Christ – as Fathers Joseph Gor, Felix Tyolaha and companions died in Mbalom — are at peace, far away from every pain. For them, the worst is over and all that is left is joy of eternal happiness."