A nation divided, by race, politics, war and poverty. The polarization of 1968 sounds hauntingly like that of 2016, and the author of the new book, "Bobby Kennedy: The Making of a Liberal Icon," believes that the United States needs the vision and the heart of Robert Francis Kennedy today, just as it did then, in the year that he was assassinated on the evening of his greatest political triumph.
"Bobby Kennedy was a politician who not only spoke poignantly to his era in the 1960s, but he continues to have a message that resonates today," said Larry Tye, the book's author, in a July 14 interview with Crux.
Tye was interviewed when the United States was still reeling from the fatal sniper shootings of five white Dallas police officers one week earlier, in apparent retaliation for the shooting deaths by police of African American men in Baton Rouge, Louisiana, and St. Paul, Minnesota.
The author of the new book, published in early July by Random House, was also interviewed just before the Republican and Democratic conventions would be underway later that month, with the presumptive Republican nominee, Donald Trump, and the Democratic standard bearer, Hillary Clinton, about to face off in a presidential campaign that will pit two of the nation's most unpopular politicians against one another in what promises to be a bitter election campaign.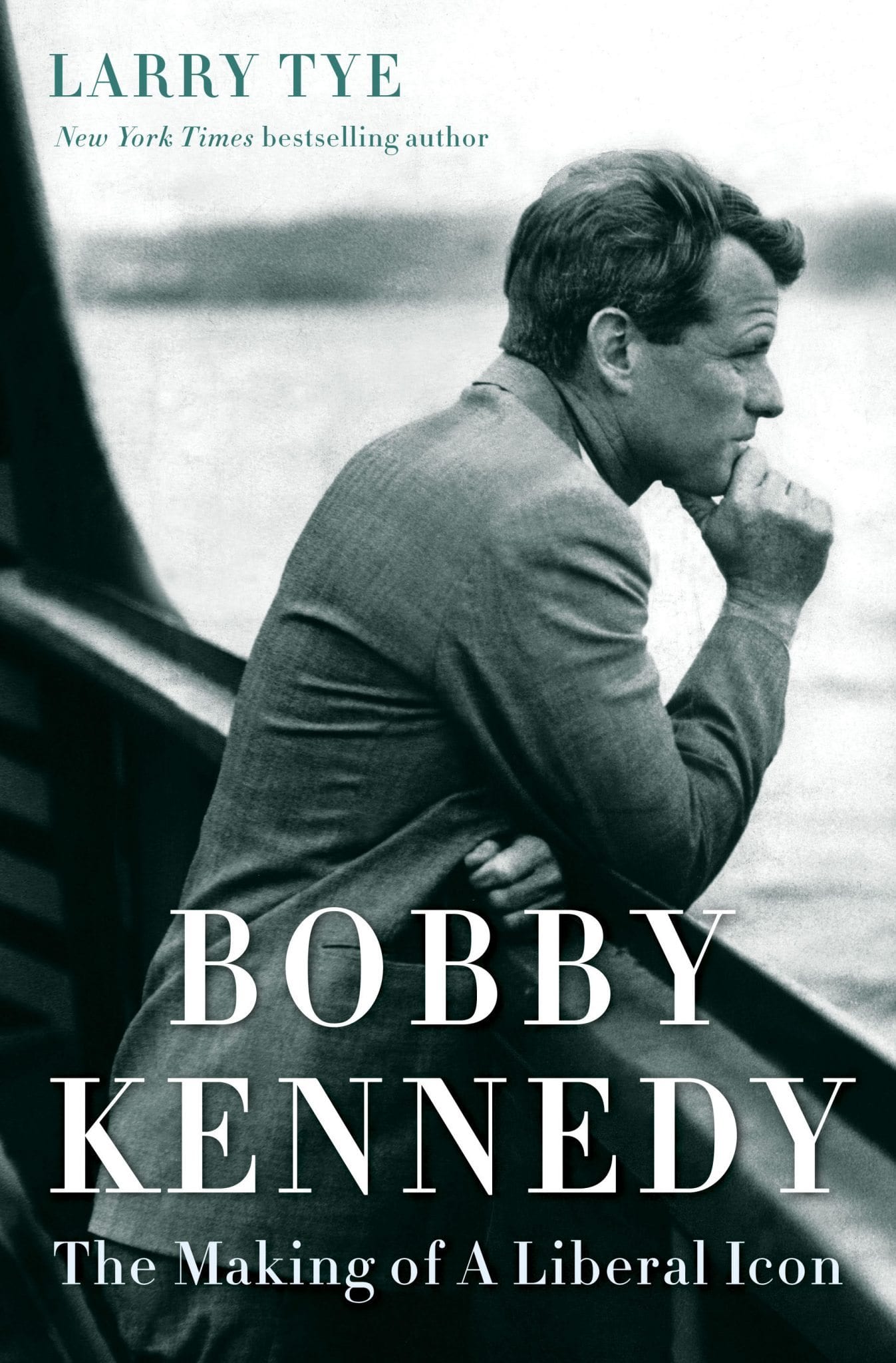 In 1968, racial tensions across the country were boiling over following the April 4 assassination of civil rights leader, the Rev. Dr. Martin Luther King Jr.
Tye sets the stage in his book, telling how Kennedy, whose nascent presidential campaign that spring emphasized the need to stop the war in Vietnam and end poverty in the United States, offered a voice for peace, unity and healing as he addressed a crowd of African-Americans that evening in a ghetto of Indianapolis.
City officials worried about his safety had urged Kennedy to cancel the appearance, but he stood in the back of a flatbed truck, and in a voice that trembled, told them news that no one wanted to hear, that Dr. King had been shot and killed that evening.
Tye believes that Kennedy then gave perhaps the most moving speech of his life, addressing the crowd, saying, "For those of you who are black and are tempted to… be filled with hatred and mistrust of the injustice of such an act, against all white people, I would only say that I can also feel in my own heart the same kind of feeling. I had a member of my family killed…"
The author said that was perhaps the first time that Kennedy had opened up that way, about his own sorrow following the 1963 assassination of his brother, President John F. Kennedy, which had left him deeply depressed.
Bobby Kennedy then told the crowd, "What we need in the United States is not division; what we need in the United States is not hatred; what we need in the United States is not violence and lawlessness, but (what we need) is love, and wisdom, and compassion toward one another, and a feeling of justice toward those who still suffer within our country, whether they be white or whether they be black."
The candidate concluded his speech by encouraging them to return home and pray for Dr. King's family, to pray for "our own country, which all of us love," and to pray for understanding and compassion.
That evening, Indianapolis was one of few major cities in the United States where there was no rioting or fires set in the wake of Dr. King's assassination. The author noted that Kennedy returned to his hotel room, collapsed on his bed and wept.
As racial tensions continue to flare in our country and people are seeking a response from their leaders, this year's presidential candidates, Trump and Clinton, should read that speech, Tye said.
The author said Kennedy's deep Catholic faith shaped his words and actions as a senator and then as a presidential candidate, addressing the evils of war, poverty and racial injustice.
"Those are issues he believed in as a Catholic. Those are the issues, on the eve of his death, that he was talking about," he said, noting that Kennedy's values as a politician were an outgrowth of his beliefs as a Catholic, and his faith shaped his devotion to his family and his commitment to public service.
Robert and Ethel Kennedy had 11 children, with the youngest, Rory, born six months after his death. According to the book, the couple prayed with their children before and after meals and at bedtime, and Bobby reportedly continued to serve the altar reverently as an adult, stepping forward before Mass started to volunteer to serve at churches across the country when he was on government trips and campaign stops.
Bobby Kennedy apparently hit it off with Pope John XXIII when he met the pontiff, and Tye believes that he would be totally sympatico with Pope Francis.
After President Kennedy's assassination, Bobby Kennedy's "world fell apart," Tye said, noting that he grieved for an extended period of time and found consolation in his faith, keeping a missal beside him in the car and reading prayers, and attending Mass nearly every day.
The book notes, "His faith helped him internalize the assassination in a way that, over time, freed his spirit."
That period of sorrow helped transform Kennedy, Tye said. "He substituted empathy for hubris – that had been the dominant feature of his life before his brother died," Tye said.
In the book, he notes that Kennedy's newfound empathy and humility helped him identify with those were suffering. That transformation was real and heartfelt, the author said.
Kennedy played a key role in supporting civil rights and anti-poverty legislation after his brother's death, but to understand poverty and racism, he traveled around the country to meet people affected by it. After serving as U.S. attorney general during his brother's presidency and then for part of Lyndon Johnson's term, Kennedy ran for and won a U.S. senate seat from New York.
The book tells a moving story of how Kennedy heard congressional testimony about children suffering from poverty, and he said he wanted to see it. The next day, he and a fellow senator traveled to the Mississippi Delta, and met with families living in shacks, and at one, Kennedy knelt on the dirt floor and stroked the cheek of an infant boy whose stomach was bloated from malnutrition.
Poverty was no longer just a political issue to him – it was something that affected real families every day, and he was convinced that something must be done to help them.
Kennedy as a young man had been an ardent cold warrior, even working for Sen. Joseph McCarthy's subcommittee investigating government workers' supposed ties to Communism. Later as attorney general in President Kennedy's administration, he supported increased U.S. involvement in the Vietnam War.
Still later as a senator and then as a presidential candidate, he admitted that he had been wrong about that war, and became one of its most ardent foes.
The book notes that Kennedy at first shared his brother's caution about the civil rights movement, and as attorney general, he approved FBI Director J. Edgar Hoover's request to wiretap Dr. King's phone out of the false concern that some of his colleagues had ties to Communists.
But after talking with black leaders and witnessing racism's affect on the country, Kennedy became a strong champion for racial justice.
In managing his brother's successful political campaigns and in his government investigations of Teamsters' leader Jimmy Hoffa, Kennedy was regarded by many as a man who could be ruthless in his pursuit of victory, but after his personal epiphany following the president's death, Kennedy became known more for his tenderness, which affected his outlook on life and his political priorities.
The author interviewed hundreds of people for the book, including Kennedy's widow Ethel, other members of his family, journalists who covered him, and some of his closest aides.
Decades later, some still wept recalling the promise that Kennedy's leadership offered, which ended just after he gave his victory speech after winning the California primary, when he was gunned down in a Los Angeles hotel kitchen by assassin Sirhan Sirhan on June 5, 1968 and died in a nearby hospital early the next morning at the age of 42.
In running for president, Kennedy built bridges between races, stressing unity rather than division in addressing issues that would build a better America, offering a lesson of hope for politicians, government workers and voters that is as timely today as it was in 1968, Tye said.
He noted that Bobby Kennedy gave the people of that era "a politican to believe in" who showed that politics could be conducted on a higher level, when it is devoted to helping people.
"His story… should make America believe in the power of redemption. Bobby redeemed himself," Tye said. "He understood at the end what was important."