In Jesuit Q&A, Pope despairs of current politics and rigid seminary morality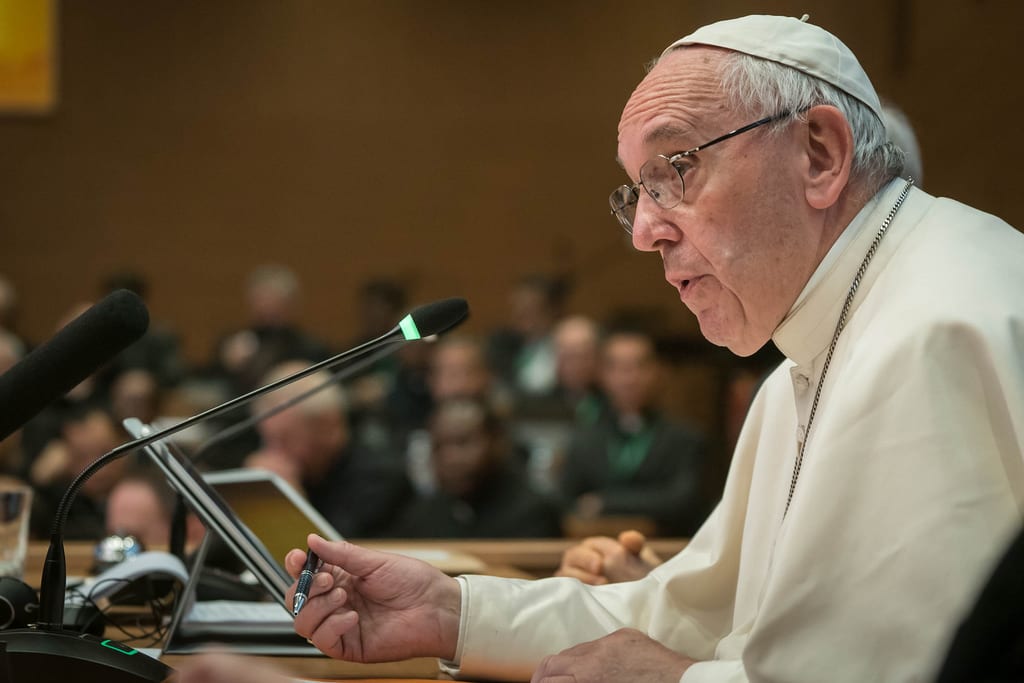 Lamenting that "big politics" has descended into "small politics," Pope Francis says politicians generally are "on the wane" and no longer capable of building unity out of diversity.
"Countries [today] lack those great politicians who were able to spend themselves seriously for their ideals and were not afraid of dialogue or struggle, but went ahead, with intelligence and with the charism specific to politics," he told the Jesuits in Rome on October 24.
The transcript of Francis's one-hour-and-a-half, off-the-cuff dialogue with delegates to the 36th General Congregation of the Society of Jesus — the Jesuit governing body which met recently in Rome — was published today in Spanish, Italian and English on the website of the Italian Jesuit journal La Civiltà Cattolica. 
The Pope spoke in Spanish, but made revisions to the Italian translation of the transcript given to him by the journal's editor, Father Antonio Spadaro.
Urging the Jesuits to embrace a "prophetic audacity" based on their charism of always seeking God's great glory (known as the magis), he said it was sometimes necessary to join that audacity with efforts at persuasion and diplomacy.
He cited one area in particular for the Jesuits to focus on: combatting corruption, giving as an example the attempt by political leaders while in power to reform a country's constitution to allow them to serve another term in office.
Such attempts have been frequently made in the pope's native Latin America, including in Argentina, where President Cristina Kirchner failed to secure enough support in 2013 for such a bid. Last year Evo Morales, the Bolivian president, succeeded in modifying the constitution to allow him potentially a fourth mandate.
Morales, Rafael Correa in Ecuador and Daniel Ortega in  Nicaragua all served third terms after amending their constitutions, something unthinkable in a previous generation.
The pope told the Jesuits: "I believe that here the Society [of Jesus], in its work of teaching and raising awareness, must work with audacity to convince everyone that a country cannot grow if it does not respect the legal principles which that country itself has put in place to ensure future governability."
Pope Francis again praised the French bishops for recently updating their document on the rehabilitation of politics, saying it showed how politics was a form of "craftsmanship used to build the unity of peoples and the unity of a people with all the diversity that is within them."
The pope urged the Jesuits to be on the side of "inculturation," resisting forces that impose uniformity in faith, ideas or culture. Regretting the "centralist type of hermeneutic" behind colonization, he said the Church now had to "interpret things differently, valuing each people, their culture, their language."
Repeating a call he made in a meeting with the Jesuits in Poland in the summer, he urged them to help form the next generation of priests in the art of discernment of spirits, which is at the heart of the Jesuits' 'method'.
He warned that a number of seminaries these days had reverted to legalism and rigidity which was the opposite of discernment, leading to a casuistic conception of morality with black-and-white prescriptions.
"I am very afraid of this," he said, likening it to the "decadent scholasticism" which priests of his generation — i.e. prior to the Second Vatican Council — had been taught.
"The whole moral sphere was restricted to 'yes you can,' 'you cannot,' 'up to here yes but not here,'" he said, describing it as "a morality very foreign to discernment."
While avoiding any risk of falling into an anything-goes "situationalism," in which there is no objective morality, Francis said it was "necessary to bring forward again the great wealth contained in the dimension of discernment" which was characteristic of the "great scholasticism" of St. Thomas Aquinas and St. Bonaventure.
He said their scholastic method — holding fast to general principles, but nuancing and modifying them without changing the principle faced with real-life situations — was the one underlying both the Catechism of the Catholic Church and Francis's recent apostolic exhortation on the family, Amoris Laetitia.
That exhortation, which asks priests to accompany remarried couples in a discernment about their situation, was written, Francis said, following "the discernment made by the whole Church through the two synods."
Asked about the study of theology in a "real-life context" Francis said that there needed to be "academic study, contact with real life not only at the periphery but at the boundary of the periphery, prayer and personal and community discernment."
"When one of those things is missing," he said, "I start to worry."
Turning to a question about vocations, Francis blamed clericalism for suffocating the call to priestly and religious life.
"Clericalism does not allow growth, it does not allow the power of baptism to grow," he said, adding that "vocations exist — you just have to know how to propose them, and how to attend to them."
Vocations are the subject of the next synod of bishops in 2018.
"If the priest is always in a hurry, if he is involved in a thousand administrative things, if we do not convince ourselves that spiritual direction is not a clerical charism but a lay charism (which the priest can also develop), and if we do not call upon the laity in vocational discernment, it is evident that we will not have vocations," he said.
He added that young people can be demanding and tiring but need to be listened to, and to be invited to work on projects rather than spend time in endless meetings.
In his strongest words yet on the topic, Francis described a failure to promote vocations as "suicide," likening it to a form of sterilization, because the Church is a mother. "Not promoting vocations is an ecclesial tubal ligation," he said, because "it does not allow that mother to have her children."
Asked about his experience of consolation, which in the spirituality of St. Ignatius of Loyola means an experience of God's presence, Francis said it happened to him mostly when he looks back at the events and activities at the end of each day. Jesuits refer to this prayer as the "examen".
Describing consolation as "the best anti-depressant I have ever found," he said: "I find it when I stand before the Lord, and let Him manifest what He has done during the day."
He went on: "When at the end of the day I realize that I have been led, when I realize that despite my resistance, there was a driving force there, like a wave that carried me along, this gives me consolation."
In his pontificate, he added, "it consoles me to feel interiorly: 'It was not a convergence of votes that got me into this dance, but that He is in there.'"
[On Crux tomorrow: Austen Ivereigh interviews Father Antonio Spadaro, who reflects on the Jesuit General Congregation]