Vatican's top diplomat defends China deal: 'Something had to be done'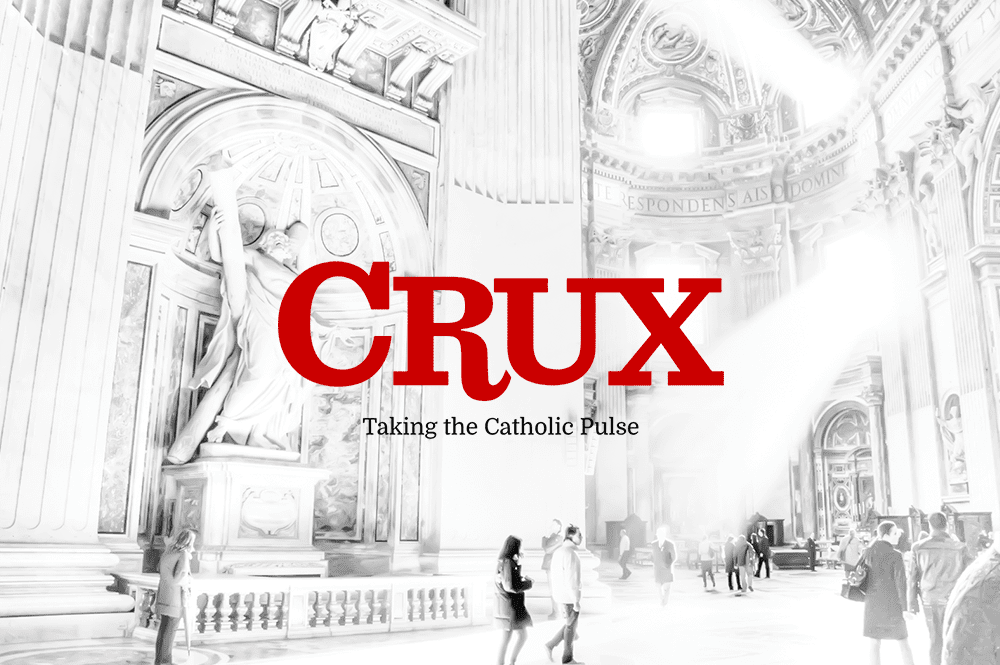 Editor's Note: This is part one of a three-part Crux interview with British Archbishop Paul Richard Gallagher, the Vatican's Secretary for Relations with States, effectively the Vatican's Foreign Minister. Part two deals with the Middle East peace process and the recently announced Abraham Accords, while part three concerns Gallagher's recent mission in Belarus and the fate of exiled Archbishop Tadeusz Kondrusiewicz of Minsk.
ROME – Despite criticism of a 2018 deal with China over the appointment of bishops, including from US Secretary of State Mike Pompeo, a senior Vatican diplomat said Tuesday Rome is optimistic the accord will be renewed by the end of the month and won't walk away from it because "something had to be done."
Had Rome not granted Beijing a significant role in choosing bishops, said British Archbishop Paul Gallagher, "We would have found ourselves – not immediately, but ten years down the line – with very few bishops, if any, still in communion with the pope."
"If we don't begin now, that's the future," he said.
Gallagher confirmed the Vatican has proposed a two-year extension of the deal, the terms of which have not been made public since it's a provisional agreement rather than a formal treaty. He told Crux the Vatican does not yet have a response from Beijing, and that if no answer is received by the end of the month, then the deal expires.
"It would mean it wasn't renewed," he said, but implied the Vatican has reason to believe its proposal will be accepted: "You dip your toes in the water before you jump in," he said.
"We're optimistic the Chinese authorities will wish to continue the dialogue with the Holy See within the agreed terms of the accord, and we move forward," he said, adding that under the right conditions, it would be "desirable" for the deal eventually to be made permanent.
Gallagher conceded implementation has been rocky, saying one reason the Vatican has proposed a two-year renewal for now is because, "We're not 99 percent happy about things, we have lots of reservations and lots of things haven't worked out the way we hoped."
Yet he also insisted that despite criticism from Pompeo and others that the Vatican has gained little for making its concessions to Beijing, there actually are concrete results.
"The fact we have managed to get all the bishops of China in communion with the Holy Father for the first time since the 1950s, and that the Chinese authorities allow the pope a modest say in the appointment of bishops but ultimately the final word, is quite remarkable," Gallagher said.
"We're not blowing it up beyond what it is, but as Cardinal [Pietro] Parolin has often said, it's a little tiny glimmer of an opening, a window," he said, referring to the Vatican's Secretary of State.
"In English, we'd probably say it's getting your toe in the door," Gallagher said.
Gallagher spoke to Crux Oct. 6 in a wide-ranging interview in a meeting room in the Vatican's Secretariat of State.
The 66-year-old Gallagher has held his present post since 2014, after serving as the pope's ambassador in Australia, Guatemala and Burundi, and as the Vatican's observer to the Council of Europe.
Critics such as Pompeo have argued that China's crackdown on religious minorities, including Christians, has intensified since the Vatican signed its deal with Beijing, and that Rome risks losing moral authority if it doesn't push back.
"We think it's worth accepting the criticism," Gallagher said, adding, "I can understand the criticism."
Yet he insisted the Vatican, as a small state with no diplomatic relations with China and no other cards to play, has to find a way to stay engaged.
"Large states, influential states, have many instruments they can use in relations with China to try to get their point of view over or to make demands," Gallagher said, "[such as] commercial and financial [tools], sometimes strategic and military."
"The Holy See has nothing of that. All we have is dialogue," he said.
Gallagher also said that without the provisional agreement, there would be no channel for communication with Beijing at all.
"It does mean that we have an opportunity to raise other issues with our Chinese counterparts," he said. "If we were to walk away from the dialogue completely, we wouldn't have any opportunity for that. We don't have a diplomatic mission in Beijing. We have representation in Hong Kong, but that's very much at a church level, there's no political exchanges, so we would be left with nothing at all."
"I'm not saying we have very much at the moment, but as one of my bosses, [Italian] Cardinal [Andrea Cordero Lanza] di Montezemolo told me years ago in Uruguay when I was a rookie diplomat, there's a big difference between something and nothing," Gallagher said.
Despite coronavirus-related restrictions on travel which have made physical meetings with his Chinese opposite numbers impossible, Gallagher said relying on the Chinese embassy to Italy as an intermediary has "worked quite well."
In terms of the Vatican's frustrations, aside from what he called the slow pace of approving appointments, Gallagher focused on two other points: Difficulties in vetting candidates, and the gap between commitments made in Beijing and application at the local level.
"One of the difficulties we do have, and I think we're making some progress, is that names are presented and it's very difficult [to assess them]," he said. "Normally a [papal ambassador] somewhere around the world, you get contacts, you talk to people. When you don't have somebody on the ground, that's quite difficult. Doing appointments purely on the basis of a paper chase is very difficult."
Gallagher said he's less optimistic that the challenge of moving from centralized agreements to local application can be overcome.
"When you're dealing with the central government, very often they can say, 'Yes, that seems a reasonable proposal, we can go with that,'" he said. "But when they get down to local realities, as it is for all of us, it's not always easy to translate that good will into local action which is helpful to us."
"Cardinal Parolin's position always was that this is going to be a long, difficult, and often at times uncertain process," Gallagher said. "But I don't think there's any strong grounds to say now that we should walk away from it."
Asked if the hope nevertheless is that the agreement will become permanent, Gallagher was cautious but positive.
"I suppose that would be desirable, providing we can possibly iron out some of the difficulties in the application," he said. "We keep an open mind in the end."
Follow John Allen on Twitter at @JohnLAllenJr.