Christian self-defense, faith and fashion, and a great month for Crux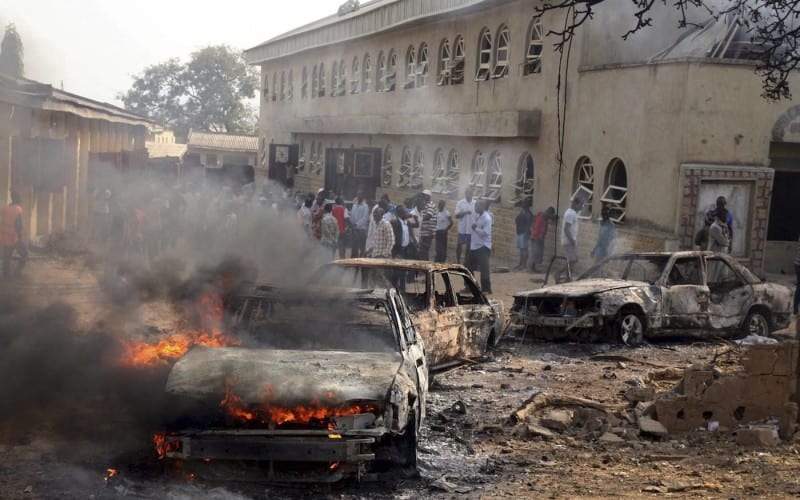 Around the world, the best estimate for the number of Christians who face threats of harassment, persecution, arrest, torture and even death simply on the basis of their faith is 200 million. One premier killing zone for the last several years has been Nigeria, where Christians are targeted not only by the radical Islamic group Boko Haram but also by ethnic Fulani tribesmen seeking to exploit Christian-owned farmlands for their herds of cattle and other livestock.
Faced with such carnage, one obvious question has long been, "Why don't Christians fight back?"
There are equally obvious answers, beginning with Jesus' admonition in the Gospels to turn the other cheek. In general, Christians pride themselves on non-violence, on not fostering the sort of armed radical groups familiar in many parts of the world. (Of course, such violence is part of the Christian past — think the Crusades, for instance — but not so much its present.)
As some experts put it, Christians tend to be "soft targets" for religious persecution in the 21st century, because, in general, they don't take up arms in their own defense.
Yet there are Christians no longer content with remaining passive. Many years ago, I recall speaking to S.L.S. Salifu, who was the secretary of the ecumenical Christian Association of Nigeria, born amid a round of sectarian violence that left scores of Christians dead and injured in the 1970s, who made a very simple point: "You can't turn the other cheek if you're dead."
All this comes to mind in light of a statement from the Catholic bishops of Nigeria this week, which condemned failures by the country's government to keep Christians safe and called on President Muhammadu Buhari to resign.
A key element of the statement was a clear stance from the bishops in favor of legitimate Christian self-defense.
"The federal government, whose primary responsibility is to protect lives, for its part alleges that those who ask the people to defend themselves are inciting them to take the law into their own hands," the bishops said. "But how can the federal government stand back while its security agencies deliberately turn a blind eye to the cries and wails of helpless and armless citizens who remain sitting ducks in their homes, farms, highways, and now, even in their sacred places of worship?"
"As leaders, we have consistently asked our people to remain peaceful and law-abiding, even in the face of the worst form of provocation," the bishops said. "Today, we Christians feel violated and betrayed in a nation that we have all continued to sacrifice and pray for. We collectively feel abandoned and betrayed."
"Government should encourage and empower citizens to secure themselves and their environments," the bishops said. "This is not the time to disarm people with legally procured weapons of self-defense."
In effect, the statement amounts to a rare call to arms from Church leadership, born of frustration over the failures of a government to provide even basic security.
All of which raises a fairly sobering question: What will it take for the world to get serious about recognizing and responding to anti-Christian persecution? Will it really take all those Christians taking up arms to demand a hearing?
One obviously hopes it doesn't come to that, but if the Nigerian bishops are any indication, Christian patience may not be unlimited.
* * *
Blessed Pope Paul VI wrote in his 1975 encyclical Evangelii Nuntiandi that "the split between the Gospel and culture is the tragedy of our times." One rather outside-the-box way in which the Church is trying to heal that rupture will come in New York on May 7, in the form of the fashion world's Oscars night – the annual Met Gala, which this year is devoted to the theme of "Heavenly Bodies: Fashion and the Catholic Imagination."
Designed to examine fashion's ongoing engagement with the devotional practices and traditions of Catholicism, a May-October exhibit kicked off by the gala will feature papal robes and accessories from the Sistine Chapel sacristy, many of which have never been seen outside the Vatican. Celebrities and fashion mavens have been encouraged to show up May 7 wearing outfits that reflect the event's theme, which means we're probably in for some provocative reinterpretations of traditional religious garb.
At a press event in Rome last month, Italian Cardinal Gianfranco Ravasi, President of the Vatican's Pontifical Council for Culture, was on hand to promote the Met Gala and exhibit, and Cardinal Timothy Dolan of New York will take part in the May 7 event.
RELATED: Vatican culture czar says Church needn't fear fashion, even its ridicule
Claire Giangravè, Crux's Rome-based faith and culture writer, and Chris White, our national correspondent, both will be in New York covering this remarkable intersection of faith and fashion. Be sure to follow their reports beginning this week.
* * *
Speaking of Crux, April has proven to be quite a run. As of Saturday, we had already surpassed our previous record for pageviews in a single month set in October 2017, and we still had three full days to go.
It turns out, as far as Crux is concerned, that T.S. Eliot was wrong – April isn't the cruelest month! I'm grateful for the interest and engagement we're seeing this month, and I'm especially satisfied it's coming on the second anniversary of our independence.
Two of our biggest traffic drivers this month are also two of the most compelling examples of reporting you'll read in a long time: The single best story yet written about the clerical sexual abuse scandals in Chile by our  brilliant Vatican correspondent, Inés San Martín, and a groundbreaking and abundantly documented article by Giangravè, flat-out the best writer going on this beat, detailing the 40-year relationship between an Italian diocese and a powerful lay Catholic movement whose leadership now stands accused of abusing minor girls.
The subjects these articles take up are no laughing matter, but for precisely that reason it's all the more important that the Church look them straight in the eye. We like to say Crux is all about smart, wired and independent coverage, and you'll never find better cases in point than these articles by two of the most talented Catholic journalists on the planet.
If you haven't done so yet, check them out. If you manage to do so in the next couple of days, driving our April traffic totals even higher, all the better!