Quarantines have a long history in Italy, as Mark Twain found out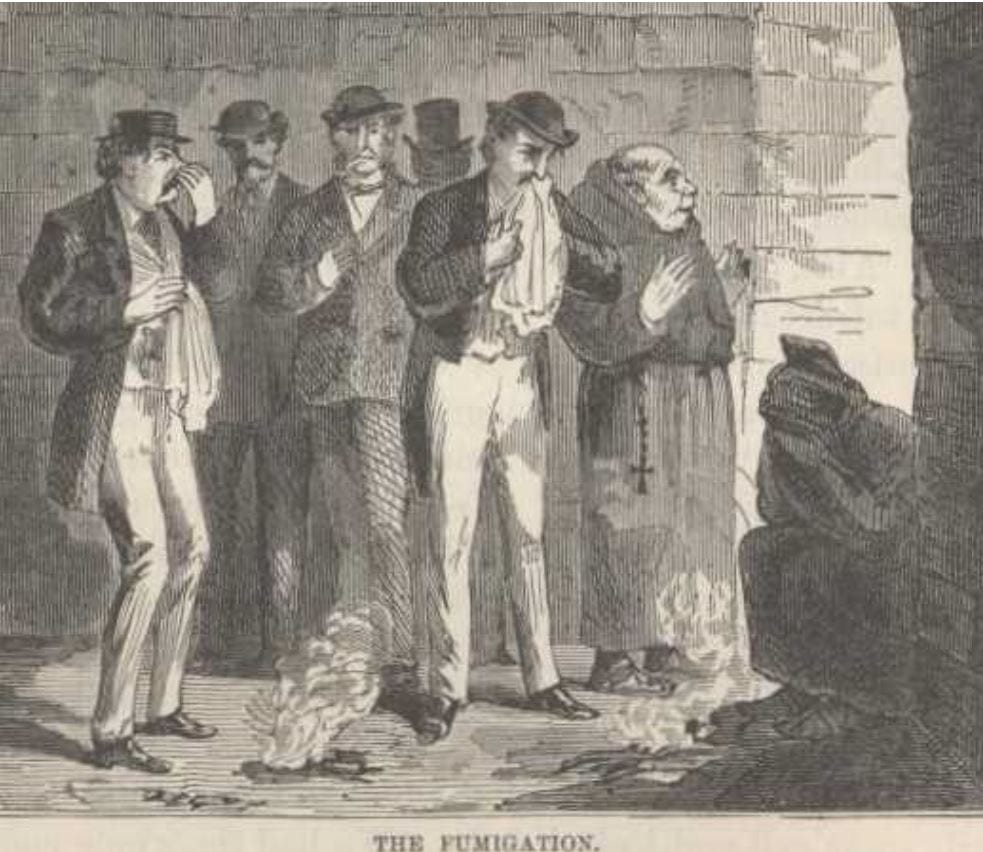 Finding out that he was a likely to be trapped by the Italian quarantine, one American tourist tried to evade it by circumventing the authorities.
Although he succeeded in his initial plans, he eventually came down with the disease, although eventually recovering.
This wasn't this past month, when thousands of Americans hopped on the last flights out of Italy to escape the impending lockdown to stop the spread of the COVID-19 coronavirus; it was 1867, and the American was Mark Twain, who visited Europe during a cholera epidemic.
In The Innocents Abroad, published two years later, Twain described a package tour of France, Italy, The Papal States (reduced to the trunk of what is now Lazio, it would fall to the newly unified Italian state in 1870), and the Holy Land.
CREDIT: Twain's Holy Land travelogue reveals both appreciation, cynicism
The package tour was in its infancy, birthed by steam power and the hegemony of the European imperial power. Coincidentally, the first modern package tour started off in my current city of residence – Leicester, England – when Thomas Cook took a group by rail to the nearby town of Loughborough in 1841.
I have been thinking of The Innocents Abroad since they announced the first quarantine measures in northern Italy at the start of the coronavirus crisis in late February, since Twain's tour took place during what is now known as the Fourth Cholera Pandemic of the 19th century. In 1867, an estimated 113,000 people died of cholera in Italy alone.
Fear of cholera kept Twain from visiting several places on his itinerary. Like today, Malta forbid anyone from Italy from travelling to the island for fear of contagion. But Spain and Portugal were also off limits, as was Algiers.
His first experience of the Italian war on cholera was after he left Milan and entered the town of Bellagio on Lake Como. Much like some pundits in the 21st century, Twain thought the authorities were overreacting:
"When we walked ashore, a party of policemen (people whose cocked hats and showy uniforms would shame the finest uniform in the military service of the United States,) put us into a little stone cell and locked us in. We had the whole passenger list for company, but their room would have been preferable, for there was no light, there were no windows, no ventilation. It was close and hot. We were much crowded. It was the Black Hole of Calcutta on a small scale. Presently a smoke rose about our feet—a smoke that smelled of all the dead things of earth, of all the putrefaction and corruption imaginable. We were there five minutes, and when we got out it was hard to tell which of us carried the vilest fragrance. These miserable outcasts called that "fumigating" us, and the term was a tame one indeed. They fumigated us to guard themselves against the cholera, though we hailed from no infected port. We had left the cholera far behind us all the time. However, they must keep epidemics away somehow or other, and fumigation is cheaper than soap."
After going through central Italy, and visiting the Papal States and Rome, Twain's group is supposed to go to Naples by boat. Twain and a few of his companions decide to go by rail, to avoid the quarantine the city of Naples has imposed.
Twain was right – the ship was quarantined in the Naples harbour when he arrived:
"She has been here several days and will remain several more. We that came by rail from Rome have escaped this misfortune. Of course no one is allowed to go on board the ship, or come ashore from her. She is a prison, now. The passengers probably spend the long, blazing days looking out from under the awnings at Vesuvius and the beautiful city–and in swearing. Think of ten days of this sort of pastime!–We go out every day in a boat and request them to come ashore. It soothes them. We lie ten steps from the ship and tell them how splendid the city is; and how much better the hotel fare is here than any where else in Europe; and how cool it is; and what frozen continents of ice cream there are; and what a time we are having cavorting about the country and sailing to the islands in the Bay. This tranquilizes them."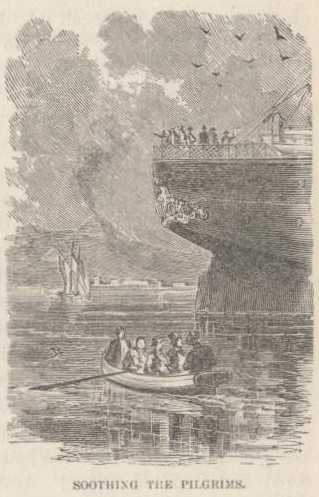 Twain would have made a great internet troll, although one hopes he was exaggerating the taunting of his companions for dramatic effect.
However, he did give credit where it was due. Although bearing many of the anti-Catholic prejudices common in America in the latter half of the 19th century – which are readily expressed throughout The Innocents Abroad – the author paused to praise the priests that served the city of Naples so will during the cholera epidemic.
"I speak of the Dominican friars–men who wear a coarse, heavy brown robe and a cowl, in this hot climate, and go barefoot. They live on alms altogether, I believe. They must unquestionably love their religion, to suffer so much for it. When the cholera was raging in Naples; when the people were dying by hundreds and hundreds every day; when every concern for the public welfare was swallowed up in selfish private interest, and every citizen made the taking care of himself his sole object, these men banded themselves together and went about nursing the sick and burying the dead. Their noble efforts cost many of them their lives. They laid them down cheerfully, and well they might. Creeds mathematically precise, and hair-splitting niceties of doctrine, are absolutely necessary for the salvation of some kinds of souls, but surely the charity, the purity, the unselfishness that are in the hearts of men like these would save their souls though they were bankrupt in the true religion–which is ours." (You can almost see Twain's tongue firmly planted in his cheek).
His words bring to mind the thousands of priests today who are laboring to help their flock – several Italian clerics have already been confirmed to have the coronavirus.
Cholera eventually caught up to Twain, outside Damascus, although it only affected him a few days: Cholera, like COVID-19, isn't usually fatal – although it is dangerous enough to keep vigilant, and suffer the inconvenience caused by a quarantine.
Follow Charles Collins on Twitter: @CharlesinRome
---
Crux is dedicated to smart, wired and independent reporting on the Vatican and worldwide Catholic Church. That kind of reporting doesn't come cheap, and we need your support. You can help Crux by giving a small amount monthly, or with a onetime gift. Please remember, Crux is a for-profit organization, so contributions are not tax-deductible.