Vicar of Rome latest papal confidante to fall out of favor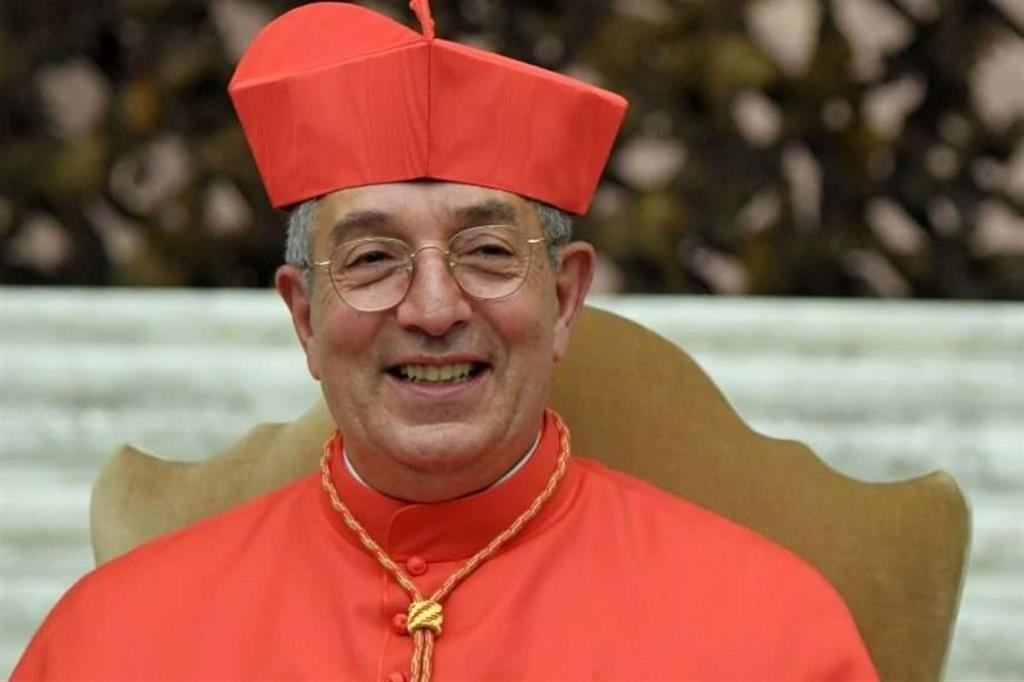 ROME – In the 1999 film "The Talented Mr. Ripley," based on Patricia Highsmith's 1955 novel, Dickie Greenleaf is a charismatic and rich young socialite who's in the habit of drawing people into his orbit and making them feel special, until he loses interest and casts them aside.
When this begins to happen to Tom Ripley, the title character, Greenleaf's girlfriend Marge Sherwood expresses sympathy.
"It's like the sun shines on you and it's glorious," she says of Dickie's favor, "and then he forgets you and it's very, very cold."
As Italian Cardinal Angelo De Donatis would be the latest to tell you, there's a somewhat similar phenomenon with Pope Francis. After almost a decade in power, there's an increasingly long list of figures who were once part of the pontiff's inner circle, but who, for one reason or another, have lost that standing.
One day after Francis laid his predecessor Benedict XVI to rest on Thursday, he effectively buried De Donatis' ecclesiastical career by issuing a sweeping overhaul of the Vicariate of Rome, taking away most of the vicar's power and transferring it to auxiliary bishops in the Eternal City.
Pointedly, Francis decreed that the vicar must not "undertake important initiatives or ones exceeding ordinary administration without first having reported to me."
It was a striking denouement for De Donatis, 69, whom Francis made an auxiliary bishop of Rome in 2015. Two years later De Donatis became the vicar, and in 2018 he became a cardinal. Also in 2018, De Donatis was the star speaker at a Vatican press conference to present Francis's apostolic exhortation Gaudete et Exsultate, suggesting the Italian prelate was being groomed for a star role.
Yet the wheels began to come off the relationship during Covid, when Francis compelled De Donatis to reverse course on closing Roman churches, and further deteriorated when Francis imposed a Vatican financial audit on the vicariate in 2021. Perhaps the last straw was De Donatis's recent defense of Jesuit Father Marko Rupnik, accused of various forms of sexual and spiritual abuse; De Donatis responded by saying, "We ministers of Christ can't be less committed to the due process of law, and less charitable, than a secular state, automatically transforming an accusation into a crime."
Of course, the emblematic case of someone who fell out of Francis's favor remains Italian Cardinal Angelo Becciu, who was once the sostituto, or "substitute," in the Secretariat of State, where from 2013 to 2018 he loomed as perhaps the most powerful figure in the Vatican after Francis himself.
In 2018 Francis made Becciu a cardinal and prefect of the Congregation for the Causes of Saints, but in September 2020 the pope peremptorily dismissed him as prefect and stripped him of his rights as a cardinal, setting the stage for Becciu's indictment by a Vatican tribunal on charges of financial misconduct.
Beyond De Donatis and Becciu, others on Francis's "Ripley List" include:
Australian Cardinal George Pell, tapped by Francis to oversee Vatican financial reform in 2014 but then progressively marginalized even before charges of sexual abuse in his home country (for which he was ultimately acquitted) compelled Pell to take a leave of absence.
Ghanian Cardinal Peter Turkson, once considered the pontiff's most trusted aid on social justice issues. Turkson's role was undercut in 2019 when Francis named Canadian Jesuit Michael Czerny a cardinal and left him in Turkson's office, and the shift in power was formalized in December 2021 when Francis removed Turkson as prefect of the Dicastery for Promoting Integral Human Development and gave to job to Czerny.
Cardinal Luis Antonio "Chito" Tagle, currently prefect of the Dicastery for Evangelization and widely seen as a Francis loyalist. Tagle had also been president of Caritas, the worldwide federation of Catholic charities, until a month ago when Francis decreed a major shake-up which included removing Tagle from his post.
Archbishop Georg Gänswein, the closest aide to Pope Benedict XVI, whom Francis confirmed as head of the papal household in 2013 in a sign of continuity. Yet in 2020 Francis summoned Gänswein to inform him that as of the next day, he was not to come to work any longer and would not appear with him in public, and that he should concentrate exclusively on caring for the emeritus pope.
Libero Milone, a Dutch-born Italian businessman and former executive at Deloitte who was chosen by Francis in 2015 amid great fanfare as the Vatican's first independent auditor general. His expected five-year term lasted only until 2017, when he was forced out under circumstances that still remain murky.
Domenico Giani, former head of the Vatican gendarmes, who was compelled to resign in October 2019. Ironically, his offense was publishing an internal flyer with pictures of five other Vatican employees suspended by the pope as part of an investigation into a failed London real estate deal. When the flyer leaked to the Italian press, Giani himself was out.
Albrecht von Boeselager, a German layman and former Grand Chancellor of the Knights of Malta, who lost his job as part of a controversial new constitution for the order decreed by Pope Francis in September 2022. It was an ironic outcome, given that the pope's involvement with the Knights of Malta begin in 2016 when the pontiff ordered Boeselager reinstated after a previous administration that included American Cardinal Raymond Burke tried to fire him.
It's also worth noting that while most popes have had one priest-secretary from beginning to end – think Loris Capovilla for John XXIII, Pasquale Macchi for Paul VI, Stanisław Dziwisz for John Paul II and Gänswein for Benedict XVI – Francis already has churned through several.
Francis inherited Monsignor Alfred Xuereb from Pope Benedict XVI and kept him around until 2018, when he made Xuereb a papal ambassador to Korea and Mongolia. At the same time Francis also brought in an Argentinian cleric, Fabián Pedacchio, keeping him around until 2019. In April 2014 Francis also tapped a Coptic priest named Yoannis Lahzi Gaid as a personal secretary, which lasted until 2020.
Today, Francis's secretaries are an Uruguayan priest named Gonzalo Aemilius and Italian Father Fabio Salerno.
What are we to make of this turnover?
Critics may see it as evidence of disloyalty, cutting people loose when it's convenient, or even instability. Admirers likely will style it was a sign of a strong, hands-on manager, who sets expectations for performance and holds people accountable.
Management theorists might regard it as a strategy for ensuring that control remains directly in the pontiff's hands, by preventing anyone else from building their own empires or putting down roots too deep to dig up.
However one explains it, rotation in key posts does seem a persistent feature of the Francis era – which, among other things, may suggest a dose of caution for others in the pope's orbit today not to get too comfortable.