Meeting Congo war victims, Pope decries external, internal forces fueling conflict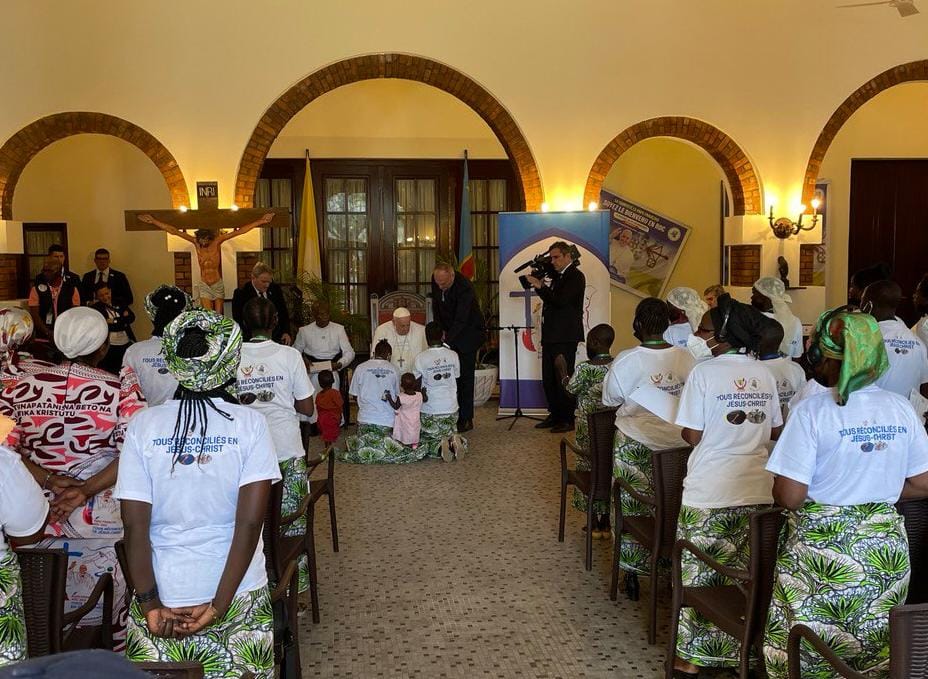 KINSHASA – Pope Francis Wednesday met war victims from eastern Congo, saying he shares their pain and offering a harsh condemnation of those outside of the country, and within it, who perpetuate the violence.
After listening to stories from people who have experienced or witnessed violence amid the Democratic Republic of Congo's seemingly endless wars, the pope condemned "armed violence, the massacres, the rapes, the destruction and occupation of villages, and the looting of fields and cattle that continue to be perpetrated" in the DRC.
He decried what he said was "the murderous, illegal exploitation of the wealth of this country, and the attempts to fragment the country in order to control it."
Francis voiced indignation at the fact that the violence and war afflicting so many "are disgracefully fueled not only by outside forces, but also from within, for the sake of pursuing private interests and advantage."
Atrocities carried out against the people "bring shame upon all humanity," he said.
Pope Francis is in the Democratic Republic of Congo until Friday as part of a wider Jan. 31-Feb. 5 tour of Africa that will also take him to Juba in South Sudan, which is also ravaged by a years-long conflict that has torn the country apart.
Originally scheduled for last July, the pope's trip was postponed due to his ongoing knee troubles, which since last May have largely confined him to a wheelchair. His initial itinerary included a stop in the eastern Congolese city of Goma, where his meeting with war victims was originally supposed to be held, however, security concerns related to an uptick in violence in the area meant the stop had to be canceled.
In Wednesday's speech, the pope said that not only Goma, but other eastern cities in Congo such as Masisi, Rutshuru, Bukavu, and Uvira, rarely make headlines, but are "held hostage to the whims of the powerful, those with the most potent weapons, weapons that continue to circulate."
To those suffering as a result of the war, Francis said, "I am close to you. Your tears are my tears; your pain is my pain…I am with you; I want to bring you God's caress…While the violent treat you as pawns, our heavenly Father sees your dignity."
The mineral-rich Congo, whose history is marred by exploitative Western colonial rule and the harsh, slave-like exploitation of native lands and peoples, is no stranger to violence, and for the past 30 years has been the site of one of the longest and most drawn-out conflicts in the world.
Concentrated largely in eastern Congo, the country's protracted war has so far left more than six million people dead and has forced 4.5 million people from their homes, and has caused a crippling humanitarian crisis and widespread poverty that is disproportionate to the country's vast resources.
Private geopolitical agendas and corruption are largely to blame for the disparity and for the lack of any clear resolution to the conflict, as the Congolese army continues to battle against more than 120 rebel groups, some of whom hold ties to the Islamic State, with attacks against communities and even religious sites on the rise.
Ethnic and regional tensions are also a factor, as the bulk of current hostilities are between the Congolese army and the M23 rebel group, which formed around a decade ago and is the most prominent of the rebel groups, with surrounding nations such as Kenya and Rwanda getting involved.
In November Kenya deployed soldiers to assist the Congolese army in their fight against M23, while Rwanda has accused the Congo of backing the group, and M23 itself has claimed that it is defending the interests of ethnic Tutsis living in the Congo against Hutu militias.
Pope Francis in his speech said the polarizing conflict in the Congo breaks down the social fabric of the nation as the ethnic, territorial and group dynamics tensions and compounded the weakness of institutions and "the blasphemy of violence in the name of a false god."
Congo's war, he said, is fundamentally one "unleashed by an insatiable greed for raw materials and money that fuels a weaponized economy and requires instability and corruption."
"What a scandal and what hypocrisy, as people are being raped and killed, while the commerce that causes this violence and death continues to flourish!" he said, and issued an appeal to all those behind the war, both internally and externally, to bring it to an end.
"You are enriching yourselves through the illegal exploitation of this country's goods and through the brutal sacrifice of innocent victims," he said, telling warmongers to "listen to the cry of their blood, open your ears to the voice of God, who calls you to conversion, and to the voice of your conscience."
"Enough! Stop getting rich at the cost of the poor, stop getting rich from resources and money stained with blood!" he said, saying there are things that ought to be done to promote peace, and there are things that ought not to be done.
In terms of things that should not be done, Pope Francis said there is an urgent need to "say no to violence, always and everywhere."
Loving one's country does not mean hating others, he said, saying the use of hatred and violence "is a tragic lie," and their perpetuation is "never acceptable, never justifiable, never tolerable, all the more so for Christians."
Francis told the Congolese people not to be seduced by the temptation to hate, saying hatred is "a form of blasphemy" that corrupts the human heart.
Violence must be rejected, but that is not enough, he said, saying the roots of violence, "greed, envy and, above all, resentment," must also be rejected.
Urging Congolese to "disarm the heart," the pope said they must also reject any resignation to the status quo, saying, peace itself "calls us to combat the discouragement, despondency and distrust that lead us to think that we are better off distrusting others, living apart and far away, rather than offering a helping hand and walking together."
"A different future will come about if it is for all and not just for a few…A new future will come about if we see others, whether Tutsi or Hutu, no longer as adversaries or enemies, but as brothers and sisters," he said, saying that even in the east, "peace is possible!"
The future, he said, cannot be built while staying closed in on particular interests or within one's own ethnic group, but requires the collaboration of everyone.
"All your neighbors, then, are your sisters and brothers, whether they be Burundian, Ugandan or Rwandan…That is the teaching of the Christian faith professed by a large part of the population," he said, voicing hope that "never again" would violence or resentment dominate the Congo.
In terms of things that should be done in the pursuit of peace, Pope Francis said people must say yes to reconciliation, and noted that the cross itself, used as an instrument of torture and death, was "transformed by his love" and has become a symbol of hope and reconciliation.
He stressed the importance of responding "to evil with good, to hatred with love, to division with reconciliation," saying faith offers believers "a new concept of justice, which is not content to punish and rejects revenge," but which brings reconciliation and seeks "to defuse new conflicts, to eliminate resentment and to offer forgiveness.
Francis urged Congolese people to also say yes to hope, saying Jesus through his own suffering, death and resurrection ensured that "evil no longer has the last word over life."
"With Jesus, who made the grave, the last stop on our human journey, the beginning of a new history, new possibilities constantly crop up," he said, saying this hope is earned by "patiently sowing peace day after day."
Choosing to spread goodness instead of hostility, he said, "sets us free from narrow concern for personal gain and gives us a reason for living each day."
Pope Francis thanked those dedicated to assisting war victims and recalled all those who have been killed in the violence, including Italy's former ambassador to the DRC, Luca Attanasio, who was killed near Goma in 2021 along with his driver, saying, "They were sowers of hope and their sacrifice will not be lost."
He closed praying that Congolese women, in particular, would be "respected, protected and esteemed," saying every act of violence against women "is violence against God himself, who from a woman, from a mother, took on our human condition."
"May Jesus, our brother, the God of reconciliation who planted the tree of life of the cross in the heart of the darkness of sin and suffering, the God of hope who believes in you, in your country and in your future, bless you and comfort you," he said.
Follow Elise Ann Allen on Twitter: @eliseannallen