St. Paul Center providing free Scripture study for Lent
Seeking to provide serious and accessible Scripture study in the Catholic tradition, the St. Paul Center for Biblical Theology serves clergy and laity, students and scholars, with research and study tools — from books and publications to multimedia and on-line programming.
This Lent, the St. Paul Center is streaming a free Bible study called Genesis to Jesus on their website.
According to Robert Corzine, the Vice President of Programs for the St. Paul Center, in just twelve short episodes, viewers willl get a handle on the overall plot of the whole Bible, and how the covenants that God made in the Old Testament all pointed forward to and are fulfilled in the New Covenant in Christ.
Corzine, who is also the host of The St. Paul Center Presents on Relevant Radio, says getting to know the Bible better should be near the top of our list of ways to improve our relationship with Our Lord during Lent.
The St. Paul Center is streaming a Bible study called Genesis to Jesus for free this Lent. What is Genesis to Jesus, and why is it so close to your heart?
Corzine: Genesis to Jesus has been the flagship Bible study of the St. Paul Center for the past fifteen years. It is based on a book by our President and Founder, Scott Hahn, called A Father Who Keeps His Promises. Over the years, we have trained thousands of Bible study leaders across the country and around the world to present this study and others like it in their own parishes. In whatever form people first come across it, this material is foundational for all that we do. It has now been beautifully filmed by Matt Leonard and a hand-picked team of experienced filmmakers. The music and sacred art and footage shot in the Holy Land make it truly stunning. It's a real joy to make this study available for free on our website, StPaulCenter.com this Lent.
What can you tell us about the content of this study?
Genesis to Jesus tells the story of salvation history. This is the master narrative of the Bible, the story of God's unfailing love seeking out and calling rebellious humanity to Himself, not just to save us from our sin but to make us His family. He accomplished this divine rescue mission over time by establishing a series of covenants. As the Early Church Father St. Irenaeus put it, "Understanding  … consists in showing why there are a number of covenants with mankind and in teaching what is the character of those covenants."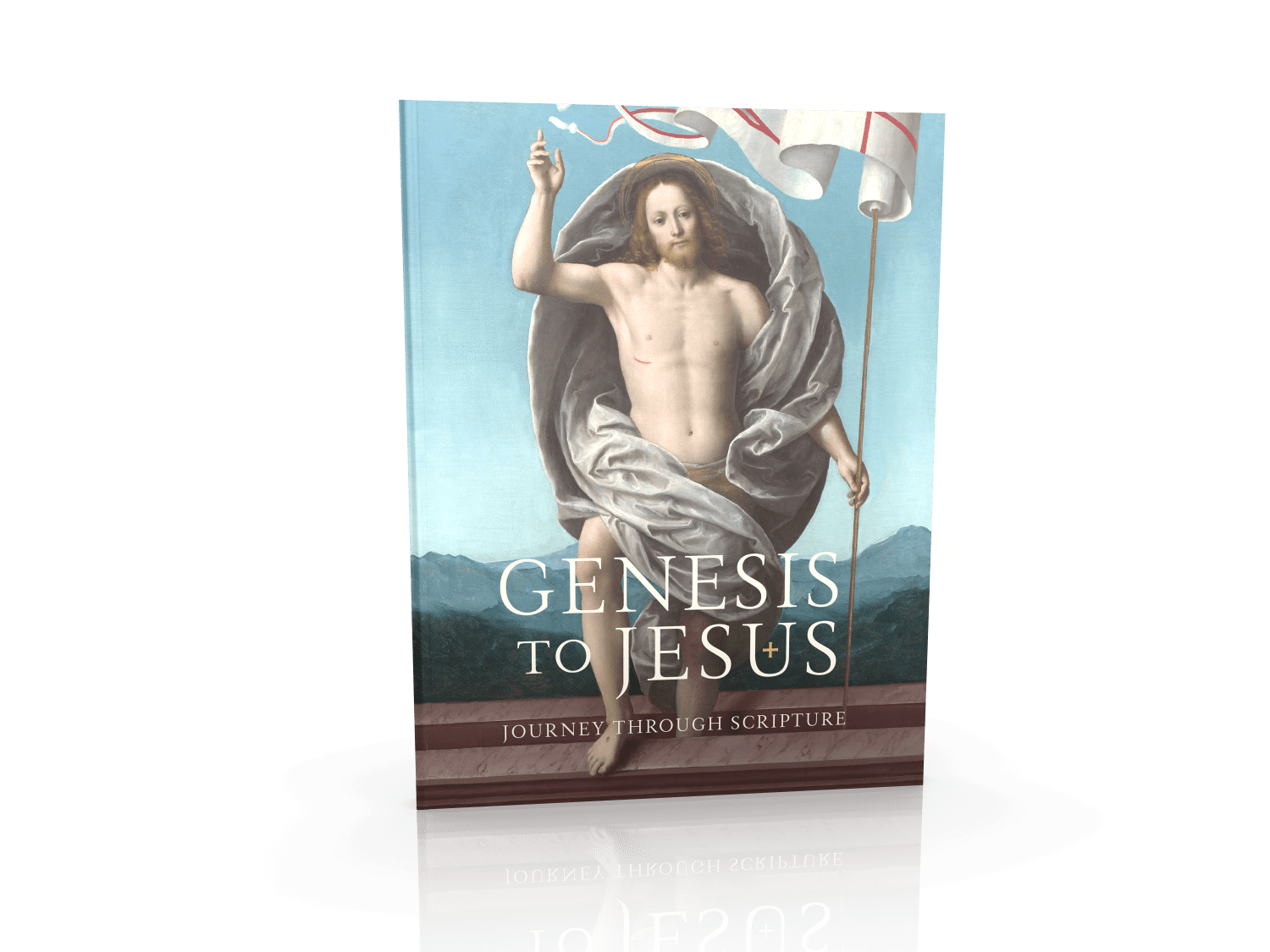 That's the approach that Genesis to Jesus takes. In just twelve short episodes, you'll get a handle on the overall plot of the whole Bible. You'll see how the covenants that God made in the Old Testament all pointed forward to and are fulfilled in the New Covenant in Christ. So, for example, the New Testament presents Jesus as the new Adam, as leading a new exodus and giving a new law like Moses, as being the promised Davidic messiah.
This study has been described as a "Bible study about the Bible." Why is it important for Catholics to participate in a study like this? How does it help Catholics read the Bible the way it was meant to be read?
As Catholics, the highest form of prayer we have is the Mass. Going to Mass is the most important thing we'll ever do; it's the only thing we have to do as Catholics every week of our lives. Scripture comes alive in the Mass and the better we know the Bible the more we'll be able to get out of Mass. As Pope Benedict explained in Verbum Domini, "the liturgy is the privileged setting in which God speaks to us in the midst of our lives; he speaks today to his people, who hear and respond. Every liturgical action is by its very nature steeped in sacred Scripture."
Why should Catholics not only read but be literate in the Bible?
The short answer, as Pope Benedict put it, is because "the word of God is at the basis of all authentic Christian spirituality." To live out our lives as Catholics, we need to know who we are and where we come from. Understanding the history of salvation and the content of our faith enables us to begin to realize that this story is not over; it is part of our own lives.
Another good reason is so that we can hear from God. As St. Augustine puts it: "Your prayer is the word you speak to God. When you read the Bible, God speaks to you."
Growing up as a Protestant, I always thought that the Bible was our thing; the Catholics had all the answers laid out for them in their catechism. All they had to do was follow what their bishops and popes had to say. The irony is that what the Catholic bishops of the world have called for in their recent synod on the subject is "a new season of greater love for sacred Scripture on the part of every member of the People of God, so that their prayerful and faith-filled reading of the Bible will, with time, deepen their personal relationship with Jesus."
Why is reading the Bible a good Lenten devotion?
Lent is a time set aside in the year for us to pay special attention to our relationship with Our Lord. We need to grow in our spiritual lives through the traditional disciplines of prayer, fasting, and almsgiving. There are lots of options for us to choose from. But getting to know the Bible better should be near the top of our list. The Church has been insistent on "the need for a prayerful approach to the sacred text as a fundamental element in the spiritual life of every believer." (Verbum Domini 86)
Lent is also a good time to form new habits. A few years ago, Pope Francis challenged Catholics to keep a pocket-Bible and return again and again to it throughout the day. He wondered what it would be like if we treated a pocket Bible like most of us treat our cell phones: if we turned back for it when we forget it and opened it often throughout the day, basically treating the message of God contained in the Bible with the same kind of importance we give to the messages on our phones. He explained that, "If we always carried God's Word in our hearts, no temptation would distance us from the Father, and no obstacle would take us off the path towards good." That can be a daunting challenge for many people. Genesis to Jesus is a good place to start. It will help get you oriented with a bird's eye view of the whole sweep of sacred scripture. And it will get you opening your Bible and reading.
Where can people find out more about Genesis to Jesus?
Genesis to Jesus is available through the St. Paul Center. I highly encourage anyone who is interested in this study to watch it for free during Lent. You can sign up online at StPaulCenter.com. I pray that it's an occasion for many graces for everyone who watches and that everyone who participates will come to see the Father's deep love for them.
(Genesis to Jesus is available for free here.)