Memo from young Knights: 'Ask Me About My Haircut'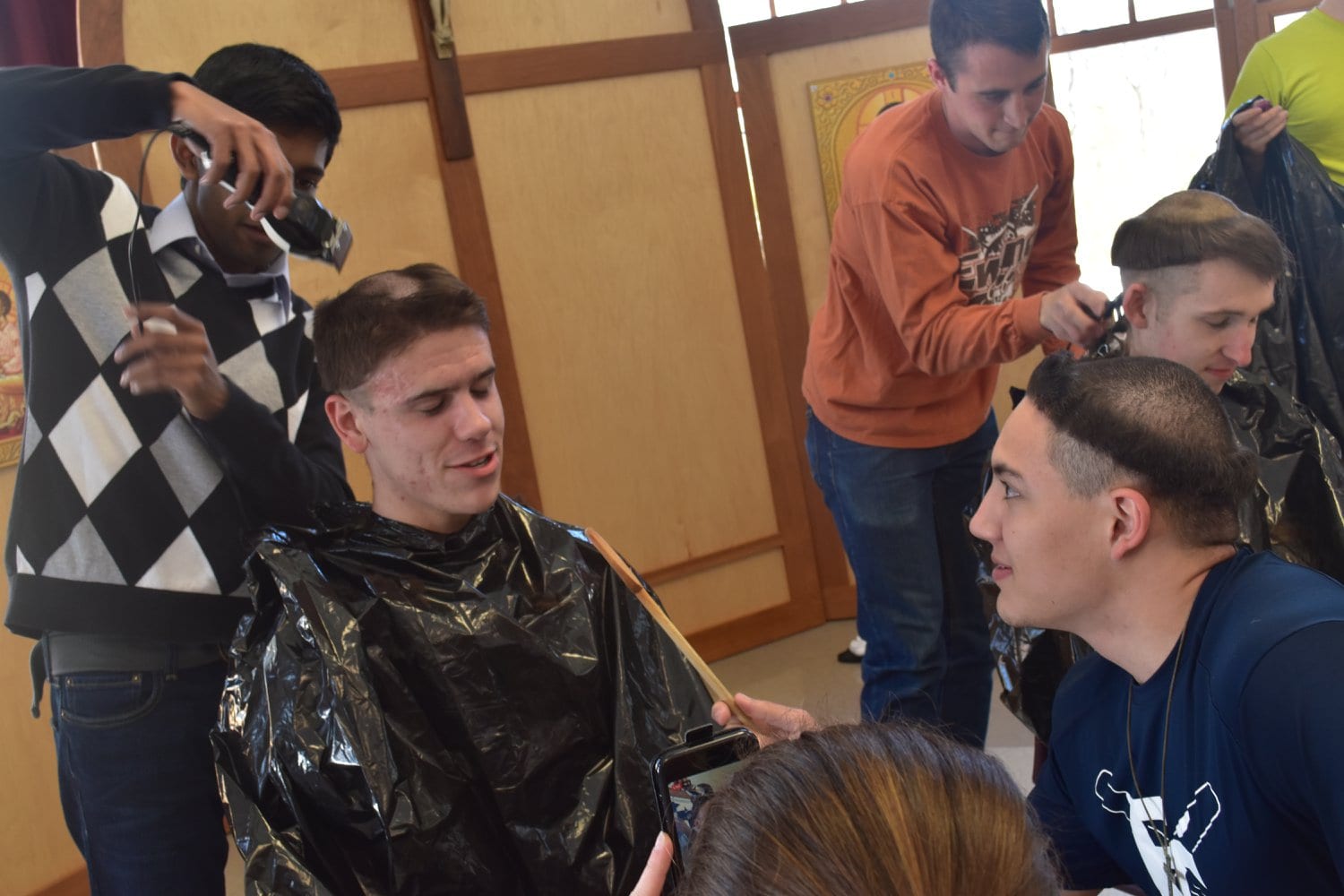 BLACKSBURG, Virginia — It's not a bad hair-day. It's charity.
Members of the Knights of Columbus from John Cardinal Newman Council 11323 are walking around Virginia Tech's campus with tonsured haircuts: in the style of medieval monks. The crown of the head is shaved, leaving a ring of hair around the head.
(The Knight of Columbus are a principal sponsor of Crux.)
The students are raising money for several K of C initiatives, including relief for persecuted Christians, the Valley Women's Clinic, a pregnancy resource center near campus, and KOVAR, which assists those with intellectual disabilities in Virginia.
Michael Mirabile, a senior studying aerospace engineering, was among the Knights who thought of the unique fundraiser back when he was a sophomore. He and his brother Knights were searching for a new way to raise funds.
Tonsuring was a spur of the moment thought, said Mirabile, recalling that it felt like a good fit for their council's aspirations.
"It was not only a way to raise money, but as a way to grow in humility too," he said. "We thought it would better our faith while being able to fundraise."
The Tonsure Drive became the council's largest fundraising effort. In the first year, the Newman Council raised $1,500 after a handful of Knights tonsured their hair. The next year, Mirabile and other Knights made a more organized effort and raised around $2,500, with roughly 20 Knights participating.
This Lent, the council aims to raise $5,000 and will tonsure a Knight for every $200 raised.
Of course, the unusual hairstyle draws a lot of attention, especially on the college campus. At one point, some students thought the tonsure part of a hazing ritual. And why wouldn't they? Tonsures were initially associated with slaves in ancient Rome, and some monks adopted it to show they were "slaves" to Christ.
This year, the Virginia Tech Knights plan to wear shirts that read "Ask Me About My Haircut."
"A lot of people would come up to you and ask what it is," Mirabile said. "Once you tell them, they think that it's a pretty cool thing that you're doing."
The Knights decided to adopt the tonsure on Palm Sunday as a humbling experience for Holy Week.
"It puts you in a place like, if this is what I'm going through can you imagine what Jesus had to go through with all of his pain," he said.
The Virginia Tech council hopes to work with other college councils in the future and have a competition to find out who can raise the most funds. Last year, the Knights of Columbus worldwide donated $185 million to charity and volunteered more than 70 million hours.