Trusting In Christ Through Crisis: A Parish Leader's Rosary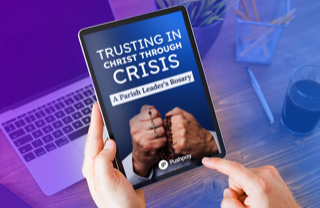 Imagine turning on the news to learn that your church is in the path of a major tornado, or getting a phone call that your parish finances have been mishandled and the next year will be a long and hard financial road. You have little information to go off of, and everyone is depending on you to make the right calls … fast! You feel ill-equipped to make decisions and a million thoughts are running through your mind. You suddenly feel alone with an overwhelming task in front of you.
Your community may be relying on your leadership through these crises, but no one expects you to do it alone. As a pastor, you'll have to lean on your team and delegate tasks to get you through those hardships so that you can begin to turn things around for your community.
Who Should Make Up Your Crisis Management Team
Every parish has unique needs and will need a specialized leadership team to respond and manage a crisis. Your team won't need every ministry leader involved—it's important to keep your team small to ensure that decisions can be made quickly and efficiently. Here's a few other tips as you choose members to lead your parish through crisis:
Choose an individual to manage the team and set the priorities for each day while you're in crisis mode.
Recruit a strong communicator who will stay in touch with your community and be able to handle questions and concerns under pressure.
Assign someone who can document, evaluate, and recommend priorities that would likely shift daily.
Select an operational or logistics leader who can help you create a safety plan, assess initial damage, manage a tactical team of volunteers, and help you return to normal operations.
Choose a financial expert to start an emergency fund and manage spending and risks while you're in crisis.
Continue to be Christ to your community and provide spiritual guidance to those in need of it. It's a gift that no other organization or business can provide, especially in a global crisis like we witnessed with the COVID-19 pandemic.
Faith and Resources To Equip Your Team
St. Padre Pio, known for his devotion to the rosary, once said, "In times of darkness, holding the rosary is like holding our Blessed Mother's hand." Living in trust and faith, knowing that you don't have any control in a crisis, is difficult. And admitting that you're powerless in that situation requires great faith in God.
To support parish leaders in bringing teams together and preparing for the inevitable, Pushpay created a unique rosary-centered ebook that includes prayers and meditations of hope in Christ, focused on the Glorious Mysteries of the rosary. It also includes practical action tips to help you create a crisis management plan and lead your parish through the good and the bad with the help of the Blessed Mother's intercessions. The more physically and spiritually prepared you are, the better equipped you'll be to pastor, care, and love your community.
Communication, funding, and organization are also crucial elements of a crisis management plan. Your parish will need to have a secure church tech system in place to help you stay connected, engaged, and empowered to nurture generosity in your community. Pushpay's leading ParishStaq suite helps parishes and (arch)dioceses manage, donate, engage, and ensure the success of their mission—all under one roof. There's no one better to talk to about church tech than our Pushpay team members, who understand the unique needs of parish work. Schedule a chat with one of our experts now.