Barron defends US request for Vatican-backed McCarrick probe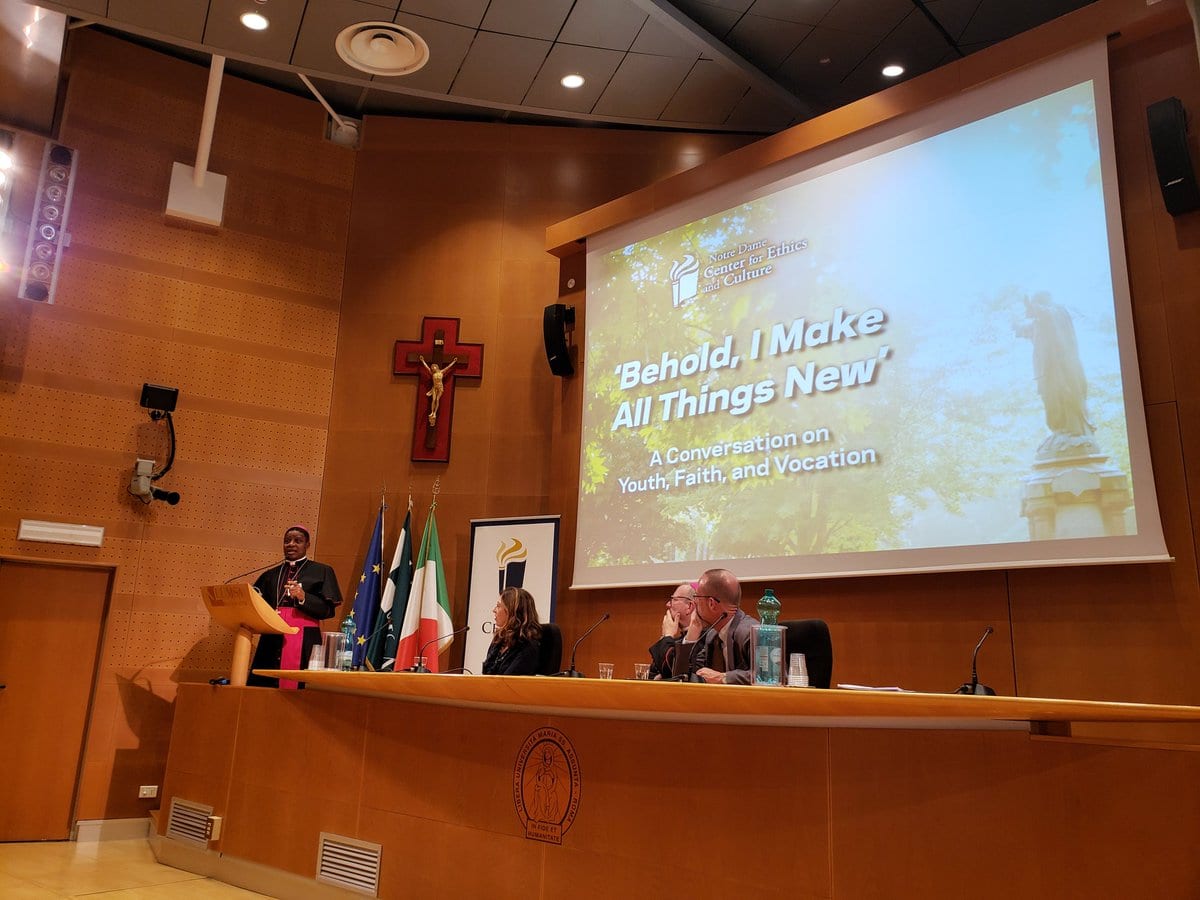 ROME — Bishop Robert Barron defended the U.S. bishops' request for a Vatican-backed investigation into ex-Cardinal Theodore McCarrick's history of sexual abuse on Thursday, saying that "it was an expression of what the bishops in this country felt was the right thing to do," while also showing deference to the pope's decision not to green-light it.
"We asked the pope specifically to launch an investigative process," said Barron, who is part of the administrative committee of the United States Conference of Catholics Bishops (USCCB). "I think we just gave voice to our convictions."
The request for what is known as an Apostolic Visitation was announced on August 16 by USCCB President Cardinal Daniel DiNardo, in an effort to understand how McCarrick rose through the ranks of Church leadership while also serially abusing seminarians and at least one minor.
On September 13, a delegation from the USCCB had a meeting with Pope Francis in which he chose not to sign off on a Vatican-led investigation, prompting the U.S. bishops to begin making their own plans for an investigation coordinated between the four dioceses in which McCarrick was in ministry.
RELATED: Bishops to investigate 4 dioceses after Pope nixes Vatican McCarrick probe
Barron showed understanding for the decision.
"The pope does, indeed, have a wider, more international perspective. I get all of that and we shouldn't see the Church fully from an American standpoint…that's his call finally," Barron admitted.
Barron's remarks came during a panel discussion organized by the University of Notre Dame's Center for Ethics and Culture during the October Synod on Young People, Faith, and Vocational Discernment, where he is one of the six bishops from the United States participating in the Synod.
Also contributing to the event were the Diocese of Orange in California and Crux.
Following the first full day of synod discussions, Barron joined Bishop Godfrey Igwebuike Onah of Nsukka, Nigeria, and seven young people from around the globe for a conversation on the synod's themes.
Onah, who has been a past delegate to previous synods, said the presence of young people in the synod hall offered real energy and excitement. While the day's events were mainly driven by speeches given by bishops, he insisted that the main duty of the synod delegates is to listen.
"We are committed to listening in order to see as much as we can positive things to encourage not just young people, but the entire Church…in our right relationship with God," he said.
Barron concurred, saying that the synod organizers "really are trying to loosen things up a bit" and "the fact that young people will be involved in the discussion groups, the fact that young people are going to speak during the synod…all those are steps in the right direction."
In that same spirit, representatives from Bermuda, China, Ireland, Italy, Uganda, the United States of America, and Uruguay all shared their own faith journeys marked by both joy and difficulties.
Wenxuan Yuan from Beijing, China, spoke of becoming Catholic at age 14 and, while initially having a reserved posture, she eventually came to integrate herself into parish life and through the help of St. Therese, came to better love and care for other individuals.
Attorney and doctorate student Edoardo Mazzantini of Florence, Italy spoke of the daring decision he and his wife made to marry young — unsure of how they would be able to manage their finances, work responsibilities, and a new marriage, but with the encouragement of a close priest, found the support they needed.
Another participant, Rafaella Mary Ní Seanlaíoch of Ireland, spoke of getting sick at age 13 to the point of being unable to walk, and how the deep faith of her family helped sustain her.
Barron remarked that after hearing the young people's stories, he was amazed at how they all seemed to follow the "classic paths" of the good, the true, and the beautiful and said that the Church "shouldn't lose confidence in that."
Onah added that it was especially important to him that priests and bishops not think the chasm between themselves and young people is too great.
"We are civilians, later as priests and bishops, we are wrongly made to believe we are different. We are not," he insisted. "We are struggling with the same emotions, the same passions, and rejoicing over the little achievements we make on our road to holiness as you do."
He went on to add that if Church leaders had such a realization earlier, then he believes the Church would not be facing the scandals it has faced in recent years.
Onah also said he believes Francis is a good reminder of this, noting that his interactions in the synod hall suggest "a bishop among other bishops," and that his "disarming simplicity" allows for a more honest, frank discussion about the challenges facing the Church.
As the evening drew to a close, Onah encouraged those on hand not to lose faith because of the present "wounds of the Church" but to remember that wounds are a symbol of healing.
"We notice the shadows because there is light. If there was no light at all in our soul, we would not notice the shadows at all," he insisted.
"Let us not be overwhelmed by the shadows, but may that light eventually make the shadows disappear," he said.