Skullcap worn by Pope Francis up for on-line auction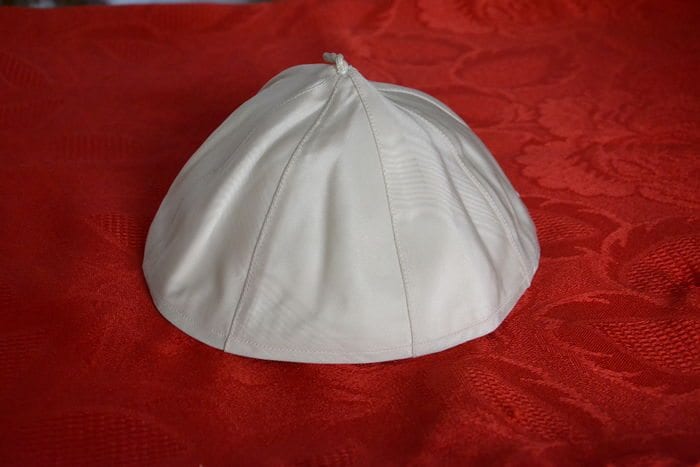 A skullcap, or zucchetto, worn by Pope Francis in 2014 is currently up for sale by Europe's fastest-growing online auction house Catawiki, which expects to net around $35,000 and to donate a "large part" of the proceeds to a children's charity.
Swapping zucchettos with a pope, which is how this one was obtained, is a time-honored Catholic custom.
Generally, visiting clergy or pilgrims visit the papal tailor shop in Rome, Gammarelli's, and purchase a new zucchetto, then wait for a chance at a general audience or other papal event to invite the pope to make the exchange.
In this case, an Italian man was attending one of Francis' audiences in June 2014 when he waved a zucchetto at the pope. Francis had the popemobile stop and made the switch, while the man captured the moment on his smartphone.
Footage shows Francis carefully the new skullcap before donning it, which can still be seen on Youtube.
The zucchetto was eventually presented to Catawiki for auction, with the idea that most proceeds will go to "Save a Child's Heart," a humanitarian group based in Tel Aviv, Israel, with the mission of improving the quality of pediatric care for children from developing countries who suffer from heart disease.
As part of the deal, Catawiki has agreed to waive its usual commission fees.
"It is extremely rare that a religious symbol of this magnitude goes up for auction," said Federik Jamees, who specializes in devotional items for Catawiki.
"The pope's clothing is made especially for him, and after his death the articles automatically become relics, meaning that they are no longer allowed to be sold," he said. "This auction is a unique opportunity for museums, collectors and devout Catholics to acquire 'a relic in the making' and also to help others by donating money to Save a Child's Heart."
"Given the Pope's following," he said, "we expect to see an influx of bids from across the globe."
As of Tuesday, the high bid on the Catawiki site for the papal zucchetto was just over $20,000, with 12 days left to run in the auction.
Though perhaps rare, offering a papal zucchetto for sale on-line is not unprecedented.
In 2014, an Italian TV program put a zucchetto from Francis up for sale on e-bay, vowing to use the proceeds for a hospital in Congo that specializes in care of women and children as part of a fight against infant mortality.
In that case, the bids reached almost $100,000 before the sale was closed.