Francis says the violence of Auschwitz is ongoing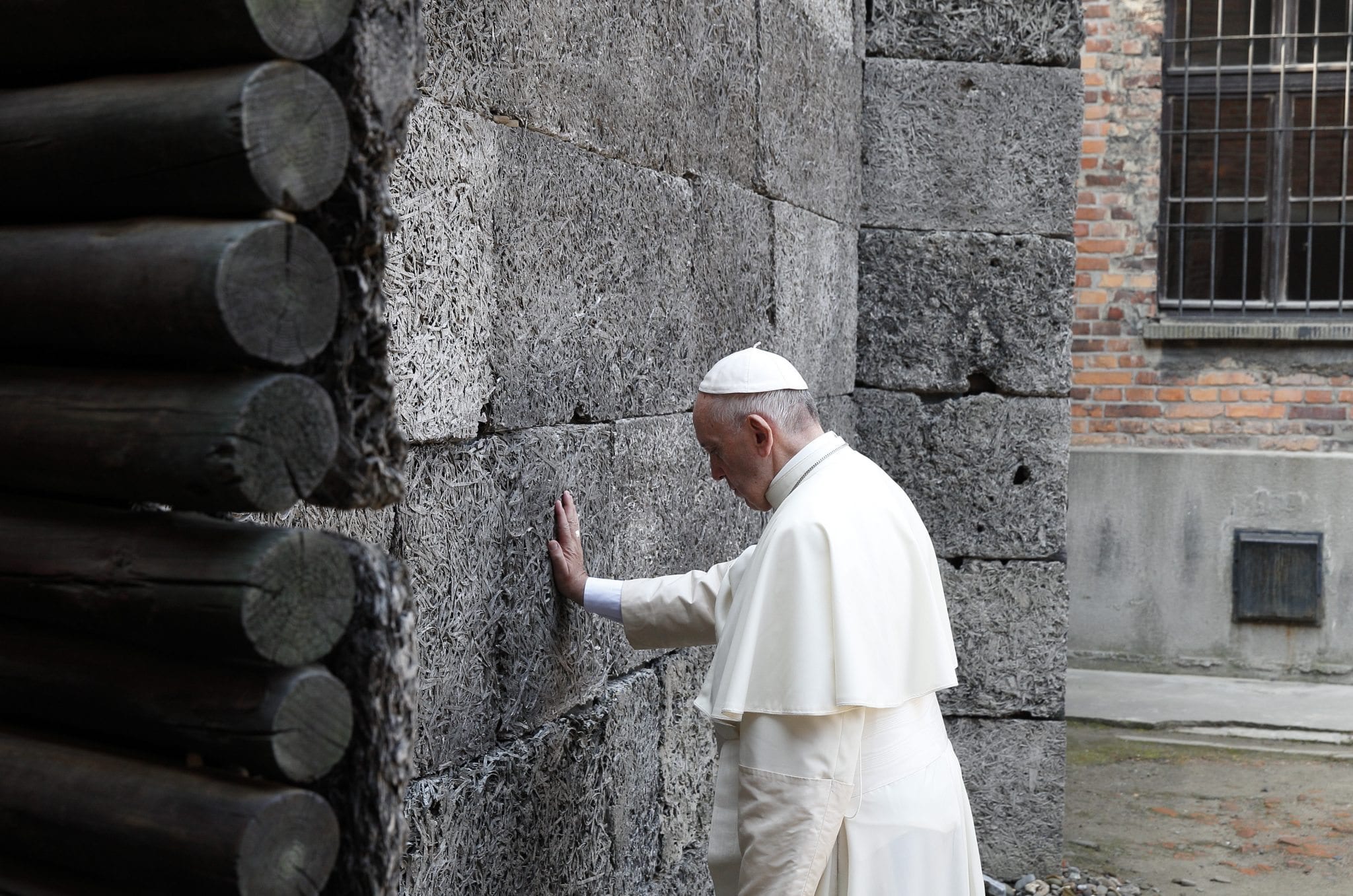 Speaking about his silent visit to the death camps of Auschwitz and Birkenau during his recent visit to Poland, Pope Francis on Wednesday once again decried that the violence which existed there is still going strong today.
"Looking at the cruelty of the concentration camp, I thought about today's cruelty, which is similar; not as concentrated in that place, but around the world," Francis said.
"This world that is sick of cruelty, violence and suffering. And for this reason, I always ask for prayers so that the Lord may give us peace," he added.
Francis' comments came during his weekly general audience, which returned this Wednesday after he suspended them during the month of July for vacation.
The pope visited Auschwitz and Birkenau last Friday, as part of his July 27-31 visit to the land of St. Pope John Paul II. Francis visited Krakow to participate in the week-long Catholic festival World Youth Day.
During Wednesday's audience, he spoke about his visit to Poland, saying that the young have the answer to the challenge of today and that they represent a sign of hope.
"They gave a sign of hope, and this sign is called brotherhood. Because in this world at war it takes fraternity, dialogue, friendship," Francis said.
The pontiff defined World Youth Day as a festival of colors, different faces, languages, and stories: "A fraternal mosaic," calling the image of flags from countries at war flying together at the main events the emblematic image of these encounters.
During Sunday's closing Mass, for instance, the flags of Israel and Palestine could be seen together.
Towards the end of his remarks, Francis spoke of his visit to the Nazi extermination camp, saying that his silence during that visit was more eloquent than any words.
"In that silence I listened, I felt the presence of all the souls who have passed through this place. I felt the compassion and mercy of God that some holy souls were able to bring into that abyss," the pontiff told the thousands that packed the Paul VI hall, the place within Vatican grounds where the audiences are held during August, in an attempt to fight Rome's summer heat.
In Auschwitz, Francis said, he realized more than ever the value of memory as a "warning and responsibility" for today and tomorrow, so that "the seed of hatred and violence doesn't take root in the furrows of history."
As he said on Friday, when he greeted the pilgrims who had gathered under the window of the residence where he lived during his visit to Krakow, Francis then said that there are many men and women today who suffer wars: "They are our brothers and sisters."
On that occasion, he had decried that the cruelty of Auschwitz and Birkenau hasn't ended, because even today many people are tortured.
"Many prisoners," he continued in Italian, "are tortured immediately, in order to get them to talk. It's terrible! Today there are men and women in overcrowded prisons. They live- forgive me- like animals. This cruelty is there today."