In Lenten message, pope evokes end-times to describe 'great tribulation'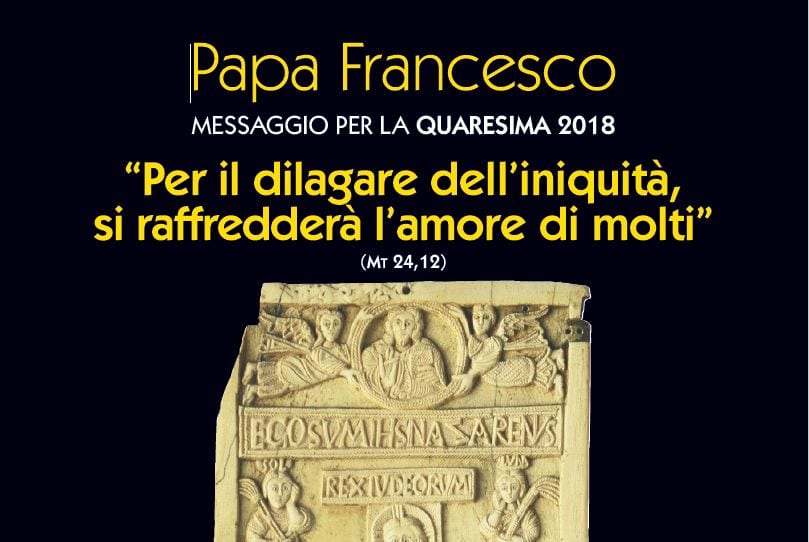 ROME – Describing a world marked by signs of "the end of time," including false prophets and cold hearts, Pope Francis on Tuesday urged Catholics to use Lent to counteract this "great tribulation" through prayer, almsgiving and fasting.
In his annual message for Lent, released by the Vatican on Tuesday, Francis quoted a line from Christ in the Gospel of Matthew: "Because of the increase of iniquity, the love of many will grow cold."
Those words, the pope said, come as Jesus is describing the end-times, in which "false prophets would lead people astray, and the love that is the core of the Gospel would grow cold in the hearts of many."
Those false prophets, Francis said, come either in the form of "snake charmers," "who manipulate human emotions in order to enslave others and lead them where they would have them go," or "charlatans," "who offer easy and immediate solutions to suffering that soon prove utterly useless."
In either case, he said, the false prophets lead people to mistake false sources of happiness for real ones – which, he said, is a strategy typical of the devil.
"In order to confound the human heart, the devil, who is 'a liar and the father of lies,' has always presented evil as good, falsehood as truth," the pope said.
"How many of God's children are mesmerized by momentary pleasures, mistaking them for true happiness!" he said. "How many men and women live entranced by the dream of wealth, which only makes them slaves to profit and petty interests!"
"How many young people are taken in by the panacea of drugs, of disposable relationships, of easy but dishonest gains! How many more are ensnared in a thoroughly "virtual" existence, in which relationships appear quick and straightforward, only to prove meaningless!" the pope said.
In addition to deceit, Francis said hearts grown cold to the practice of charity are also a sign of the great tribulation.
"In his description of hell, Dante Alighieri pictures the devil seated on a throne of ice in frozen and loveless isolation," he said.
The pope said lust for wealth is the usual form a cold heart takes.
"More than anything else, what destroys charity is greed for money, 'the root of all evil'," he said.
"All this leads to violence against anyone we think is a threat to our own 'certainties': the unborn child, the elderly and infirm, the migrant, the alien among us, or our neighbor who does not live up to our expectations," he said.
The consequences of a cold heart, Francis said, extend to both the earth and to violence.
"The earth is poisoned by refuse, discarded out of carelessness or for self-interest," he said. "The seas, themselves polluted, engulf the remains of countless shipwrecked victims of forced migration. The heavens, which in God's plan, were created to sing his praises, are rent by engines raining down implements of death."
In response, Francis extolled the merits of prayer, giving alms and fasting.
"I would also hope that, even in our daily encounters with those who beg for our assistance, we would see such requests as coming from God himself," he said. "When we give alms, we share in God's providential care for each of his children."
"Fasting wakes us up," the pope said. "It makes us more attentive to God and our neighbor. It revives our desire to obey God, who alone is capable of satisfying our hunger."
Pope Francis also recommended the "24 Hours for the Lord" initiative, in which at least one church is open for 24 consecutive hours in each diocese around the world for both Eucharistic adoration and sacramental confession.
Cardinal Peter Turkson, who heads the Vatican's Dicastery for Promoting Integral Human Development, described the message as "prophetic" in a Vatican news conference on Tuesday morning.
Responding to a question about the pope's references to violence in the message, Turkson said during the news conference that his office is trying to promote a broader vision of non-violence.
"I'd say, step by step, non-violence has to be more than rhetoric against war and physical violence, but a project of promoting the dignity of the person," he said.
"When a person doesn't have enough to eat, that's a form of violence. Where there's exclusion and inequality in a city, that's a form of violence. When there's not respect for the dignity of the person, that's violence," he said.
Lent this year begins on Feb. 14 and runs through March 29, Holy Thursday. Easter in 2018 falls on April 1.