Pope Francis tells seminarians fear is one of the great obstacles to ministry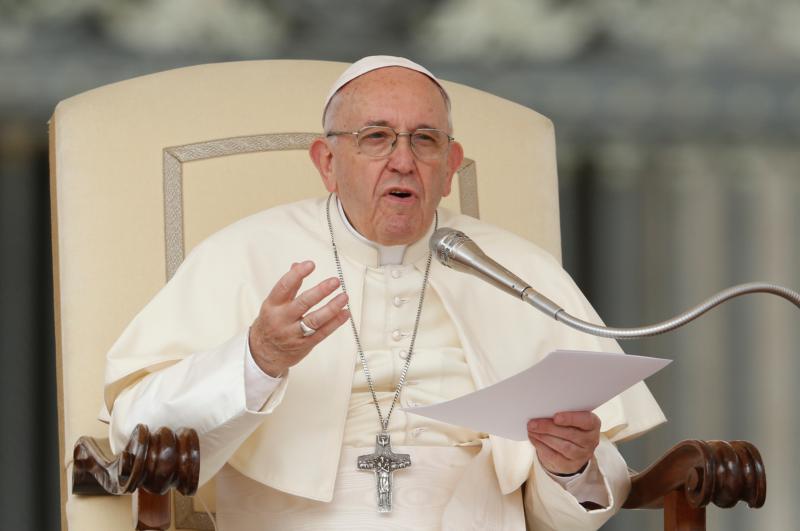 Pope Francis told English seminarians to overcome fear with "love, prayer and a good sense of humor."
He was speaking on Saturday to students and staff of the Venerable English College, the seminary in Rome for future priests serving the Church in England and Wales.
The college was founded in Rome in 1579, and over 40 of its alumni were martyred during the persecution of the Catholic Church at the time of the English Reformation.
"It is good to see young people preparing to make a firm and life-long commitment to the Lord. But this is harder for you than it was for me, because of today's culture of the temporary.  To overcome this challenge, and to help you make an authentic promise to God, it is vital, in these years in seminary, to nurture your interior life, learning to close the door of your inner cell from within," Francis told the seminarians.
The pope said missionary discipleship is never offered in isolation, but always in cooperation with other priests, religious and lay men and women.
He told the seminarians that since "at times, loving our neighbor is difficult," their ministry needs to be firmly grounded in God.
"This inner strength – this fidelity of love – characterized the lives of your college martyrs, and it is essential for us who seek to follow Jesus, who calls us in our poverty to serve his majesty, and who reveals his majesty in the midst of the poor," the pontiff said.
He said fear is a considerable obstacle to the Christian life, but it can be overcome with "love, prayer, and a good sense of humor."
"So, I hope you will not be afraid of difficulties and trials, and the continuous battle against sin.  I also encourage you not to be afraid of yourselves," Francis said.
"By following the example of your heavenly patron, Saint Thomas of Canterbury, who did not allow his past sinfulness or human limitations to stop him from serving God to the very end, not only will you be able to overcome your own fear, you will also help others overcome theirs."