Is French leader's pope visit a homecoming for Church's eldest daughter?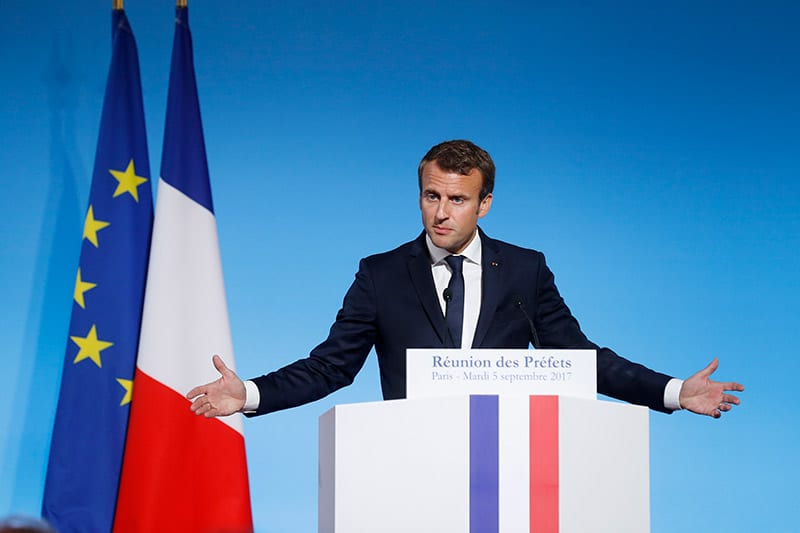 ROME – For centuries the Catholic Church has held a special place for France, latching on to its rising stars from Charlemagne to Napoleon III. Even as religious heads rolled from the guillotine in Paris, pontiffs never really abandoned the dream that the prodigal daughter of the Church might return.
As French President Emmanuel Macron makes his way to the Vatican to meet with Pope Francis on Tuesday, a first for the newly elected leader, the question hanging in the air is: Has the eldest daughter of the Church returned?
The well-tailored and fresh-faced Macron is a man who in his homeland has been credited with an "agnostic" if not "transcendent" religious inclination, open not only to dialogue with the somewhat disenfranchised Catholics of his country but also able to speak their language.
At the age of 12, the future head of the French state asked to be baptized, provoking what he called a "deep spiritual awakening" before he then decided to move away from Catholicism. He met his Catholic wife, Brigitte Macron, at the Jesuit La Provence school.
All considered, Macron fits the profile to make a perfect match with Francis, given his understanding of laicité, his Jesuit upbringing and his focus on dialogue. Yet behind the approachable exterior – not unlike the Argentine pope – lies a shrewd political thinker, conscious of the delicate balance not only shaking France but Europe as a whole.
Polls show that Macron was not a favorite for the Catholic vote during the elections in April of last year. That spot belonged to François Fillon, an adamantly devout politician credited with rallying the dormant Catholic vote in France, the same one that came out en masse to rally against abortion and then a same-sex ruling in 2013, also known as France's zombie Catholics.
After Fillon was disgraced due to a financial scandal regarding his immediate family, Macron resulted victorious in the elections. Yet beyond snatching the political vacuum left by Fillon, the European system seems in flux, hungry for a leader in the context of rising populism and nationalist tendencies.
After his election, Macron made a symbolic visit to the medieval Saint-Denise Basilica in Paris, home to the kings of France. He has called Joan of Arc a "symbol of hope," recognized the French Father Jacques Hamel, slain by ISIS sympathizers in 2016, as a "martyr," and paid tribute to lieutenant and Catholic convert Arnaud Jean-Georges Beltrame, who exchanged places with a hostage during a terrorist attack in Trèbes, France.
Macron has proven he's open for dialogue with the Church, especially concerning inclusivity and the environment, but as he prepares to tackle the burning question of immigration, a pit stop in the Vatican marks a fundamental milestone for the man who might be, or at least hopes to be, the new face of Europe.
Francis and Macron: Masters of Dialogue Meet
While some critics have argued that the French concept of laïcité — a phrase describing the separation between religion and matters of the state — has at times squeezed the Church out of public life, both Paris's Archbishop Michel Aupetit, and Bishop Antoine de Romanet, head of the diocese of the French Armed Forces, have told Crux that they believe Macron possesses the "right vision" of it.
In April, Macron sparked headlines when he became the first sitting French president to accept an invitation to address the country's bishops at the Collège des Bernardins in Paris.
In a closely watched address, Macron encouraged a robust participation of Catholic leaders in public life, saying that they must always be willing to ask questions and raise concerns — but without the expectation that they will always get their desired outcome.
His words came at a time in which Church leaders are closely monitoring the Macron government's efforts to pass new bioethics legislation that would grant single women and lesbians the right to use in-vitro fertilization, something the Church expects will pass, though they are anxious that this could be the first step toward the legalization of surrogate motherhood.
Despite those differences, Macron has frequently engaged Church leaders on bioethical matters, including hosting a dinner at the Élysée Palace, the official residence of the President of France, to discuss end of life issues, particularly euthanasia, in which he invited Church leaders to participate.
"A president of the French republic who takes no interest in the Church and its Catholics would be failing in his duty," he told the bishops in April — adding, "There is nothing more urgent today than increasing the mutual knowledge of peoples, cultures, religions; there is no other way for this than speaking face-to-face, but also through books, by sharing the work."
That penchant for dialogue draws striking parallels to another closely monitored address in France two years ago in Strasbourg, when Francis addressed the European Parliament in April 2016 and called for a "new humanism" that he said could only be made possible through dialogue.
"The soul of Europe is, in fact, greater than the present borders of the union, and is called to become a model of new syntheses and of dialogue," Francis said. "The true face of Europe is seen not in confrontation, but in the richness of its various cultures and the beauty of its commitment to openness."
Macron has not only proven he can dialogue with the Church in France, but he's also shown that even when it comes to the global political playing field he's a force to be reckoned with. Macron proved even in his meeting with U.S. President Donald Trump that he's capable of building relationships even with those who posture as tough negotiators. Watching the body language at the Trump/Macron summit, with its long handshakes and masculine stances, was a sight to behold.
All the nudging and prodding was not enough to move the pendulum on the Paris agreements addressing carbon emissions, but it nevertheless left a mark in terms of Macron taking center stage in Europe.
Immigrants, between friction and encounter
Macron's visit will take place in a tense political situation. The French president has been butting heads with the new Italian government, and especially its de facto leader Matteo Salvini, head of the populist and anti-immigrant party Northern League.
The friction stems over Aquarius, referring to a ship carrying over 600 immigrants stranded between the territorial waters of Italy and Malta earlier this month. The case in point became the pretense for a debate on immigrant responsibilities in Europe and overturned Italy's position in negotiating the Dublin agreement, which regulates the division of responsibilities regarding immigration among European member states.
Macron will not be visiting any representative of the Italian government, especially after his comments condemning the "leprosy" of populism in the EU. In fact, and perhaps even more telling, the French president will be paying a visit to the Community of Sant'Egidio, a Catholic movement heavily involved, among other causes, with promoting safe pathways for asylum seekers looking for refuge in Europe. (It was the Community of Sant'Egidio, for instance, that helped settle the Syrian refugees Francis brought back to Rome with him after an April 2016 trip to the Greek island of Lesbos.)
Yet despite his rhetoric, Macron – just like his colleague German Chancellor Angela Merkel – knows very well that a pro-immigrant stance in today's Europe is political suicide.
A new immigration law passed by the French National Assembly issued some restrictive measures against asylum seekers and doubled prison sentences for immigrants wanting to come into France illegally.
Before meeting with European leaders for an important migration policy summit June 28-29, Macron will also stop by the Lateran Basilica in Rome, historically tied to the French monarchs, where he will take up his title as an honorary proto-canon.
While Macron's predecessor, Francois Hollande, opted not make the visit to the basilica, Macron's decision to do so is being viewed all the more closely as perhaps the beginning of a new era for the country's relationship with the Church and a sign that, along with a largely symbolic title, a more substantive dialogue awaits.