Empty casinos while pope's in town may make WYD a good bet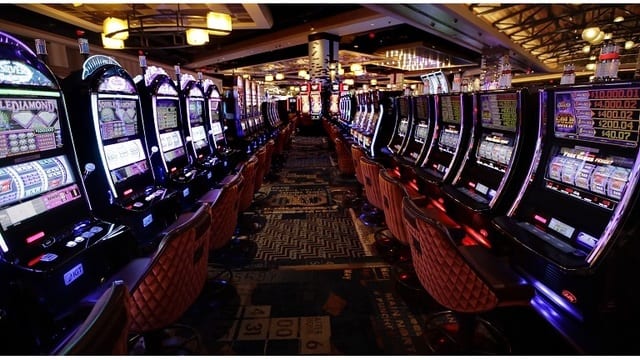 PANAMA CITY, Panama — While Panama may not be Las Vegas or Macau, the city is chock full of casinos — venues which, under ordinary circumstances, are filled with tourists playing slot machines and throwing down money in all kinds of other ways too, hoping for the big score.
This week, however, with a star visitor who's previously railed against an economy defined by "profit and material well-being alone" as one contributing to social ills that squander the resources of the future, one of Panama's biggest businesses has been brought to a standstill.
In 2015, Panama's casinos brought in an estimated $2.1 billion in profit, with that number taking a marginal dip in recent years due to new taxes, although it's still one of the country's most lucrative enterprises.
Yet during the days of World Youth Day, the Vatican-backed youth festival that has brought Pope Francis to the country, the scores of casinos throughout this Pacific Ocean-side city have emptied out.
Most major hotels are attached to a casino — including the official hotels where the Vatican press corps and the U.S. bishops are staying — but don't expect to find bishops, priests, journalists or pilgrims taking advantage of their advertised drink specials and buffets.
Speaking to Crux, one casino manager pointed out the irony that while the hotels were at full capacity, "no one seems to be interested in coming down to place bets."
At a venue on the other side of town, a group of casino workers were huddled at the front desk entertaining themselves in two separate groups: one watching a film, and the other playing a board game.
When asked about this week's business, or lack thereof, they all just laughed and pointed to the uninhabited room.
One Uber driver, when asked about the situation, said the empty casinos were a "really, really good" sign about the earnestness of the pope's hosts.
"If people were out gambling, they wouldn't be taking care of their pilgrims," he added.
In general, Catholics have a fairly relaxed view on gambling, with many churches often organizing outings to nearby casinos as official parish-sanctioned activities.
Even so, scenes such as this week in Panama offer a glimpse into the underside of papal travel, where, in some places, the city's vices are either masked or indirectly take a hit.
At a Panama café on Thursday, when a waiter told a customer that he couldn't smoke on the outdoor patio, he asked why, considering he'd been there yesterday and could freely light up.
"It's because the pope is here," the waiter replied — providing a moment of laughter from nearby journalists, who have long operated in the smoke-filled environs of the Vatican, where proximity to the pope has hardly caused a halt to smoking (and sometimes been the cause of it!)
Reflecting on past papal trips, several journalists told Crux that they recalled Francis's trip to Chile in January 2018 when a swimsuit competition took place in the lobby of the same hotel where the Vatican press corps were stationed.
Another recalled Pope John Paul's trip to the Ukraine in 2001 where the press corps were lodged at a casino. The hotel's marquee offered a special welcome to the pope, while a sign next to it advertised the stripper performing at the venue next door.
Even here in Panama, another journalist recounted being solicited by a prostitute (he declined!), who complained that business had been bad this week.
Such a scenario might not only seem intuitive and necessary — especially given the fact that Francis has previously apologized on behalf of Christians who pay for sex — yet it adds to the ways in which, for many, World Youth Day is a countercultural experience.
It's certainly distinct from other mega-events, such as Super Bowls or the major conventions for the Republican and Democratic parties, which are often known for fueling a boom in a city's vices. Even Poland has been known to suspend alcohol sales when the pope comes to town, which clearly isn't good for the vendors who normally do a robust trade.
As the estimated half a million pilgrims who have descended onto Panama over the last week begin to empty out, and inevitably, its casinos fill back up, part of the hope of World Youth Day, at least in the eyes of another Uber driver, is that "it forever changes a city and its people."
Whether that gamble — in this case, estimated at over $50 million and nearly three years of planning — pays off, well that remains an open bet.