'Gen Verde' preaches unity with a pop sound at World Youth Day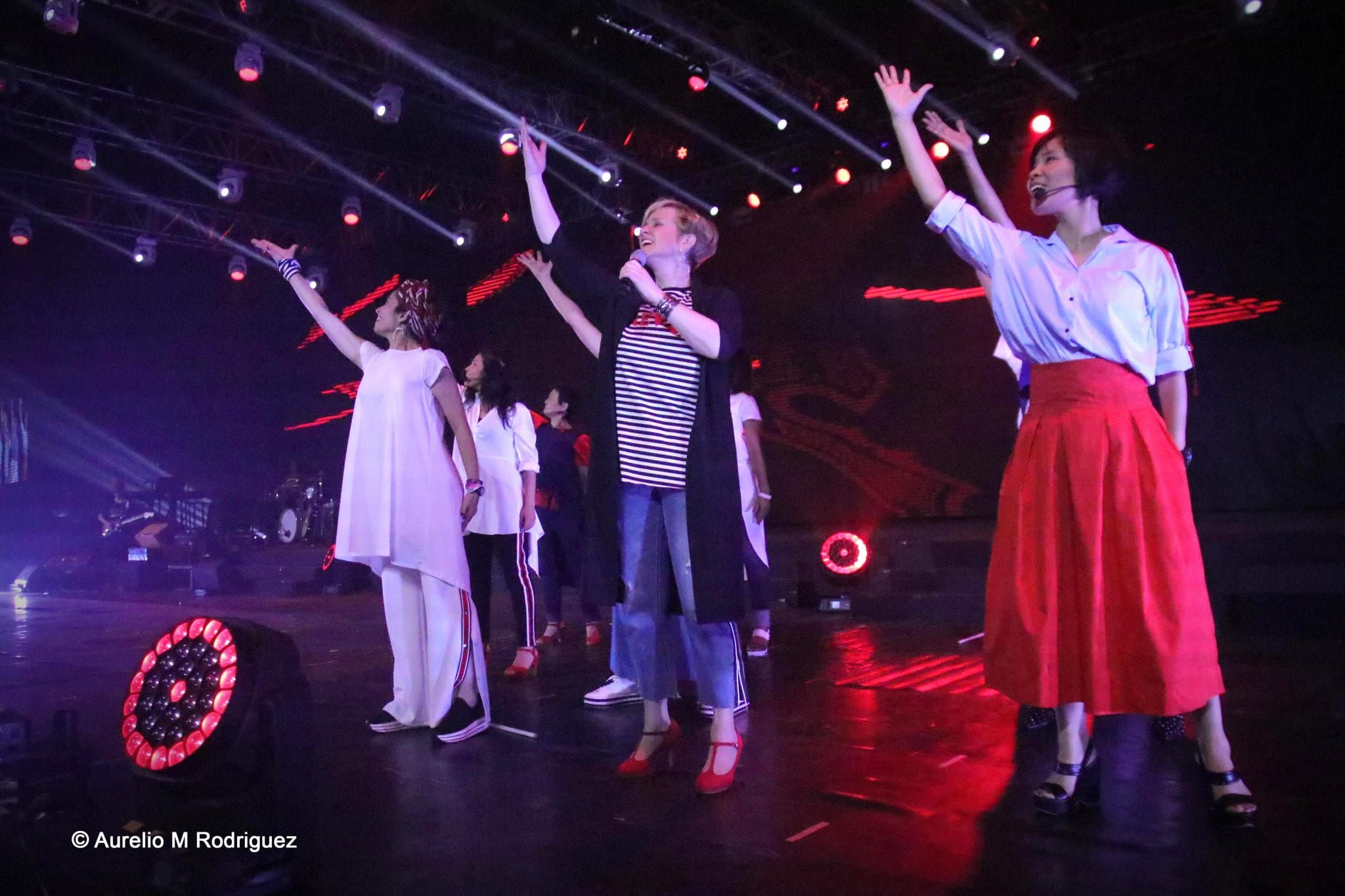 PANAMA CITY, Panama — When Pope Francis landed in Panama this week, some of his first words were aimed at building bridges and a sense of unity among nations — words that will be given voice through song on Saturday evening, as a part of the pope's vigil with young people.
For Gen Verde, a band currently made up of 22 women from 14 countries, using music to build "a global culture of peace, dialogue and unity" has been their mission since 1966. What started out as a dream and a green drum has grown into a full-blown movement of women using music to tell their stories.
Born in the small town of Loppiano in Italy, a community of the Catholic Focolare movement, Gen Verde has now traveled the world giving over 1,500 concerts. While they may have a familiar pop or rock sound, the message is often driven by their own life experiences.
On Saturday, for example, World Youth Day pilgrims — the Vatican-backed youth festival that takes place every two to three years at a new city around the globe — will hear a duet from an American and a Mexican singing about life opposite sides of the border.
In their song, "Tierra de paz — Our Common Ground," Nancy Uelmen and Adriana García sing in both English and Spanish about the complexities of the immigration debate and their shared humanity despite those complications.
"I am the wall. I am the dreamer. I am freedom. I am the agent, I'm the tears of the child who needs a home," they sing.
In an interview with Crux, Uelmen said the songs are meant to "capture our experiences, our stories, and the ways we're trying to live the gospel in our lives."
By singing about the situation at the U.S.-Mexico border where, until Friday, the federal government had been shutdown for over a month due to debates over whether to provide funding for the proposed border wall, she said their lyrics say that "we don't want that barrier between us."
"We want to find a new way," she continued. "And we want to make each other's suffering our own."
Among the other songs that World Youth Day pilgrims can expect to hear is one about newly canonized Saint Oscar Romero, Voz de la verdad ("Voice of Truth"), penned by a band member from El Salvador.
On Thursday, speaking to the bishops of Central America, Francis extolled the life of Romero, the slain archbishop of San Salvador, who was martyred while celebrating Mass in 1980, as a model for Church leaders to follow.
"Hatred was blinding the eyes of criminal hand, and your cry that day fell into the silence, your orphaned children came to the square from you, and his blood with yours like a river began to flow," are the lyrics.
"The wounds that opened then are still to be healed in brothers stripped of their families," the song continues.
Prior to World Youth Day's start on Wednesday, members of Gen Verde were in rural regions of Panama working — and singing — with young people in underprivileged areas to help them realize that their voices matter.
Throughout this week, they've performed at various parks throughout the city, all leading up to Saturday night's big event.
Uelmen told Crux that members of Gen Verde were in Saint Peter's Square when Francis first used his immortal phrase of "a culture of encounter" — a vision of both the Church and society that they hope to give expression in their music.
For Uelmen, "music is a way to express harmony on multiple levels" — beyond just the notes and lyrics they sing.
Fellow band member Sally McAllister concurs, saying that music was a means of giving expression to her experience growing up in Northern Ireland during "the Troubles," where the country was violently divided between Catholics and Protestants.
From the border wall debates to Romero to other religious divides, the music of Gen Verde will reach the main stage on Saturday night as members from South Korea, Brazil, Argentina, El Salvador, Malaysia, and elsewhere raise their voices both to echo the pope's themes of unity, encounter, and bridge building, and also to give it new forms of expression.
"Music is a privileged instrument to reach minds and hearts in a way that transcends the old barriers that often immediately spring up when you're having conversations," she said. "Music is able to enter the heart through another way."