Prayer and work: A monk's secrets for prized bread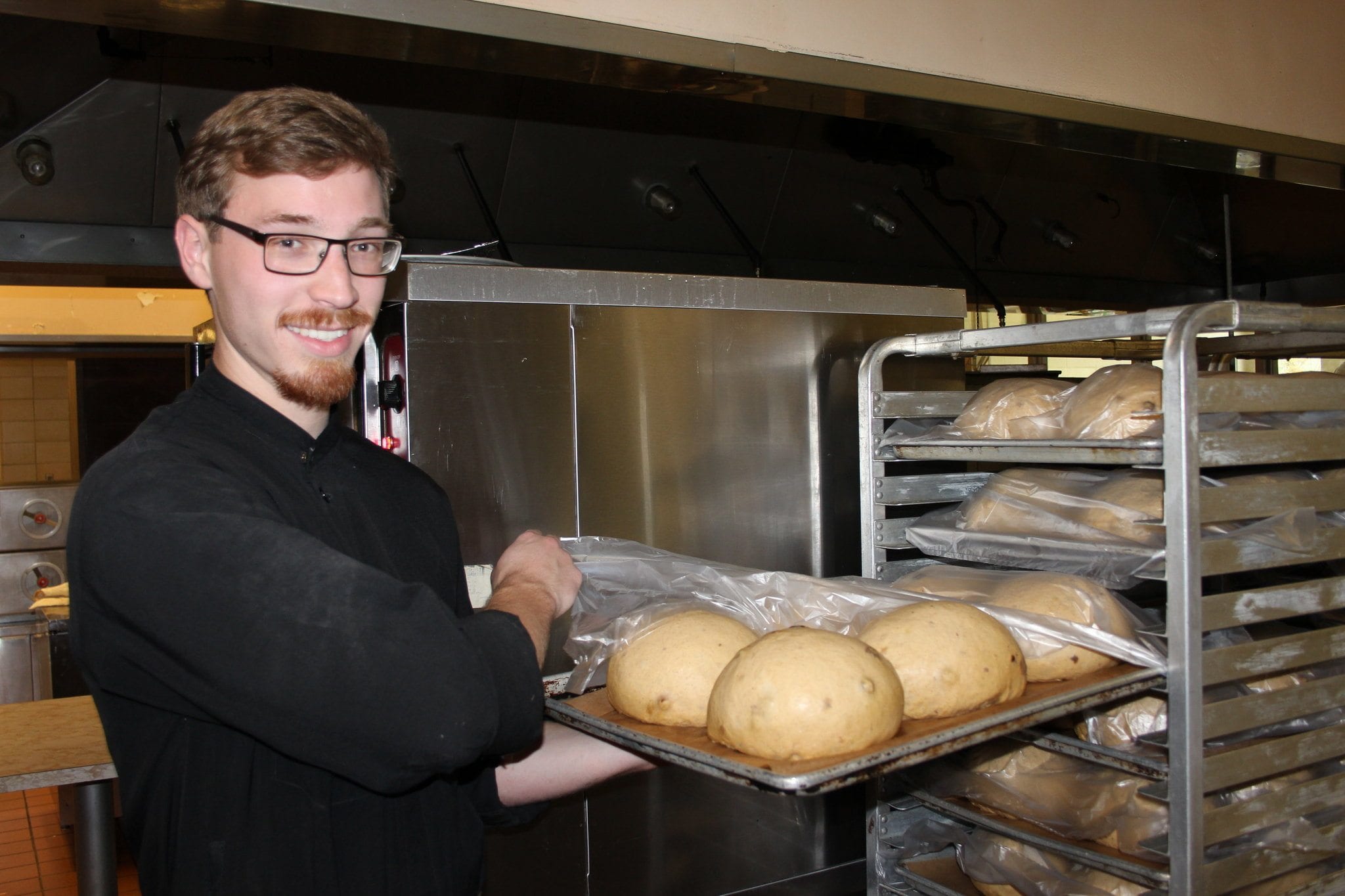 CULLMAN, Ala. (AP) — Catholicism is sensual. It's a religion that engages the senses to bring mankind closer to the Divine.
Taste is, of course, one of the senses — one of the ways people have been equipped to experience and apprehend creation. And if tasting offers any pathway to faith, the bread baked on the grounds of St. Bernard Abbey by Brother Pachomius Alvarado, O.S.B. just might make a believer out of you.
Alvarado is a man who takes his kitchen time at St. Bernard seriously — so seriously, in fact, that he prays over every batch of bread he makes. A monk's prayer, he jokes, is the "secret ingredient" in a recipe that, no matter how many times it's duplicated, can never be fully imitated.
The classic cinnamon raisin Monk's bread that Alvarado bakes has been around at St. Bernard much longer than he has. The 38-year-old Cuban émigré never knew baking, or monasticism, or even English, before he ended up at St. Bernard.
Now he knows all that and more. Wielding an impressive command of English (to repeatedly apologize for not knowing the language better), Alvarado busies himself with his assigned role at St. Bernard: bake the bread.
When he became a monk, baking was not in Alvarado's heart: seeking God was. But that's an endeavor to encompass all others, and — once tasked with baking duties — Alvarado embraced the role with a hungry heart.
St. Bernard itself has been around almost as long as Cullman has; the monastery is celebrating its 125th anniversary this year. But Alvarado, who's only been at St. Bernard since last August, is getting so good at baking that it's beginning to create problems.
They're good problems, mind you: sating an increasing customer demand, debuting new recipes that will expand the product line, and doing it on a seasonal schedule controlled by an unforgiving calendar.
But Alvarado, nor anyone, is complaining.
"It is a blessing to do this work," he says.
Alvarado is from Cuba, a place that knows something of baking. He grew up there, was educated there, and progressed ten years into a marketing and public relations career before entering an American-led monastery in Colombia, making the decision to live by the Rule of St. Benedict.
That's where he eventually met Father Joel Martin, O.S.B., St. Bernard's Vocations Director.
"At the time I met Father Joel, I was in the monastery as a novice, which is the first step toward a monastic life," says Alvarado. "When I met him, I researched the monastery at St. Bernard. I liked the concept of the monastic way of life here at St. Bernard. I feel welcome here; the community opened their doors for me and brought me the opportunity to be a part of this way of life."
At St. Bernard, that way of life is circumscribed by Ora et labora — the durable Benedictine Latin motto of prayer and work — and that's exactly how Alvarado, and the rest of the monks, spend their days.
Prayer and work: the two flow into each other at St. Bernard, and, as the Rule of St. Benedict itself prescribes, they suffuse every activity — no matter how extraordinary or mundane — with a seriousness that befits a lifelong search for God.
And yes, that includes the making and baking of bread.
"From the very beginning, the monks have baked bread," Alvarado explains. "Our life — the work that I do here — these things are not my will; they're the will of our superior. It's important in the community, in this moment, for me to do this; to bake this bread."
When a baker approaches his task with that high a purpose, is there any mystery that it's so delicious?