Centenarian in India pledges to support synod through prayer
MUMBAI, India – As dioceses around the world begin the synodal process Pope Francis has called for ahead of the 2023 meeting of the Synod of Bishops, one centenarian has pledged to do her part.
Louisa Abreo, who turned 100 on Oct. 19, pledged to recite a daily rosary for the synod, saying her later years are a "time of fruitfulness in prayer."
The October 2023 Synod of Bishops meeting in Rome will be on the theme is: "For a Synodal Church: Communion, Participation, and Mission."
Pope Francis has called for dioceses around the world to hold a "listening phase" which will run until April 2022.  This will be followed by a continental phase from September 2022 to March 2023, before the final preparations for the Autumn 2023 meeting.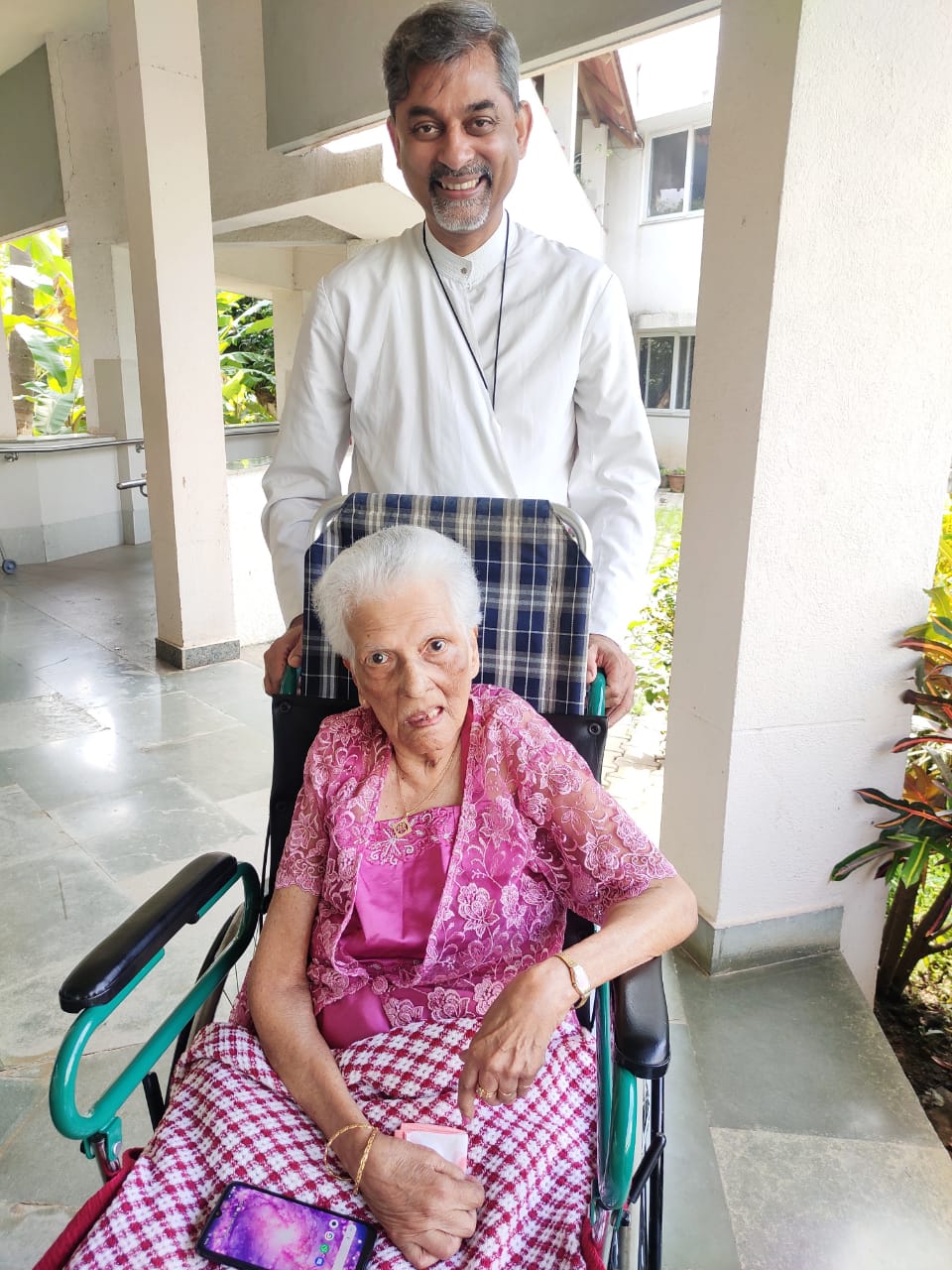 Even at her advanced age, Abreo hopes to play her part.
"My great Aunt Louisa Abreo lived most of her life in London where she worked for over 55 years. after her retirement in London, she settled in Juhu Mumbai and was very active in Holy Cross parish Juhu," said Redemptorist Father Iveil Mendanha, who celebrated a thanksgiving Mass for his great aunt's 100th birthday in her nursing home in Bangalore, which his run by the Little Sisters for the Poor.
"She was very active and independent until her 97th birthday. I then moved her to Bangalore, and she is with the Little Sisters of the Poor, as she could not live on her own anymore. She suffered a partial paralysis in December last year and has been bedridden since but is very well cared for by the angel-like Little Sisters. Great Aunt Louisa is extremely prayerful and has a powerful faith," the priest told Crux.
Mendanha said after the Mass, his great aunt said to him, "Yes I will pray daily one rosary for Our Holy Father, Pope Francis and the Synod, and for Cardinal Gracias," referring to Cardinal Oswald Gracias, the archbishop of Bombay.
Gracias, who is also president of the Catholic Bishops' Conference of India and a member of Pope Francis's Council of Cardinals advisory panel, launched the diocesan phase of the synodal process on Oct. 17 at a Mass in Mumbai's Holy Name Cathedral.
Gracias said the synodal process is meant to "reform the Church by discerning what is it that ails the Church."
"This we will discover by listening. Hence the need to listen even to those who have left the Church or those who are thinking of leaving the Church. They will have a story to tell, which might make us reflect," he said.
"Christ intended the Church to be inclusive," Gracias said at the Mass.  "We need to walk together, leaving no one behind.  We need to listen to each other, especially those in the peripheries, especially those in difficulties, especially those who are sick, especially those who are suffering, and especially and even those who have left the Church."
It was a message heard at the Little Sisters for the Poor's nursing home in Bangalore.
Mendanha noted that his great aunt has always been active in the Church and did the pastors fund collection for her parish in Juhu until she was 90.
"She is well aware of the Church and lay participation in the life of the Church. She said she will offer her pain and suffering for the Holy Father Pope Francis, and for the success of the synod," the priest said.